Few readers know this, but the main display I use in my home for both normal and critical viewing is a Panasonic TX-P60ZT65B plasma TV. Having previously missed out on owning the legendary Kuro when Pioneer exited the television market back in 2009, I was determined not to make the same mistake when Panasonic announced in late 2013 that it's shuttering its PDP (plasma display panel) operations.
Throughout the 18 months I've owned the display, the ZT has come up against many pretenders (read: TV review samples) threatening to topple it from its pride of place in my living room, yet it's stood firm owing to a hitherto-unmatched combination of formidable blacks, supremely accurate colours, top-notch video processing, high motion clarity, excellent screen uniformity, wide viewing angles, and low input lag. The panel is still going strong, and I've never really felt the urge to replace it… until earlier this month at the IFA 2015 consumer electronics trade show in Berlin.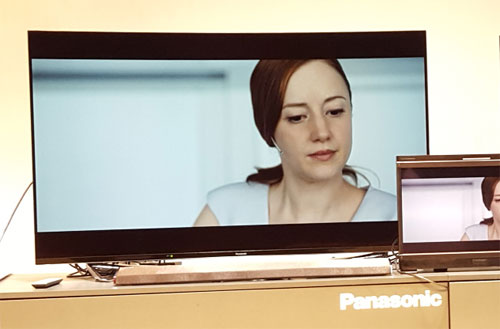 For I've laid eyes on the most beautiful consumer TV I've ever seen. The inkiness, the vibrancy, the realism, the purity, the lucidity: every single element was homing in onto my super-tuned photoreceptors, reinforcing my belief that 'twas a screen that blew every other display out of the water. It was love at first sight; it was absolute bliss – I could stand there all day watching the picture delivered by the new Panasonic CZ950 series of 4K OLED television.
Of course, LG Electronics has been in the OLED television game much longer than Panasonic, and I'm 100% certain that the Panasonic CZ is using an LG panel, even though no one in the company would be caught dead admitting it. But as long-time readers will be well aware of, the panel is only half the story: as an analogy, the same Innolux LCD panel will produce different picture quality depending on whether it resides in a Samsung or a supermarket-brand TV.
And Panasonic is understandably keen to highlight the superiority of the CZ9's video processing compared with LG's OLED offerings, especially in the aspects of near-black gradation and colour accuracy. To drive home the latter point, the Japanese manufacturer roped in prominent Hollywood colorist Mike Sowa whose long list of work include Oblivion, a favourite film of mine. There's simply no greater authority than the person who has colour-graded a movie telling you that the colours and shadow detail look correct on the Panasonic OLED – file it under "from the horse's mouth".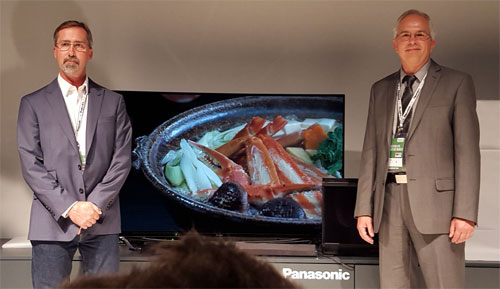 Left to right: Colourist Mike Sowa, Panasonic CZ950 & PHL's Ron Martin
Incidentally, Sowa said that he and Panasonic Hollywood Lab's (PHL) colour suites were using 2.4 gamma for grading films, so if your TV has been calibrated to any other gamma value (for example, LG OLEDs with [Black Level] "High" whose gamma topped out at 2.2 and could never reach 2.4 without drastic measures), you may not be watching movies in the manner intended by directors/ producers, which defeats the entire purpose of calibration.
On its IFA showfloor, Panasonic publicly set up a a dark-room side-by-side comparison of its new TX-65CZ950 against its best plasma the TX-P65ZT60, and later demonstrated the CZ950's capabilities against a Sony professional OLED monitor as well as a competing OLED product from another TV brand behind closed doors. Even during these brief stints with the CZ, I counted at least 6 areas of improvements versus the ZT, and 4 elements where it outperformed the rival OLED display, but will wait until I can get my hands on a production unit with my own test gear before verifying and detailing them all.
Picture menu settings on Panasonic TX65CZ950
Panasonic's answers to my probing questions were smooth and assured. Bit depth? Native 10-bit panel. DCI gamut coverage? 90%. Peak brightness for HDR? 400 nits. Will HDR reduce the lifespan of the OLED panel? Not at this peak luminance level. Number of HDMI ports? Four. HDMI 2.0a compliance out of the box? Yes. Will you release a flat-screen version? We're constantly studying the market, including the response to this curved model.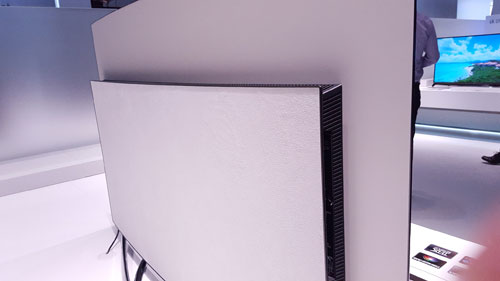 Then came the thorny issue of price. At a later-announced RRP of £7999, the Panasonic Viera TX-65CZ952B is comfortably the most expensive 65-incher on the market, coming in at a good £2000 to £3000 more than an LG 65EF950V or 65EG960V. But by the third time I was asked by Panasonic's executives to comment on the TV's curved design and its rear cover upholstered with Alcantara (a synthetic suede, yes I had to look it up), the penny suddenly dropped.
As out-of-this-world as its image quality is, the Panasonic CZ950/ CZ952 is primarily positioned as an aspirational luxury product for those who desire the finer finest things in life. Think Ferrari sports cars, Cristal champagne, Gazanio and Girling shoes. And as the TV hardware industry becomes a race towards the bottom on precariously slim margins price-wise, perhaps the Viera CZ might restore some normality to the business concept that a company deserves to make some money if it makes the best product.