Singer Usher has taken time off from mentoring wannabe superstars on NBC's popular "The Voice" show to play the starring role in a new Samsung commercial in which he fights against an angry version of himself… with Samsung's latest Smart TV hardware displayed prominently throughout the action.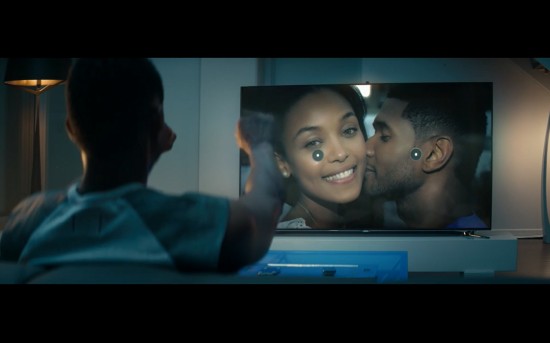 Usher stars in innovative digital film to show off Samsung Smart TV
Directed by Rich Lee and produced by digital marketing agency Huge, the two-minute clip called "Looking 4 Myself", features two different incarnations of Usher – the 'down-to-earth' version, and the 'celebrity' version, with the former looking to take revenge on the latter over the demise of his relationship. The film dramatically kicks into high gear when the evil Usher suddenly tosses his alter ego through the window of his luxury apartment.
What follows is an elaborately choreographed fight scene between the two Ushers as they battle it out in a Matrix-esque style in downtown Los Angeles. During the battle, Samsung's Smart TV and its motion controls are showed off in a variety of innovative ways, firstly with the celebrity Usher viewing photos of himself and his ex-gf, and later with viewers watching live news reports of the Usher battle raging in the streets.
Ross Maupin, creative director of Huge, said that the goal was to create a one-off movie bringing together Usher and Samsung to create an extraordinary, artistic digital film experience that people will want to view and share with their friends.
"By integrating Samsung Smart TVs into the clip, we're setting a new standard in the field of viral marketing," stated Maupin.
Usher said that he was "compelled to take part in the project due to the film's unique concept," making no mention of the small fortune he undoubtedly earned for his participation.
"The high-quality of the film has given me a great new way to creatively express the themes of my song," added Usher.
The clip shows off the Samsung Smart TVs elaborate motion controls in all their glory, with Usher controlling his TV through a variety of dance moves, zooming in on images, alerting the volume, navigating the menu and so on.
Check out the clip below and see for yourself how Samsung's Smart TV plays a pivotal role in the film.