It seems not too long ago when we reported that the number of applications downloaded from the Samsung Apps store has hit the one-million landmark, now word has reached us that the five million milestone has been surpassed five months on. Today, the Korean TV maker announced that more than five million apps have been downloaded onto its internet-enabled Smart TV models worldwide, with online video applications being some of the most popular.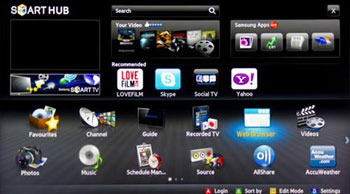 Alongside 3D technology, web connectivity is seen as an increasingly important step-up feature for HDTV displays, and manufacturers are obviously quick to spot the trend and jump on the bandwagon. Samsung has put a lot of effort in improving the graphical user interface (GUI) and functionalities of its internet-connected portal that has received a new "Smart Hub" moniker this year. Passing the 5-million mark in such a short timeframe is a testament to the appeal of its platform which allows users to customise and personalise their Smart TVs according to their (and family members') needs.
The Samsung Apps store – which the company claims is the world's first dedicated television app store – currently holds over 550 web applications and widgets specifically designed for HDTVs, with the majority (60%) being video, gaming and informational applications. The rate of app download is also growing exponentially: since launch in February last year, 1 million apps were downloaded globally by December 2010; 2 million in January 2011; and now 5 million. On average, 100,000 applications are being downloaded to Samsung TVs every four days from the Apps store which is available in 120 countries.
Not surprisingly, apps that served online videos weighed heavily on the most-downloaded list: Youtube, Vimeo, Blockbuster and Dailymotion ranked first, fourth, sixth and ninth respectively on a global basis. Applications that provided up-to-date information like Google Maps (second), AccuWeather (third) and USA Today (seventh) also proved popular among Samsung Smart TV owners.