Japanese TV manufacturer Panasonic Corporation announced this week that it has launched a new website aimed at recruiting IPTV (internet protocol television) application developers for its internet-connected platform. Dubbed "VIERA Connect Developers", the newly-unveiled public web portal represents an open invitation for TV app developers to build more applications for the company's Viera Connect service.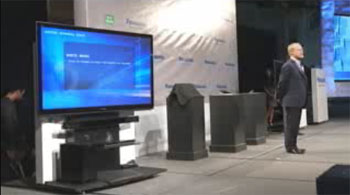 Panasonic hopes to entice TV application developers with the cloud-based implementation, the ultra-quick response time, and the rich multimedia expression capabilities of its IPTV platform, which make the apps easier to scale seamlessly onto big-sized HDTV screens. However, developed applications will have to meet certain specification approval criteria before they can be deployed and made available on the Panasonic VIERA Connect service. Running on the company's innovative Application Execution Engine, a wide variety of apps have populated VIERA Connect since the spring of this year when the internet-connected platform was rolled out globally.
A shortened time to market (TTM) is promised for developers and media companies, thanks to the streamlined processes used by VIERA Connect Developers. Hosted by Accedo Partner Programs on behalf of Panasonic, the portal is hoped to increase the number of useful applications for VIERA Connect through the provision of easier access to technical information, reference codes and application program interface (API) that will make it quicker and easier to develop applications.
Panasonic believes that the range of content made available through its Viera Connect internet-enabled platform will let users take full advantage of their large-screen HDTVs. At present, Viera television owners are already able to enjoy a wide range of applications including music, games, sport, and video-on-demand (VoD) services, but following the launch of this developer portal, they will soon have access to a greater choice of innovative apps as well as new and exciting viewing experiences.