Virgin Media customers who spend half their lives on the go are in for a treat, after the broadcaster announced the addition of a whopping 21 new live channels to its cloud-based Virgin TV Anywhere line-up. As of today, subscribers of Virgin's TiVo TV service can now access up to 66 different channels through their mobile devices.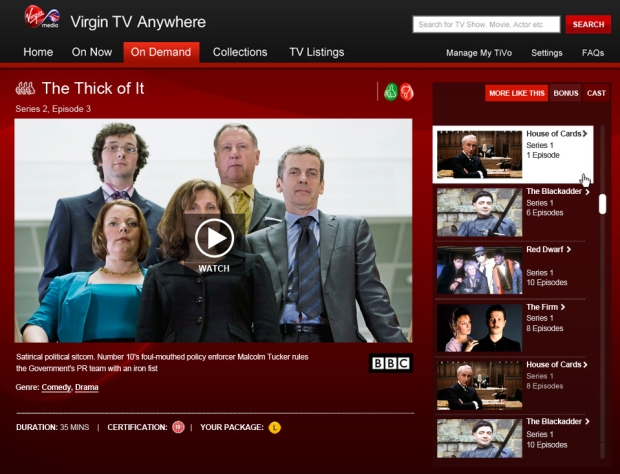 Virgin TV Anywhere adds 21 new channels for TiVo customers
Virgin TV Anywhere is a free service offered to all TiVo customers, allowing them to access content on smartphones, tablets and PCs. The service is available as an app for mobile devices, or via the web for desktops and laptops. Among the new viewing options, subscribers will now be able to access Animal Planet, Channel 4, Discovery Networks, Nickelodeon, NBC Universal and a range of Sky TV channels for the first time.
As well as the extra channels announced today, Virgin Media also revealed the availability of the Discovery Network's TLC channel, although this won't go live until April 30th.
Virgin TV Anywhere is generally seen as the broadcaster's answer to its main rival's Sky Go app, and now offers 17 more channels. However, not everyone is entirely happy with the service. Sky Go trumps Virgin in several departments, one of them being offline viewing. For a fee of £4.99 a month, Sky customers can download programmes to watch at a later time when they're not connected to the internet. In addition, we should note that the Virgin Anywhere TV app is only available on iOS devices at this time, though the broadcaster has said that an Android version will be released "later this year". For now, we don't know exactly when.
Virgin also upset some of its customers just last week when it announced an updated version of its traffic management policy. The new policy caps user's data traffic on broadband connections of 30Mbit/s and above if they're found to be exceeding expected traffic levels. The speed caps kick in from 4pm to 11pm, Monday to Friday, and from 11am to 11pm at weekends, throttling user's connections until they stop "overusing" them.
Source: The Next Web