Meet the Sony VPL-VW500ES, the Japanese manufacturer's latest weapon in its aggressive 4K Ultra HD push. It's likely to be remembered for many years to come as the first quasi-affordable native 4K projector: with a UK recommended retail price (RRP) of £8,799, it's much cheaper than last year's seminal VPL-VW1000ES (which came in at £17,000).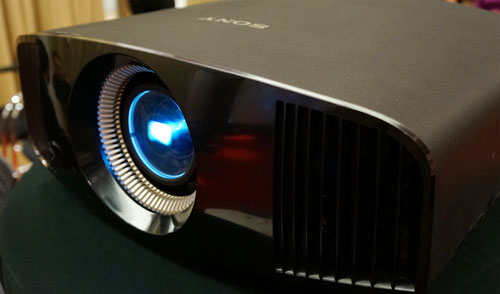 Note: (November 8, 2013): our originally published review featured a miscommunication, stating that the VW500's lens elements were plastic. In fact, only the front lens is plastic, with the majority being glass.
According to Sony's chief engineer Yukio Ohmura, one key in bringing the VW500 to market for under £10,000 was replacing the front glass lens with a plastic one of suitably high quality. There are also fewer elements in the entire lens assembly. The retooled lens has also reduced the weight of the unit, which, together with a cleverly bent optical path, allows for a smaller chassis.
The only other omission we found to be of note is the motorised lens cover. That's really it – we're left with 4096×2160 resolution, Sony's new high contrast SXRD panels, and the company's configurable Advanced Iris system for maximising perceived contrast.
Perhaps the most impressive-sounding new feature is the built-in automatic calibration. The VPLVW500ES actually has tristimulus sensors inside it, which measure the white point and colours, and work together with the video processor to keep the greyscale and colour performance accurate. A projector's colour output shifts considerably as the lamp and other components age, and if this feature works correctly, it could, at the very least, reduce the number of repeat calibration tune-ups that need to be performed, as well as improve the projector's colour quality for users who don't have their units calibrated at all (although with a £9,000 projector we'd hope that's nobody!)
Here at HDTVTest, we've been very impressed with Sony's SXRD technology. Typically with this display type, we've reported beautifully smooth pictures, thanks to the fact that SXRD features the highest pixel fill ratio in the industry, which in turn means that there is no visible pixel grid structure. With previous SXRD projectors, we have also noticed panel uniformity problems in the form of uneven coloured patches on the image, like on many other LCD and LCOS units, which hopefully won't be an issue as the 4K SXRD panels are made affordable. Let's get stuck in and see what Sony VW500ES can do at this price point.
At A Glance
| | |
| --- | --- |
| Display Technology | SXRD (LCOS) |
| Approx. Lamp Life | 4000 hours (5000 in eco mode) |
| Lamp Product Code and Approx. Price | LMP-H260 / £300 – 400 |
| Lens Shift | Yes, H+V |
Design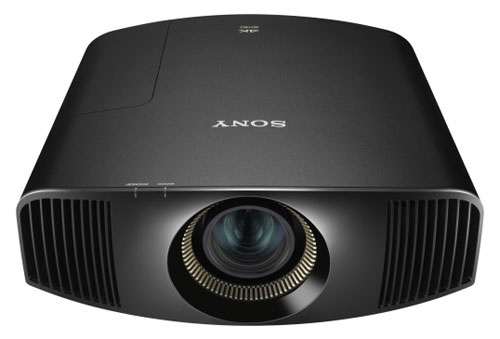 The VPL-VW500ES is styled in much the same way as the VPL-VW1000ES, with the lack of a motorised lens cover being the only difference of much note (Sony instead supplies it with a plastic cover with hand-grip). The glossy black front is gone too, instead replaced with a less fingerprint-prone matte surface. Air is expelled through a vent on the left of the unit, so if you're operating the projector on a table, you might want to use that information to position yourself away from the small amount of resulting fan noise.

Sony's projector remotes rarely disappoint, and the VPL-VW500's is no exception. In contrast to JVC's remotes, which feel cheap and like they don't belong to projectors in their class, Sony's fits in the hand perfectly and feels up to the task of controlling a £9,000 unit. It features discrete picture preset selection as well as direct access to lens controls and other picture options. The blue backlighting is neat, too.
Connections

Rear connections on Sony VPL-VW500ES
The VPLVW500ES features appropriately pared-down connectivity. For video signals, there are two HDMI inputs – that's it, and honestly, that's enough for us. If this is one of the ways Sony managed to make 4K affordable, then we say it's a good move – especially in Europe, we can't imagine anyone will be upset at the loss of Component inputs.
Since it's a recent model, the Sony VW500's hardware has sufficient bandwidth to accept 4K/2160p video at 50 and 60 frames per second. This is in opposition to the earlier VW1000ES, which originally shipped before the standardisation of HDMI 2.0, and therefore only supported up to 30fps at 3840×2160 (Ultra HDTV resolution) and 24fps at 4096×2160 (4K Digital Cinema resolution). A hardware update for that projector is said to be forthcoming.
As with all current consumer content, these inputs are limited to accepting 8-bit, 4:2:0 video. We'd hope that a future 4K optical disc standard (be it called Blu-ray or otherwise) will move to at least 10-bit 4:2:2, and if that does turn out to be the case, it would be nice if videophile users who want to get every last pixel's worth of quality may be served by a hardware update in much the same way as VW1000 early adopters are receiving a (paid) upgrade to input of the VPL-VW500ES's standard. This is all pure speculation on our part, though.
Operation
The same sleek Sony projector menus make a comeback on the VPLVW500ES, only they're now styled in a new, thinner font. The top-level picture mode is called [Calib. Preset], and there are no less than 9 choices. [Cinema Film 1] and [Cinema Film 2] are our recommended starting points.
[Picture] menus
There's also a [Reference] mode, the primary (default) difference of which is its disabling of the edge-adaptive 1080p -> 2160p scaling (our favourite part of the various video processing features which comprise [Reality Creation]) and also the [Motionflow] modes. All of these picture presets are fully configurable, with no "under the hood" differences – they could theoretically all be made to match each other.
[Reality Creation] is given top billing in the menu structure, as usual. Sony is keen to promote this feature, presumably so they can continue their 4K push while abating the obvious fear of a lack of content. Implemented on a 1080p projector, we can think of no use for this sort of "detail enhancement" at all (with that said, a little bit of high frequency gain isn't necessarily a bad idea to superficially compensate for any optical losses), but with 4K panels and 1080p sources, we're not against the idea in principle, if such processing can emulate what a true 4K source might have looked like without causing obvious artefacts.
This feature is greatly improved over its implementation on the earlier flagship VPL-VW1000ES 4K projector. When we reviewed that projector, we observed that [Reality Creation] was a combination of a superior edge-adaptive scaling method and other detail enhancement tricks, the former of which we loved, but the latter of which we found excessive, even operating at its lowest allowed settings. Almost a year ago, we said:
Here's what we'd really like: a way to take the edge adaptive scaling (which is great) without the other sharpening/texture enhancement features which fall under the "Reality Creation" umbrella.
Here's what Sony have delivered on the VW500ES: a way to take the edge adaptive scaling (which is great) without the other sharpening/texture enhancement features which fall under the "Reality Creation" umbrella. You can still turn [Reality Creation] off entirely, which causes the projector to revert to one of the most basic upscaling modes possible (it appears at first glance to feature no spatial interpolation at all, giving the appearance of pixels simply being copied to make up the higher output resolution, but test patterns let us see that in fact there is a very small amount of filtering applied).
Meanwhile, the [Resolution] control, which has much greater range than before, affects the intensity of the Reality Creation sharpening (not the resolution of the projector, which the name would suggest). There's a two-mode [Database] selection which lets the user choose between [Normal] and a [Mastered in 4K] option for use with Sony's same-branded 1080p Blu-ray Discs. Our understanding of this is that the frequency response of the 4K signal is treated in such a way before downscaling to 1080p for these BDs, and this option on the projector is the inverse. In any case, the difference this made was subtle.
Lastly, there's a [Noise Filtering] control. Unfortunately, our Sony VPL-VW500ES review sample had some mild noise reduction turned on at all times, regardless of the setting of this control, and regardless of the whether [Reality Creation] is enabled or not. As a result, we were able to see film grain textures become "dampened" during playback, which reduced the apparent detail of the best Blu-ray Discs a little. The great irony is that the SXRD panels in the VPLVW500ES have motion resolution that is high by projector standards, meaning that such fast-moving patterns should be reproduced cleanly, but this software processing reduces Sony's advantage a little. Hopefully the models that end up in consumer hands feature a 100% working "Off" switch.
The [Cinema Black Pro] submenu contains controls for [Contrast Enhancer] (contrast stretching at the video processor level, which we disabled for accuracy), [Lamp Control], and an [Advanced Iris] submenu. In here we can set [Brightness] (the relative size of the iris opening – that is, how much light is let out of the projector), and a [Dynamic Control] setting with two sensitivity levels ("Full" and the less aggressive "Limited"), as well as an "Off" switch for users who might be annoyed by the just-noticeable brightness changes inherent to dynamic iris systems.
Next, there are several [MotionFlow] modes, which we'll discuss in the Motion Resolution section.
The rest of the settings act largely as you would expect. Sony has acted on another of our requests and has moved the colour management system (now called [Color Correction]) into the main picture menu, meaning that it can be assigned individually per picture mode, and also for 2D and 3D. This addresses a point we made previously where calibrated 2D and 3D colour settings would require manual switching.
The [Expert Setting] submenu houses some other picture controls, namely some noise reduction options (as we touched on earlier, there is still some form of NR running even with "Off" selected). The [Gamma Correction] submenu allows presets ranging from 1.8 – 2.6 to be selected, and there are four customisable memory banks. Irritatingly, these can't be edited in the projector menus and require PC hookup to be edited and calibrated. However, the VW500ES features a USB connector rather than the outdated serial interface found on earlier Sony projectors, meaning this should be much easier than before.
Calibration
Note: Our Sony VPL-VW500ES review sample was calibrated using Calman Professional, the industry-leading video calibration software. These measurements reflect the projector shooting into the lens of our colorimeter.
Greyscale
Although the VW500 features an "Auto Calibration" feature, Sony pointed out that the version loaded on our review unit could still be improved. We tried it out before taking measurements anyway: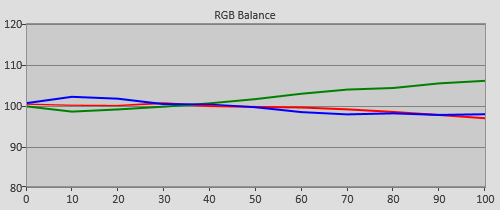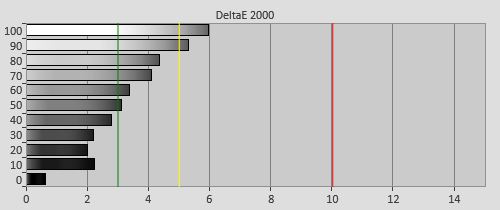 Pre-calibration RGB tracking and delta errors (dEs)
We were impressed with the pre-calibrated greyscale performance on the Sony VPLVW500ES – improvable or not, this is really pretty good going. Since we're used to looking at calibrated screens all day long, we could detect the slight excess of green, but this is still a good result.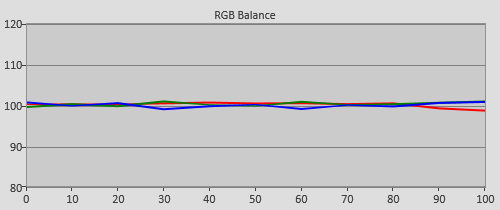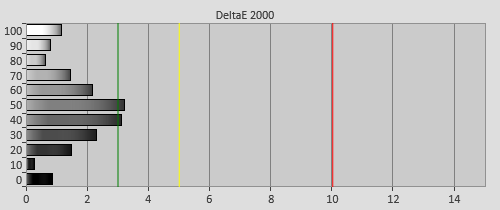 Post-calibration RGB tracking and dEs in [Cinema Film 1] mode
The VW500ES only offers 2-point Greyscale calibration in its user menu. By hooking up a PC and using Sony's ImageDirector software, the red, green, blue and overall gamma curves can be manipulated point by point, but we weren't able to source the necessary cables in time for publication. Regardless, there were no significant greyscale errors left after only a 2-point calibration, which is excellent.
Gamma
| | |
| --- | --- |
| | |
| Pre-calibration gamma tracking (2.54) | Post-calibration gamma tracking (2.55) |
Unfortunately, as mentioned, Sony haven't added an in-projector gamma editor, and we didn't have the necessary cable to hand in order to use ImageDirector to edit the gamma tables. Accordingly, we made do with the "2.4" preset, which was a little darker than ideal in the midtones, but fortunately portrayed the vital near-black shadow details with a high level of accuracy. Slightly-off midtones are one thing, but exaggerated near-black details can damage the perception of contrast performance, even if the projector can in fact display a deep black.
Colour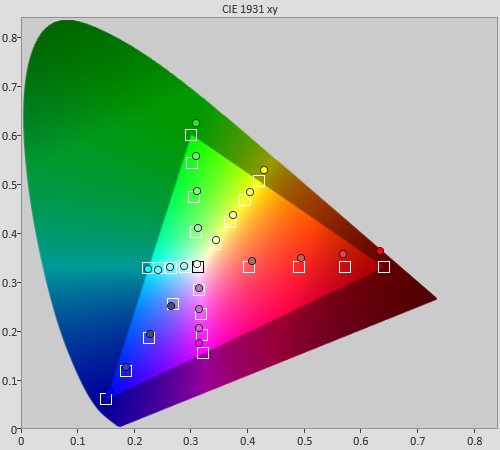 Pre-calibration colour saturation tracking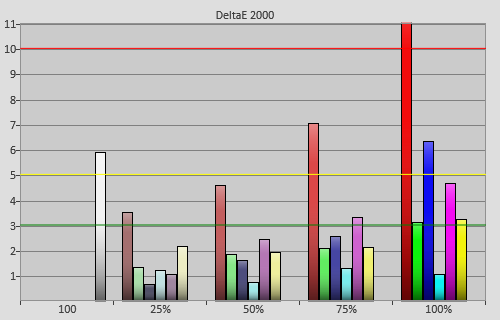 Pre-calibration colour errors (<3 not appreciable to the eye)
If the auto-calibration feature is to be strengthened on the VW500, its effect on adjusting the colour gamut should be the first place Sony look to make improvements. Most of the colours were reproduced well enough, but reds in particular were tinged with a little orange.
Post-calibration colour saturation tracking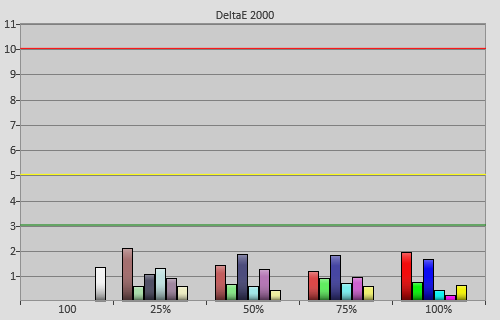 Post-calibration colour errors (<3 not appreciable to the eye)
However, using the [Color Correction] menu and adjusting using our Klein K-10A colorimeter allowed for spectacular, reference-grade colour accuracy. Pinky-reds were no longer reproduced as orange-red, and blues had the correct brightness.
Once again, we should point out that Sony indicated at improvements to the projector's auto-calibration feature that are forthcoming, but obviously we can't speculate on whether or not future firmware revisions will include more accurate pre-calibrated colour performance.
Benchmark Test Results
| | |
| --- | --- |
| Dead pixels | None (would be nearly impossible to spot at 4K resolution also!) |
| Panel uniformity | Excellent |
| Primary chromaticity | Good (pre-calibration), Excellent (post-calibration) |
| Motion resolution (approx.) | 300 lines (native), 450 lines (Motionflow), see notes |
| Digital noise reduction | Some mild temporal smoothing running at all times |
| Sharpness | Defeatable, fully adjustable |
| Luma/Chroma bandwidth (2D 1080p Blu-ray) | Full Luma, Chroma horizontally blurred |
| 1080p/24 capability | No judder in 2D or 3D |
| Input lag (Leo Bodnar tester) | 97ms |
| Full 4:4:4 reproduction (PC) | No |
Picture Quality
Contrast Performance
Getting hard numbers on the contrast performance of a projector that doesn't bring the room environment, size of the projected image, or screen gain into account is notoriously tricky; for now we'll just have to say that the contrast of the VPL-VW500ES, as with other Sony SXRD projectors, did not leave us wanting and is definitely in the upper tier of projectors we've tested. The less extreme of the two dynamic iris modes did increase the perceived contrast performance somewhat, but as with even the best of these implementations, sudden changes in average picture brightness could reveal a very slight delay in the iris changing from mostly open to mostly closed. And of course, an iris does nothing at all to improve the contrast performance when very bright and very dark objects have to exist on screen together. As usual, Sony provides full control over these modes, so you can find a setting to your liking.
It's just as well then that the VPL-VW500's native contrast performance is excellent, and if on-the-fly iris adjustments aren't your thing, Sony lets you freeze the iris in place at an opening of your choosing (the setting is called [Brightness] in the [Advanced Iris] submenu – which is very, very different to the [Brightness] control in the first menu).
Motion Resolution
The Sony VPLVW500ES features several [MotionFlow] modes. With the system turned off entirely, the projector manages to reproduce about 300 lines from the FPD Benchmark disc's horizontally scrolling chart. Turned on, that number increases to around 450. (Our understanding is that despite being 1920×1080, the chart's results are still valid after scaling, but we're investigating producing a native 60p 4K version for the future).
There are two interpolating modes called [Smooth High] and [Smooth Low] which are best kept for high motion video content (they introduce video-like motion into 24fps film). There's also a [True Cinema] mode, which we couldn't ascertain the use of: we were expecting a control which detected low motion vs high motion content and acted accordingly, but in our tests we were unable to see any difference compared to the "Off" setting.
There's also the [Impulse] mode, which appears to be a dark frame insertion (DFI) option. We were smitten by the cinematic look of the dark frame insertion feature on the 1080p Sony VPL-HW50ES projector – yes, it flickered, but that was the entire point (to emulate the lively look of film projection), and we only found the flicker to be an issue on very rare ultra-bright scenes. Accordingly, we were a little disappointed to see that the VPL-VW500ES does not produce the same filmic look in its "Impulse" mode, although the mode does still have the benefit of increasing motion resolution. It seems that, just as on the VW1000ES, the purpose of DFI here is only to reduce motion blur without interpolation, rather than to evoke the look of a film projector (an option that we sorely miss): the VW500's images do always look like a digital projector's. It might be the case that dark frame insertion is more difficult to do on higher res panels, but that's again just our speculation. In any case, the "Impulse" mode on the VW500ES satisfies a technical objective, but not the combined technical and aesthetic ones of the 1080p HW50, which evoked memories of the best parts of film projection – and having just written that, we're saddened to come to the realisation that they are indeed now memories.
All in all, the motion resolution performance is consistent with most other digital projectors, and is certainly suitable for 24fps film playback, which we imagine will be the primary use of a projector.
High Definition
Overall, we were pleased with the quality of 1080p HD content on the Sony VPL-VW500ES, having only minor reservations which we'd love to see addressed. Last year, we mentioned that although we were big fans of the scaling algorithm that forms the core of "Reality Creation", we found the additional sharpening features that came as part of the package too much. Sony has allowed us to completely defeat the latter of them this year, meaning we get the excellent scaling on its own. We opted to use a little bit of the detail enhancement (interestingly called [Resolution] in the menu – "Resolution Perception" would have been a more accurate name), which of course won't result in true 4K picture quality, but done carefully at a level which does not introduce objectionable halo artefacts, it at least allows us to fill the internal 4K signal's extra range with something – albeit synthesised.
The projected image is very pleasing, thanks to the high resolution and high fill ratio of the SXRD panels, as well as the very accurate greyscale and colour performance, and the suitably accurate gamma tracking. Our only point of contention is that the VPL-VW500 has some noise reduction running at all times, even with all the labelled controls in the menus set to "Off". The fine sheen of grain present in the daylight Colosseum scenes from the remastered version of Gladiator was mostly stripped out on the VPLVW500ES, which ironically enough can make the picture appear less detailed to those of us used to looking at film day-in, day-out (which admittedly won't be too many people). Since the rogue filtering is temporal, pausing the playback source will reveal the original unfiltered frame. If Sony can address this with a firmware update, it will be great, but fortunately, the processing is light and does not radically alter the look of the film.
4K Ultra HD
We piped some of our own 4K encodes from a fast PC to the VPL-VW500ES, and were happy with what we saw. Sony has succeeded in introducing a cheaper 4K projector without seriously compromising the performance.
Our PC also acted as our 2160p/4K test pattern generator, and we used it to assess the VPL-VW500's resolution. Unlike the 1080p 3D display mode, the projector's video processing does indeed pass a full resolution image at 4096×2160 and 3840×2160 resolutions. Unsurprisingly, the 3-chip projector design, affordable price point and lens do result in a slightly lower MTF (softer image) than the tremendously expensive VW1000ES. Showing clean black and white line pairs at 4K resolution was a challenge even for that £19,000 projector, so we weren't surprised to see that the line pairs were not resolved quite as crisply on this half-price model. As with the VW1000, from a normal viewing position, projecting a 123″ image, we couldn't spot this. The limiting factor, ultimately, was our eyes.
Oddly, our VPL-VW500ES review sample projected some seriously strange coloured patterns onto the image when fed with such high-frequency patterns, though we saw no evidence of this in real-world viewing. In any case, we informed Sony about this, who promised to look into this issue.
We were curious to see the largest colour gamut the Sony VPL-VW500ES could produce. Unsurprisingly, it doesn't meet the gigantic Rec.2020 Ultra HD gamut, or the large Digital Cinema P3 gamut, for that matter. We tried pushing the CMS controls to extremes, but the closest gamut the VW500ES meets is HDTV Rec.709, which isn't surprising (we imagine if it could go out further, Sony would have included a preset mode and instructed their promotional team to make a point of it). We're not sure what the limiting factors are in meeting P3, given the VPL-VW500's commercial 4K cinema projector roots, although we wouldn't be surprised if that's beyond the capabilities of UHP lamps.
All in all, the Sony VPLVW500ES produces a 4K image that will be more than a match for the double-priced VW1000 under normal viewing. Only upon close scrutiny – or on truly gigantic cinema-sized screens – would the £19,000 step-up model's superior optical performance be readily apparent.
3D
We were very surprised to find, given the VPL-VW500's status as a 4K projector, that it does not reproduce full vertical resolution from Full HD 1080p sources. When we fed it our Full HD 3D resolution test pattern, we saw that while the projector produces full detail in the horizontal direction, the black and white line pairs used to assess vertical resolution were blurred into a single grey tone. This is contrary to the VPL-VW1000ES, which did manage to squeeze out every last drop of resolution.
Sony's VPL-HW50ES 1080p projector had a similar limitation, which we assumed was due to how the 1080p panels were driven at high speed to produce both left and right views. Now we're not so sure that was actually the case – given the huge resolution of the VPL-VW500ES's SXRD panels, the lack of full vertical resolution in the 3D display mode points to a limitation at the video processing stage – which is still puzzling given the projector's ability to display a 4K image. Further proof of this comes via one of the VW500ES's aspect ratio controls, which can be set to crop the top and bottom of an image and vertically stretch it (for use with 2.35:1 ratio movies and anamorphic lenses): even after applying this setting, the line pairs do not appear, pointing to resolution being lost very high up the processing chain.
Fortunately, as with earlier SXRD 3D projectors, this was our only gripe with the 3D performance of the Sony VPLVW500ES. In practice, its extra-dimensional images were totally engaging, with their ample brightness and lack of unpleasant tinting effects meaning that we forgot about any subtle vertical softening after only a few minutes of viewing. What's more, the VPL-VW500ES betters the double-priced VPL-VW1000ES when it comes to gamma accuracy in the third dimension. The VW1000 featured on-the-fly gamma manipulation in 3D, but there is nothing of the sort to be found on VW500.
Conclusion
With the VPL-VW500ES, Sony has succeeded in drastically slashing the cost of entry to 4K resolution projection. The native 4K projector can produce high-contrast video with accurate greyscale, colour and gamma properties, which go a long way in producing a very satisfying home cinema experience. What's more, the VW500ES improves on the earlier and costlier VW1000ES in several ways, by providing more control over the Reality Creation processing – it's now possible to appreciate this system's silky 1080p-to-2160p upscaling process without too much added sharpening being applied on top. The Sony VW500 can also accept future 50 and 60fps 2160p resolution video, meaning it should be ready for Ultra HD TV broadcast of high motion content like sports events. The only processing step back from the VW1000 that we observed on our sample model was the lack of a fully-working "Off" switch for the noise reduction feature, something we'd like Sony to address.
On the whole, we're very satisfied with the VPLVW500ES. It might cost around half the price of Sony's earlier VPLVW1000ES, but it's very nearly as good, and in some ways, better than its predecessor. As with the launch of Full HD projection in the mid-2000s, the only limiting factor at present is the lack of content. Hopefully that won't be a problem for long… the Blu-ray Disc Association is listening.