To say that Sony is leading the home 4K projection arena is probably an understatement. Since the launch of its first native 4K home cinema projector in the form of the VPL-VW1000ES towards the end of 2011, the Japanese brand has repeatedly been setting the benchmark with the introduction of newer models, at a time when no other manufacturer has even released a true 4K projector (although JVC and more recently Epson have been marketing pseudo-4K versions).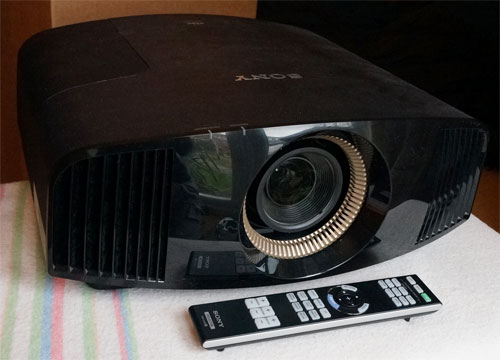 Which brings us to the Sony VPL-VW300ES, first unveiled at IFA 2014 more than two months ago. Positioned as a step-down – and more affordable – model to last year's VPL-VW500ES (which will continue as an existing line), the VW300 has had several features removed. First is the lack of a dynamic iris, or any sort of manual aperture control for that matter: we shall examine if black-level performance is compromised as a result when we do some real-life viewing.
Also omitted is lens memory functionality to switch aspect ratios at one press of a button (even though the projector's lens shift, zoom and focus controls can be operated electronically via the remote), making the VPLVW300ES more suitable for owners of 16:9 rather than 2.35:1 scope screens. Other differences between the VW300ES and the more expensive VW500ES are quoted lumen figures (1,500 vs 1,700) and the presence of auto-calibration on the latter to compensate for lamp ageing.
However, the price points of the Sony VPL-VW300ES and the step-up VPL-VW500ES are significantly different, coming in at around £5,900 and £8,900 respectively. Is the VW500 worth £3,000 more than the VW300? It's our job to find out.
Design
The Sony VW300ES SXRD projector shares the same chassis as its pricier VW500ES sibling, which means a centrally-positioned lens flanked by large exhaust vents. Whilst there's a choice of black or white finish with the VW500, the VW300 is only available in matte black (which we prefer anyway since it blends in better in a light-treated home theatre environment) colour on a grain-textured surface.

The connection inputs are recessed along the right side of the projector, including two HDMI ports (rated at HDMI 2.0 level b with a maximum chroma resolution of 8-bit 4:2:0 at 4K@60Hz/50Hz, and of which HDMI input 2 is HDCP 2.2-compliant), a LAN port (necessary for the use of Sony's own external calibration software), as well as serial, IR and 12V trigger ports for control and system integration.
Calibration
We did some pre-flight checks before proceeding with full calibration with our profiled Klein K10-A meter, DVDO AVLab TPG signal generator and CalMAN Ultimate 5.3 software. We selected the most accurate out-of-the-box [Calib. Preset], namely "Reference", and turned [Lamp Mode] from its default setting of "High" to "Low" which still produced a plenty bright light output of 35fL (which we would curtail further) on our setup.
Greyscale
In the [Reference] picture preset, we selected a [Color Temp.] value of "Custom 3" which, as was the case on Sony projectors in recent years, represented the adjustable setting that came closest to the D65 standard used in the video and broadcast industry: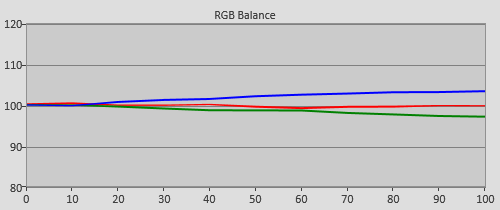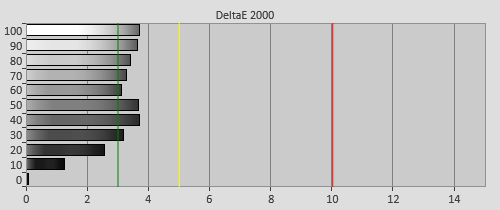 Pre-calibration RGB tracking and delta errors (dEs)
There was only a slight excess of blue component in the greys, which we easily rectified via the VW300's internal two-point white balance submenu: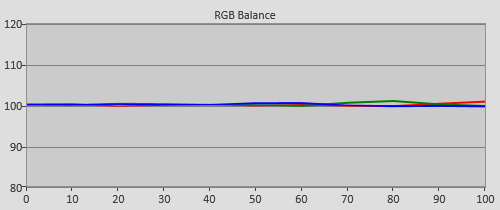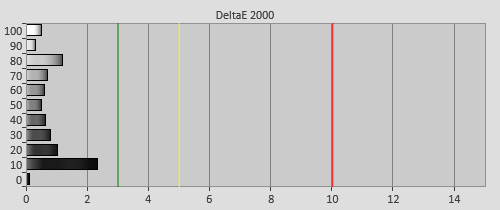 Post-calibration RGB tracking and dEs in [Reference] mode
The result was impressive, with delta errors (dEs) dropping to below 3 – the commonly accepted threshold before inaccuracies become visible to the human eye – across the entire luminance range, meaning that the projected image won't exhibit any undesirable tinting.
Gamma
With the default [Gamma Correction] setting of "Off" in [Reference] mode, measured gamma tracked closely to 2.2 on the Sony VPLVW300ES in our projector room. Selecting a [Gamma Correction] value of "2.4" indeed pushed overall gamma nearer to our target of 2.4, but we found shadow detail to be noticeably indistinct in this configuration.
| | |
| --- | --- |
| | |
| Pre-calibration gamma tracking (2.2) | Post-calibration gamma tracking (2.32) |
Fortunately the VPL-VW300ES is compatible with Sony's new Projector Calibration Pro software (many thanks to reputable custom install dealer Ricky Jennings for his help with this program) which provides additional external controls beyond the onboard options, including 10-point or even a whooping 64-point white balance/ gamma adjustment system.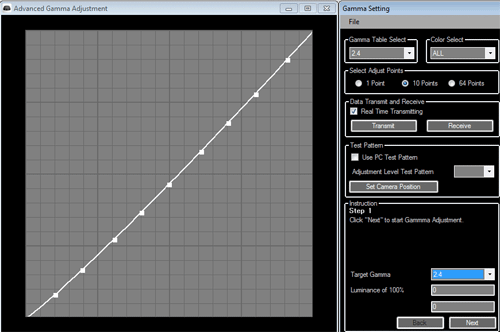 Armed with an Ethernet cable and our laptop loaded with the software, we aligned near-black gamma to 2.1 to lift shadow detail while keeping midtones and highlights at 2.4. The post-calibration result was spectacular, as we shall describe in the Picture Quality section.
Colour
The onboard CMS (colour management system) on the Sony VW300 is accessed by switching on the [Color Correction] option. While it allows for largely functional adjustment of the hue, saturation and brightness of the six primary (red, green, blue) and secondary (cyan, magenta, yellow) colours, we discovered that the individual controls (particularly saturation) needed to be treated with care, as going one click too far would introduce large errors. That said, we had no problem achieving extremely accurate colours on our VW300ES sample: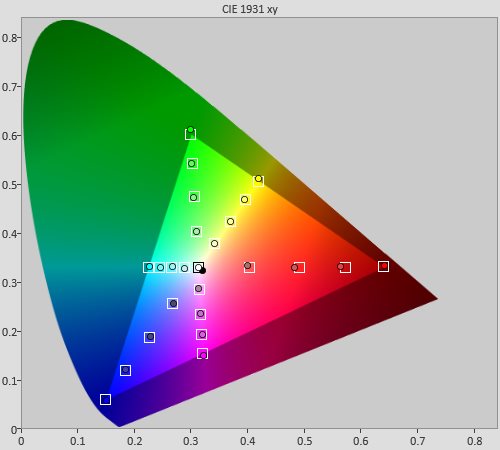 Post-calibration colour saturation tracking
After calibration, delta errors (dEs) fell to imperceptible levels across our measured 25%, 50%, 75% and 100% saturation tracking points, ensuring that colours will look highly realistic in both dark and bright scenes.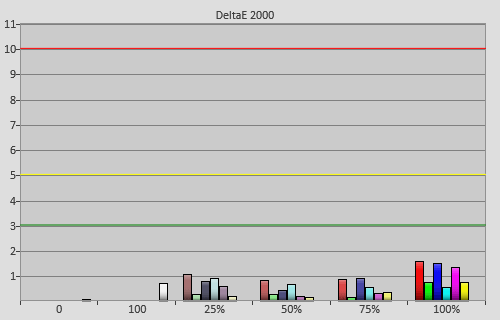 Post-calibration colour errors (<3 not appreciable to the eye)
Benchmark Test Results
| | |
| --- | --- |
| Dead pixels | None |
| Panel uniformity | Very good |
| Primary chromaticity | Excellent |
| Motion resolution (approx.) | 300 at baseline; 1080 if [Motionflow] "Combination" |
| Digital noise reduction | Some mild temporal smoothing running at all times |
| Sharpness | Defeatable, fully adjustable |
| Luma/Chroma bandwidth (Blu-ray) | Full Luma, Chroma horizontally softened |
| 1080p/24 capability | No judder in 2D or 3D |
| Input lag (Leo Bodnar tester) | 39ms with [Input Lag Reduction] "On" |
| Full 4:4:4 reproduction (PC) | No |
Picture Quality
Black Level & Contrast Performance
Much has been speculated about how the lack of dynamic iris (DI) would affect blacks and contrast on the Sony VPL-VW300ES, but once we sat down and auditioned various real-life material on our review unit, we never found its black-level response to be lacking. Sure, the blacks on the VPL-VW500ES can go deeper when the iris is closed, but then again it costs £3,000 more, and the advantage is only obvious in dark, low-APL scenes. And chances are that if you have the luxury of a bat cave and are a black level junkie, then you probably would've favoured the JVC D-ILA projectors with their industry-leading blacks anyway.
Of course, the absence of DI does mean that black level (and luminance, for that matter) will hold stable throughout, and we certainly enjoyed the VPLVW300ES's presentation that's free of any brightness fluctuation. Lumens measurement came in at 1,075 in calibrated low-lamp mode on our setup.
Motion
Motion clarity on the Sony VW300 was as good as we've seen from a non-DLP home cinema projector. Particularly impressive was the [Motionflow] "Combination" setting, which as per name combines motion-compensated frame interpolation (MCFI) and black frame insertion (BFI) to deliver a motion resolution (as determined via the horizontally scrolling lines pattern in Chapter 31 of the FPD Benchmark Software test disc) of 1080 lines (and maybe higher). We witnessed no significant soap opera effect (SOE) or interpolation artefacts with [Motionflow] set to "Combination", making it our preferred choice for both film- and video-based content.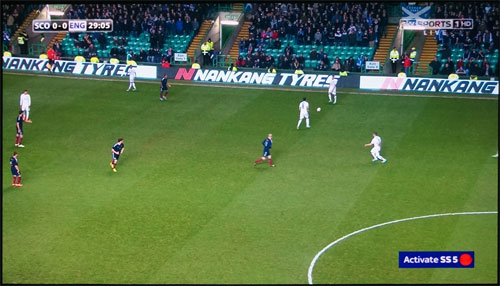 Motion resolution on the [Motionflow] "Smooth Low" and "Smooth High" settings topped out at 600 lines, and both introduced visible interpolation artefacts and SOE. Strangely, [Motionflow] "Impulse" had no effect on our VPL-VW300ES review sample, neither improving motion resolution beyond the baseline of 300 lines nor causing any drop in brightness. [Motionflow] "True Cinema" is reverse 2:3 pulldown to recover 24p frames from 60Hz source, and didn't reduce motion blur.
Blu-ray
We sampled a number of our reference Blu-rays on the Sony VPLVW300 projector, and were immediately floored by its vibrant picture that's absolutely jam-packed with punch and dynamism, something that JVC models – for all their unrivalled black-level performance – could be accused of lacking at times. The projected image remained suitably bright, making light of the loss of 200 lumens versus the VPL-VW500. Colours appeared stunningly accurate, with supremely authentic flesh tones being a particular high point, and all this was achieved without the help of an external 3D LUT (look-up table) solution. Bravo, Sony, bravo.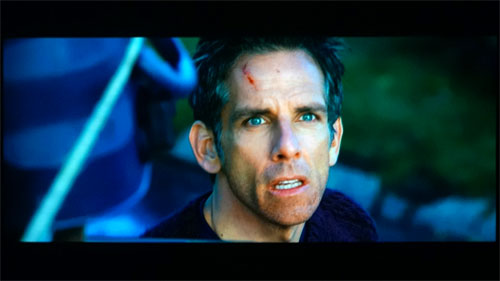 With all this talk about brightness and vibrance (not to mention lack of dynamic iris), you could be forgiven for thinking the VW300ES would stumble when it comes to handling dark scenes, but no, the projector acquitted itself well in this department too. Even in the darkest of sequences, not once did we experience the mist of greyness that plagued so many LCD-based projectors.
And although the stock "2.4" [Gamma Correction] setting obscured shadow detail somewhat, after working our magic with Sony's Projector Calibration Pro software, we got to savour the richness and depth afforded by 2.4 gamma in mid-bright and bright scenes, while preserving shadow detail in a natural manner – truly the best of both worlds. The picture put out by the VPLVW300ES was so breathtaking, we simply couldn't swap discs fast enough to watch as many of our favourite movies as possible on the display before returning our review unit.
4K
Sony sent along a 4K Ultra HD media server with our VPL-VW300ES sample, and when you marry true ultra high-definition (UHD) content to a native 4K projector, the amount of detail and clarity on show was truly staggering. Certain clips on the Sony media server displayed with some judder, but we used both a DVDO AVLab test pattern generator and an OPPO BDP-105D 4K upscaling Blu-ray player to verify that the Sony VW300 handled 4K@24Hz (and for the sake of completeness, 4K@30Hz, 50Hz and 60Hz) video signal smoothly without judder, indicating that the judder originated from the 4K media server whose output is fixed at 60Hz.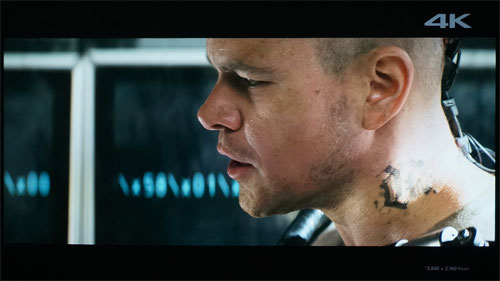 We also served up several 4K videos from a gaming PC supplied by eBuyer.com, and whilst all of them looked wonderful and pristine, one in particular – a 25-minute footage from the World Cup 2014 football match between Columbia and Uruguay – highlighted the motion-handling prowess of the Sony VW300ES. As the camera panned, or when the ball flew past the crowd, the projected image retained much of the super-high resolution and clarity instead of descending into a blurry mess, which is all the more amazing considering that feeding a 4K signal to the projector locks out the frame interpolation modes (only [Motionflow] "Off" and "Impulse" – which does nothing – remain available).
Like the VW500ES, the VPLVW300 exhibited patches of discolouration when asked to display alternating black-and-white single-pixel lines at 4096×2160 and 3840×2160 resolutions, indicating some sort of processing or bandwidth limitation. Fortunately this was not replicated in real-world content.
3D
The Sony VPL-VW300ES doesn't ship with any 3D glasses, so we used some active-shutter ones we had at our disposal (including a pair of Samsung SSG-5100GB and another from 3D3 – our favourite third-party 3D eyewear brand) to assess the VW300's extra-dimensional performance.
As was the case with the VPL-VW500ES, the Sony VW300ES did not fully resolve 1080p vertical resolution in 3D mode when we playbacked our custom-authored 3D resolution test pattern, though in real-life material the softening effect was fairly subtle. The projector handled 24fps, 50fps and 60fps tri-dimensional content with nary a hint of judder, but we did notice some faint crosstalk which fortunately did not detract from our enjoyment. Black frame insertion was disabled in 3-D mode, so we're left with [Motionflow] "Smooth High" and "Smooth Low" which we wouldn't engage anyway due to the resultant interpolation artefacts and soap opera effect.
Unlike some competing models, the VPLVW300ES allows you to switch [Lamp Mode] from "High" to "Low" in the third dimension, which will come as a boon to owners who are sensitive to fan noise. Doing so lowered maximum light output on our review unit (measured through the 3D3 glasses' shuttering lens) from 18 cd/m2 to 12 cd/m2: a 33% drop, but hardly night and day in the grand scheme of things.
Gaming
The freshly implemented [Input Lag Reduction] feature on the Sony VPLVW300 worked a treat in slashing input lag from an eye-watering 125ms to a much snappier 39ms (measured using our Leo Bodnar tester device) once enabled.

The "Game" [Calib. Preset] is merely a picture preset, and had no effect on input lag and gaming responsiveness.
Conclusion
We wanted to call the Sony VPL-VW300ES class-leading, but that wouldn't be entirely accurate, because at this time of writing, there's not even a non-Sony home theatre projector on the market capable of delivering true 4K resolution. And when you consider that its closest 4K competition – ironically Sony's own step-up VPL-VW500ES model – costs £3,000 more in price, it really drives home the point that the VW300 stands peerless in a class of its own.
4K Ultra HD aside, the VW300ES excels with 1920×1080 Blu-ray films, live sports broadcast and video games. Its black level doesn't go as deep as the JVCs (which, we must stress, is still not native 4K), but the VPLVW300ES more than makes up for it with its brightness and punchiness, the sheen of silkiness afforded by genuine 4K res, as well as all-round versatility.
We firmly expect the same scenario between the Sony VPL-HW40ES and VPL-HW55ES to play out: the frankly marvellous VPL-VW300ES will likely cannibalise sales of the higher-end VPL-VW500ES, with most buyers happy to swap the inclusion of dynamic iris for a chunk of spare change in their pockets.