Sony has taken the opportunity at the CEDIA trade show that's taking place in the USA this week to unveil what appears to be the holy grail of home cinema projectors. The no-expenses-spared VPL-VW5000ES will feature a 5000-lumens laser light source, true 4K resolution based on the company's SXRD panels, HDR (high dynamic range) compatibility, 100% DCI-P3 coverage, and full bandwidth HDMI 2.0 throughput with HDCP 2.2 compliance.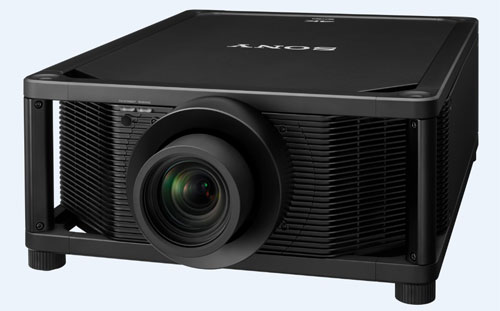 We found the laser light engine on Epson's EH-LS10000 to be absolutely revolutionary in terms of power-up and shutdown times, and this operational convenience will apply to the Sony VW5000 too. Furthermore, the long lifespan from laser light source prevents colour shifting that comes with traditional projector lamps, thus reducing the need for re-calibration. But in case the colours do drift, the Japanese manufacturer has even implemented an auto-calibration function to detect the amount of deviation from original factory calibration and reset the projector.
Given that Sony is pretty much the only projector brand offering native 4K projectors for the home theatre market at this time of writing, of course the VPLVW5000ES will feature 4196×2160 resolution from its true 4K imagers. Thanks to the onboard advanced SXRD panels and the laser light system, light output is specced at a staggering 5,000 lumens, which should contribute to a more impactful HDR experience than what we saw on the VPL-VW520ES at IFA.
The Sony VPL-VW5000ES is also said to be capable of reaching the full colour gamut of the DCI-P3 standard, and can emulate Rec.2020 colour space through the use of professional calibration tools. The laser-based Epson LS10000 delivered the highest DCI-P3 coverage (at 98%) we've measured on any display to date, and so we have no reason to doubt Sony's claims.
One minor shortcoming that has plagued Sony's 4K projectors in recent years is their trimmed-down 10.2Gbps HDMI bandwidth, and thankfully this is going to be addressed on the VW5000 which will provide an HDMI input that's not only compatible with HDCP 2.2, but also has sufficient 18Gbps bandwith to accept 4K/60p video signals at YCbCr 8-bit 4:4:4 or 12-bit 4:2:2 chroma. Since HDR support is inbuilt, HDMI 2.0a specification is to be expected.
To put into perspective how awesome the projector is going to be, none of the high-end projectors currently available to buy on the market features the full ensemble of mouthwatering specs included on the Sony VW5000ES. As good as they are respectively, the Epsons and JVCs lack the silky smoothness granted by native 4K resolution; while existing Sonys have some deficiencies in HDMI 2.0 bandwidth and wide colour gamut (WCG) coverage. Also, we believe the sheer elegance of laser light source is a game-changer in the projector world, and it's good news that the VPLVW5000ES will have it.
Of course, such a technological tour de force won't come cheap, and indeed the Sony VW5000 has been given an eyewatering price tag of €65,000, with availability in the UK and Europe slated for the first quarter of 2016. That £8,000 Panasonic OLED suddenly seems much more affordable…