LG's wafer-thin SIGNATURE W series of wallpaper OLED TV was genuinely one of the most exciting products we saw at CES 2017 earlier this year, and we – along with several prominent AV publications from around the world – have been given the opportunity to go hands-on with not only an LG OLED65W7, but also a step-down OLED65E7 in San Francisco.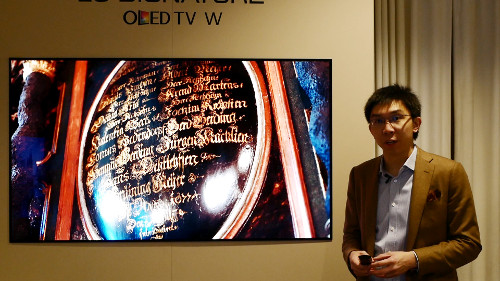 The premise behind this visit is simple: because the LG 65W7 is expensive and likely to be difficult to install for individual AV journalists, the South Korean manufacturer decided it would be easier instead to ship these journalists to the company's US base to examine the product. After a briefing, we each had four to six hours to spend alone time with the television(s), and run any sort of tests with little to no supervision and interference.
Although the LG OLED65W7 is likely to be out of reach for most buyers price-wise (the OLED65W7V will cost £8000 in the UK), our findings (which we also cross-checked against the E7) should be of use to anyone who's interested in buying a 2017 LG OLED TV, because according to the Seoul-headquartered brand, every range in its OLED lineup this year – including the G7, C7 and B7 – will use the same SoC (system-on-a-chip), promising fundamentally identical picture quality across the board. Time waits for no man, so let's get started.
Operation
We first explored the user menu on our LG OLED65W7V sample to find out what's new in terms of picture-affecting controls. We're pleased to see that [Colour Gamut] "Normal" has been renamed as "Auto", which is far less confusing for owners since it suggests that depending on whether the content is HDR (high dynamic range) or SDR (standard dynamic range), the TV will automatically switch its colour tracking to Rec.709 or DCI-P3 within Rec.2020 colour space, which was indeed the case from our testing.
Also new is the introduction of two-point [White Balance] adjustments in addition to the existing 20-point system in HDR mode. Knowledgeable readers will know that only 20-point [White Balance] controls were available on LG's 2016 OLEDs in HDR mode, and using them invariably introduced noise and posterisation to smooth gradations in 4K Ultra HD Blu-rays. The presence of 2p WB controls in HDR mode should help users obtain more accurate greyscale in HDR mode; we'll test them out and report back later in this article.
All LG 2017 OLED TVs including the OLED65W7 and OLED65E7 we tested, five HDR picture presets are available: "Vivid", "Standard", "Cinema Home" (default), "Cinema" and "Game". Three HDR formats, namely HDR10, HLG (Hybrid Log-Gamma) and Dolby Vision, are supported out of the box, with Technicolor HDR arriving later via a firmware update. For HDR10 and HLG content, the picture settings are shared within the same preset on the same input source.
You can now adjust 20-point [White Balance] but not 2-point in the Dolby Vision presets. We also learnt from LG engineers that [OLED Light] in Dolby Vision mode actually affected APL (Average Picture Level) instead of purely light output, which explains why in certain scenes on 2016 models, cranking [OLED Light] up and down didn't produce much of an effect on screen.
Somewhat disappointingly, there's still no [Copy Settings to All Input] functionality on the [Colour Management] and [Picture Options] submenus, not to mention the second page of the main picture settings, requiring manual copying for each different input source after calibration. Of course, the benchmark remains the one-click [Copy Adjustments to All] feature found on Panasonic TVs, which copies every picture setting to all or any specific inputs either within the same picture preset or even to a different one.
Delving into the service menu, we confirmed that the LG W7 and E7 used the same M16P chip type – the company is telling the truth when it says all its 2017 OLED televisions carry the same SoC.
Click on the options below to service menu info:
LG OLED65W7V | LG OLED65E7P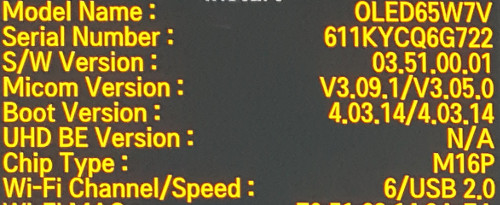 Picture Quality
Blacks & Near-Black
Although all OLED TVs can generate true 0 cd/m2 blacks, getting things right during the transition from black to very dark grey has proven to be trickier owing to the big "jump" between OLED's off and on state. While LG's 2016 OLEDs were better than 2015 models on this front, the company has achieved even greater improvements on 2017 sets in at least two areas – finesse and noise suppression – judging by what we saw on the SIGNATURE 65W7.
First, the display's [Brightness] control was even finer (likely operating in half-step increments) than last year's, allowing video black to be set correctly without crushing or overexposing shadow detail. On both the LG 65E7 and 65W7, low-light detail looked stellar as they come out from black.
There's less noise and quantisation blockiness in darker scenes too: we checked out the now-infamous final act in Skyfall where Javier Bardem makes his way up to the chapel, and the pixels in the night sky were much calmer and less pixellated than last year's models – essentially as clean as the recently-reviewed Philips 901F OLED as well as high-end plasmas and LED LCDs.
Turning our attention to more heavily-compressed sources, we played a clip of Father Brown recorded off BBC (thanks to David Laine at FlashBackSales.com who sells high-quality audio cables for his help), and the E7 displayed less blockiness and dithering noise than previous year's LG OLEDs.
LG attributed this to a combination of higher bit-depth allocation for near-black processing, a new decountour filter and a revamped dithering algorithm. The company was also keen to highlight a newly-developed Neutral Black OLED (NBO) polariser which works in conjunction with the existing anti-reflective filter to eradicate the slight magenta tint seen on 2016 OLEDs in brighter conditions, though if we're honest, it has never been an issue for us or many owners.
Brightness
Although the 2016 and 2017 LG OLED TVs use the same underlying panel (verified by identical subpixel structure and spectral peaks), the South Korean TV maker has modified its ABL (Automatic Brightness Limiter) algorithm to be significantly less aggressive, so the 2017 OLEDs are able to output more light at higher APL (Average Picture Level).
In fact, when calibrated to 150 cd/m2 in SDR, there's little to no dimming taking place even on full-field white. The brighter light output was immediately noticeable when we first saw the high-APL menu on the excellent AVSHD test disc being displayed on the E7.
Uniformity
Near-black uniformity was another problem that had plagued OLED televisions in the past, with vignetting (the sides appearing darker than the centre) and dark vertical streaks/ bands being troublesome for a number of owners.
Vignetting has basically been cured since late 2015, and we observed no signs of edge darkening (or brightening, for that matter, which was seen on some entry-level OLEDs presumably due to LG over-compensating) on our OLED65E7 sample when we put up full-field 1% to 4% above-black patterns. There remained some thin vertical streaks at 3% and 4% above-black, but they're faint enough not bother us even in torture tests featuring a slow-panning shot across a very dark scene.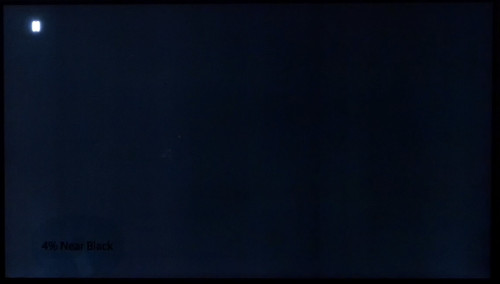 Note: Intentionally overexposed; less visible in real life even in dark room
On brighter full-field patterns, the LG 65in E7 and W7 didn't manifest any vertical band of yellow tinting which affected 2015 OLED displays such as the LG EF950 and the Panasonic CZ952.
Colours
Out-of-the-box greyscale in [ISF Expert] modes on our 65″ LG W Signature and E7P were already exceedingly accurate, raising the distinct possibility that these panels supplied on-site for evaluation had been cherry-picked and hand-tuned (we haven't encountered such outstanding accuracy in the wild after calibrating hundreds of OLEDs for customers, except for a solitary LG 77G6). Nevertheless, we proceeded to give it our full calibration treatment using a Klein K10-A profiled against a JETI Specbos 1211, a Murideo Fresco Six-G signal generator and Portrait Display's CalMAN software.
On previous LG OLED TVs including 2016 models, even small adjustments within the CMS (colour management system) introduced posterisation artefacts – you could obtain perfect-looking charts, but the final image would be horrible. We fully intended to check whether this has been rectified on the 2017 sets, but the region B Kill Bill: Vol 1 Blu-ray disc we brought along couldn't be played on the region A-locked OPPO UDP-203, so we would have to wait until we get our hands on a production sample in our own test room before passing judgment. For what it's worth, one senior Korean engineer claimed it has been fixed, whereas another technical liason said it hasn't.
Motion
There's no change in motion clarity on the LG E7 and SIGNATURE W7 compared with 2016 sets. With [TruMotion] disabled, motion resolution came in at the sample-and-hold baseline of 300 lines (as determined using the horizontally scrolling lines in Chapter 31 of the FPD Benchmark Software Blu-ray test disc). Engaging [TruMotion] more than doubled motion resolution to 650 lines, but the "Clear" and "Smooth" settings incurred unmistakeable soap opera effect (SOE) and interpolation artefacts, so it's better to optimise the [TruMotion] "User" values instead.
In terms of motion handling, slow panning shots in 24Hz movies did not exhibit any telecine judder, although there could still be very faint judder inherent in 24p (depending on how close you sit to the screen) that certain users may choose to smooth out using gentle [De-Judder] interpolation in the [TruMotion] "User" submenu. When it comes to outright 24fps smoothness without needing interpolation, we think Sony and Panasonic still have the slight upper hand.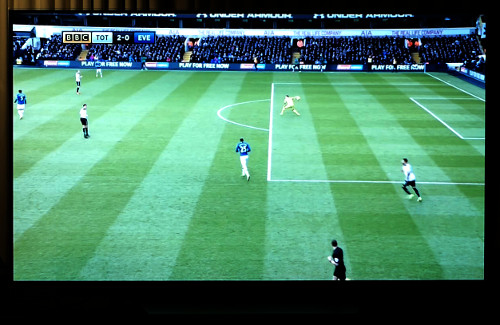 Since there's no off-air broadcast available at the premise at which we're conducting the evaluation, we played some specially-prepared 1080i satellite recordings (again courtesy of David Laine at FlashBackSales.com) of Match of The Day football and live athletics without any extra transcoding so as to reproduce what viewers would actually watch at home. With [TruMotion] switched off, we witnessed no judder, stutter or frame-skipping, though obviously camera pans looked blurrier than impulse-based displays such as plasma and CRT televisions. With [TruMotion] enabled, we noticed visible interpolation artefacts and occasional frame skips in these fast-action sports.
Video Processing
Playing an SMPTE RP-133 PAL pattern on the LG OLED65E7 revealed better upscaling than its predecessor. Detail and sharpness remained similar after the [Sharpness] settings had been optimised, but the 65-inch E7 manifested less ringing, noise and flicker around high-contrast areas.
The very mild edge enhancement seen on 2016 OLEDs had been rectified too, judging from the absence of obvious moire in our go-to luma zone plate pattern on the OLED 65E7.
HDR
Measured using a UHDA-approved window size in the most accurate [HDR Cinema] mode, peak brightness reached 700 nits on our LG OLED65E7 review sample. The freshly-implemented 2-point [White Balance] controls in HDR mode worked effectively, allowing us to tame the initial red excess within the greyscale: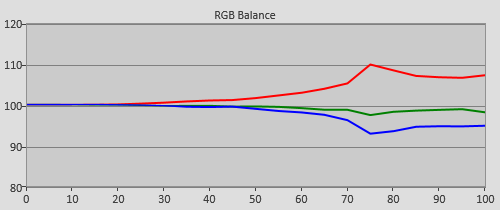 Pre-calibration RGB balance in [HDR Cinema] mode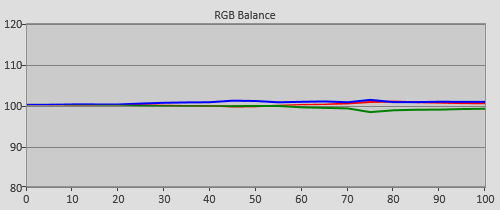 Post-calibration RGB balance in [HDR Cinema] mode after 2p WB adjustments
Update 14 March 2017: We're still investigating the PQ (perceptual quantisation) EOTF (electro-optical transfer function) tracking on 2017 LG OLEDs, and have taken down our preliminary findings in the meantime.
Gaming
Considering how LG rolled out a firmware update late last year to provide an effective [HDR Game Mode] on its 2016 OLED televisions, the company clearly recognises the importance of input lag in consumers' TV purchase decision. The 2017 LG OLEDs have got faster in gaming responsiveness again: on both the W7 and E7, our Leo Bodnar tester returned a figure of 21ms in both 1080p SDR and 4K HDR modes.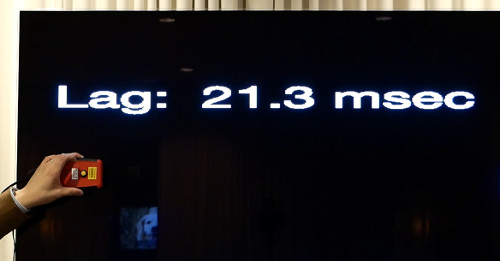 In other words, latency has been reduced by nearly one frame from last year's models, making the 2017 LG OLEDs equally as responsive as the Samsung TVs for gaming. And with OLED's self-illuminating display characterisitics and near-instantaneous pixel response time, blacks won't get elevated in HDR mode, and there won't be black smearing/ trailing with fast pans in games.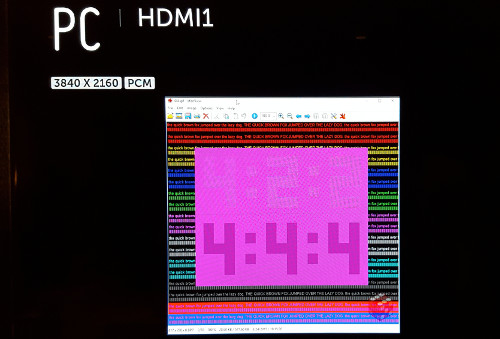 4:4:4 chroma at 3840×2160@60Hz could be obtained by setting the input label to [PC], which will be a boon for PC gamers.
Benchmark Test Results
| | |
| --- | --- |
| Dead pixels | None |
| Screen uniformity | No vignetting or brightening; near-black thin streaks |
| Overscanning on HDMI | 0% with [Just Scan] enabled |
| Blacker than black | Passed |
| Calibrated black level (black screen) | 0 cd/m2 |
| Calibrated black level (4×4 ANSI) | 0 cd/m2 |
| Black level retention | More stable than 2016 LG OLEDs |
| Primary chromaticity | Very good |
| Scaling | Improved standard-definition upconversion |
| Video mode deinterlacing | Effective jaggies reduction |
| Film mode deinterlacing | Passed 3:2 & 2:2 cadence tests in SD & HD |
| Viewing angle (cone) | 166° |
| Motion resolution | 650 with [TruMotion] engaged; 300 otherwise |
| Digital noise reduction | Optional; effective when engaged |
| Sharpness | Defeatable edge enhancement |
| Luma/Chroma bandwidth (2D Blu-ray) | Full Luma; Chroma horizontally blurred |
| 1080p/24 capability | No judder |
| 2160p/24 capability | No judder |
| Measured panel refresh rate | 120Hz |
| Measured peak brightness | 700 cd/m2 10% window; 145 cd/m2 full-field |
| Measured DCI-P3 coverage | 99% |
| Leo Bodnar input lag tester | 21ms in [Game] mode; 21ms in [HDR Game] mode |
| Full 4:4:4 reproduction (PC) | Yes for both 1920×1080 and 3840×2160@60Hz |
Miscellaneous Data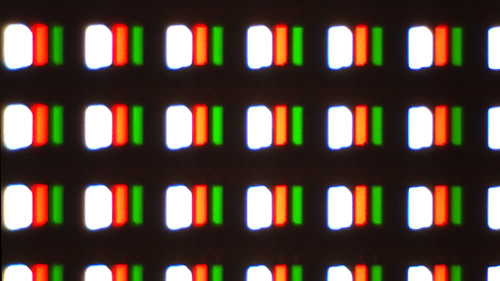 Macro photo of subpixel structure verifying LG Display's WRGB OLED configuration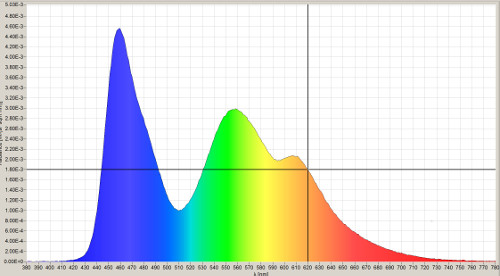 Spectral power of distribution captured using a JETI Specbos 1211 spectroradiometer
Video Review
Conclusion
Can a 6-hour evaluation of a TV really be called a review? We'll leave it up to you readers to decide, but thanks to our streamlined workflow and some suggestions from Chris Heinonen at The Wirecutter/ ReferenceHomeTheater.com who did the exact same thing one week earlier, we have hopefully collected and documented enough data to give you a comprehensive idea of how LG's 2017 OLED TVs will perform.
In short, the LG OLED65W7 is a triumph, and bodes well for the rest of the South Korean brand's 2017 OLED ranges even in the face of strong competition from Panasonic's and Sony's upcoming offerings. Compared with last year's models, the SIGNATURE W and step-down E7 series deliver a host of improvements, ranging from better above-black handling and lower input lag to brighter ABL (Automatic Brightness Limited) algorithm and cleaner standard-def upscaling.
Realistically, none of the improvements (except perhaps for the cleaner near-black rendition) will be enough to persuade owners of 2016 LG OLEDs to upgrade, considering they'll have to give up the class-leading 3D performance on their sets. But for prospective buyers who are on the lookout for a new high-end TV this year, almost no manufacturer is supporting 3D in 2017 anyway, so LG's new OLEDs – especially the B7 and C7 series which are likely to be significantly cheaper than Panasonic's EZ952/ EZ1002 or Sony's A1 OLED – deserve a place on top of your shortlist for their sensational SDR performance which betters even the already superb 2016 models.