British Sky Broadcasting (BSkyB) has struck a deadly blow to its rivals Lovefilm and Netflix as the battle for online audiences heats up, landing a major new deal with the Warner Bros. studio that will see the latter's content made available exclusively on Sky Movies, Sky Go and Now TV.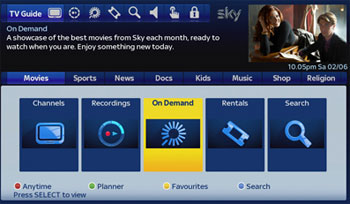 BSkyB & Warner ink exclusive content deal for Sky Movies
The two companies announced details of what they call a "comprehensive film agreement", which covers both up-and-coming and existing movies.
Hollywood blockbusters such as Lord of the Rings and The Matrix will be made available to Sky exclusively under the deal, meaning the digital satellite television company's rivals will be left out in the cold, unable to screen them. The agreement covers all of BSkyB's services, so subscribers will be able to view the content on the broadcaster's new Now TV platform, as well as its flagship movie channels and on-demand ones.
Sky viewers will be able to see the latest Warner titles (most are available in high definition; some in 3D) either on their HDTV in the comfort of their own homes, or on mobile devices via Sky Go, around six months after they make their debut on the big screen. Under the deal, Sky will have exclusive rights to all new Warner Bros. productions for 12 months after they come out.
Some of the current blockbusters available to watch soon include The Dark Knight Rises, Sherlock Holmes: A Game of Shadows, and Wrath of the Titans, while upcoming titles include The Hangover Part III, Man of Steel and The Great Gatsby.
Ian Lewis, Director of Sky Movies, said that the broadcaster is delighted to extend its long-standing partnership with Warner Brothers:
"The agreement gives our customers exclusive access to the entire range of content produced by Warner Bros., reflecting our determination to offer them the biggest and best choice of new films."
"By offering these movies through our usual Sky Movies channels, plus on-demand and on-the-go through Now TV, we believe we're strengthening the experience of our customers, giving them greater flexibility and value for money."