BBC – the UK's public broadcaster – has announced that it will show the Wimbledon finals in glorious 3D this year, which promises to be an immersive viewing treat for tennis fans who have the necessary equipment. The finals will represent the very first 3D broadcast from the Beeb, making them an even more important and iconic event than normal. The men's and women's singles finals, which are set to be played on 2nd and 3rd July, will be shown in all their extra-dimensional glory on the BBC HD channel.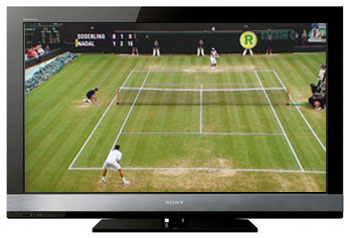 In order to watch the finals in 3D, viewers will need to have access to a 3D-capable HDTV. For die hard tennis fans this will bring them closer than ever to the action without actually being at Wimbledon in person. The BBC will effectively bring the popular match into the homes of those that have the technology to view it in this format, which will make it all the more exciting and dramatic to watch.
Whilst the tournament will be covered by BBC1, BBC2 and BBC HD, it is only the latter that will be showing it in 3D. Although millions of people tend to tune in to these exciting tennis matches, many may not have a 3D TV with which to enjoy the full effect of the tri-dimensional broadcast. However, when the World Cup was being broadcast last year it was reported that many football fans actually went to the effort of upgrading their existing sets and buying big-screen televisions on which to enjoy the excitement of the football matches. Based on this, electrical retailers may see an influx of eager tennis fans snapping up 3D TVs in preparation for the matches.
A BBC spokesperson said: "This unique 3D transmission is the latest innovation to bring to life all the tension, drama and excitement on one of the most iconic sporting arenas in the world."