The biggest sporting event on earth — the FIFA World Cup 2010 — will kick off in less than 3 weeks' time. If like us, you've not been fortunate enough to snag a ticket to South Africa, there may still be time for you to do the next best thing. Namely buy a brand new flat-screen HDTV, and feast your eyes on Wayne Rooney's every strand of stubble and every bead of sweat right in your lounge in glorious high definition.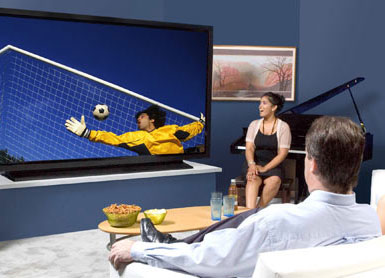 But with so many models available on the market, how should you go about choosing the right HDTV in time for World Cup 2010? Having reviewed more than 80 flat-panel displays over the past 3 years, we've decided to distill all the knowledge and experience we gained into 4 essential aspects you need to consider:
Motion Resolution
The HDTVs most suitable for watching football are those that can handle fast on-screen sporting action without excessive motion blur. Here at HDTVTest, something we routinely measure on each HDTV we review is motion resolution, which refers to how well the TV maintains its on-screen resolution during movement. The higher the motion resolution, the less the motion blurring you'll see on the HDTV.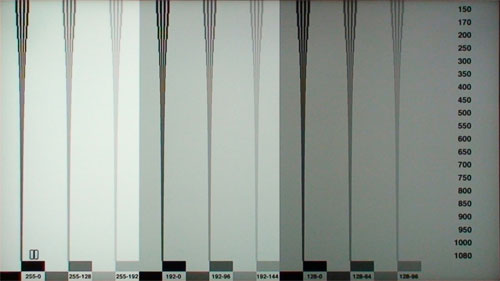 The test pattern we use to measure motion resolution on the HDTVs we review
Even though LCD TVs have made great strides in recent years, generally plasma televisions still deliver some of the highest motion resolution on offer today, making plasma the best display type among flat-screen HD TVs for watching fast-action sports like football. We've been really impressed by Panasonic's 2010 range of plasma TVs (such as the Panasonic S20 and G20 NeoPDP series) which boasts deep blacks, wide viewing angles and virtually no image retention in addition to high motion resolution.
If you prefer to go for LED or LCD TVs because of their typically sleeker styling and lower power consumption, the good news is that some LED/ LCD TVs are equipped with motion-compensated frame interpolation (MCFI) like 100Hz or 200Hz technology which can help them come close to or even match plasma's motion resolution.
However, these extra motion processing invariably introduces interpolation artefacts into the picture, for example you may notice the ball tearing up slightly as it whizzes past the crowd. In our experience, Sony Bravia LCD TVs equipped with their proprietory 100Hz/200Hz Motionflow system (e.g. the Sony KDL-40EX503U which costs £749 including free delivery from Amazon) exhibits the least motion interpolation artefacts among the major TV brands.
Viewing Angle
If you're going to invite your mates around to enjoy some World Cup football, then another important attribute you should consider is the TV's viewing angle.
In this area plasma TVs again reign supreme: like CRT TVs, they exhibit virtually no drop-off in contrast and colours when watched from an angle however acute. This is different from LED/ LCD TVs where blacks start to lighten, and colours begin to fade when viewed off-axis.
LCD TVs tend to lose contrast and colour saturation when viewed from an angle
Some LED/ LCD TVs do fare better than others though depending on the type of panel used. We find that LED/ LCD TVs blessed with IPS (In-Plane Switching) panels (like the Panasonic and LG LED/ LCDs) usually have better viewing angles than those with VA (Vertical Alignment) panels.
Integrated Freeview HD Tuner
Freeview HD transmission was launched in December 2009, adding a few HD channels to its existing standard-def line-up. Although currently the only available high-def channels on Freeview HD are BBC HD and ITV HD, fortunately these are the two channels responsible for broadcasting almost every World Cup 2010 match in high definition so you won't be missing out (provided you stay in an area with Freeview HD reception… you can check at http://www.freeview.co.uk/availability/main/indexhd/).

If you're going to buy a new HDTV anyway, it makes sense to choose one with integrated Freeview HD tuner, so all you need to do to enjoy HD World Cup football is to hook the TV up directly to your aerial without needing to install a satellite dish or pay any subscription. Here's a semi-exhaustive list of HDTV models from the major brands with Freeview HD tuners built-in:
LG: PK590, PK790, PK990, LD690, LD790, LE5900, LE6900, LE7900, LE8900, LX6900 and LX9900 series.
Panasonic: S20, G20, V20, D25, D28, VT20 series.
Philips: No 2010 models with built-in Freeview HD tuners.
Samsung: C580, C630, C650, C652, C654, C750, C5800, C6000, C6500, C6505, C6510, C6530, C6540, C6600, C6620, C6900, C7000, C8000 and C9000 series.
Sharp: LE811E and LE821E series.
Sony: Bravia EX403, EX503, EX603, EX703, NX503, NX703, NX803, HX703, HX803, HX903 and LX903 series.
Toshiba: RV753, SL753 and WL753 series.
Screen Size/Viewing Distance
While it's tempting to spend your money on the largest flat-screen HD TV you can afford, your TV's screen size should primarily be dictated by how far you're going to sit from the TV. Sit too close and you'll notice pixelation and other undesirable video artefacts; sit too far and you'll lose out on seeing the extra detail that HD resolution brings.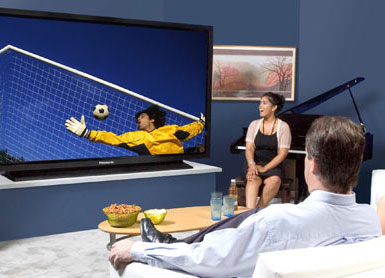 Choose the right TV size depending on your viewing distance
The resolution of the source material plays an important part as well. If the majority of your viewing is in standard definition then you may have to sit further from the screen to avoid seeing compression and scaling artefacts. HD content (especially Full HD 1920 x 1080 ones) allows you to sit closer to the screen, and enjoy the additional detail and immersive cinematic experience.
Because the quality of scaling/ upconversion on modern HDTVs has improved a lot recently, when watching SD content today you can sit closer to the TV than the viewing distance we recommended a few years ago. With these points in mind, here's an updated table to guide you on the optimal viewing distance for your TV screen size depending on the source material:
| | | |
| --- | --- | --- |
| Screen Size | SD Viewing Distance | HD Viewing Distance |
| 32″ | 6 feet | 4 feet |
| 37″ | 7 feet | 5 feet |
| 40″ | 8 feet | 5 feet |
| 42″ | 8 feet | 5½ feet |
| 46″ | 9 feet | 6 feet |
| 50″ | 10 feet | 6½ feet |
| 52″ | 10 feet | 7 feet |
Happy hunting for your new HDTV, and good luck for whichever country you support!