At the company's IBC press conference in Amsterdam, Sony has announced plans to film and broadcast next year's Brazil World Cup Final in glorious ultra high-definition (UHD) resolution, following successful tests of 4K broadcasting at the FIFA Confederations Cup this summer.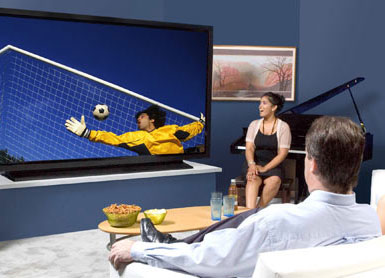 FIFA's TV director Niclas Ericson confirmed the news at IBC, saying that delivering the Brazil 2014 World Cup Final in 4K is the "next evolution" of football broadcasting. "We're certain that doing so will create a more exciting and richer experience for television viewers," he added.
As part of the arrangement, Sony is expected to take care of all the technical details of the project, including actual 4K Ultra HD production. Perhaps for that reason – it's by no means an easy undertaking – the only match that's been confirmed for 4K broadcasting is the final itself, although discussions are underway about potential cinema screenings and public broadcasts of other games. According to Ericson, the actual number of games to be shot in 4K will be decided after the World Cup Finals draw in December, which suggests that Sony might not be able to ignore a tasty clash between say, England and Brazil, should it arise.
Katsunori Yamanouchi, vice president of Sony Professional Solutions Europe, also appealed to television producers and broadcasters during the announcement, telling them that even though most viewers don't yet have 4K TVs, any investment in 4K would pay off handsomely:
"Our live production system can also be used to shoot full HD as well, we can offer HD cut-outs from our 4K cameras, high frame rate sequences for slow motion, down-conversion and more," Yamanouchi explained.
The World Cup Final is just the latest in a number of milestones Sony has achieved in 4K. The Japanese brand has been at the forefront of pushing Ultra HD, securing a big lead in the market when it comes to actual 4K TV sales. Previous experiments with 4K broadcasting have included this summer's Confederations Cup and the Wimbledon tennis championships. Meanwhile, the company has also been pushing lots of 4K hardware and content to try and ensure people actually have something to watch on their UHD televisions, including "Mastered in 4K" Blu-rays, Sony Video Unlimited 4K download service, FMP-X1 4K Media Player, and its upcoming PS4 next-generation console that's capable of streaming 4K videos.
Source: Hollywood Reporter