Sony has unveiled its 2016 Bravia television lineup at the Consumer Electronics Show (CES) in Las Vegas. As per last year, the range-topper will be a 75-incher featuring 4K UHD (ultra high-definition) resolution, HDR (high dynamic range) support and direct-lit full-array local dimming (FALD) backlight technology, although there have been some changes too.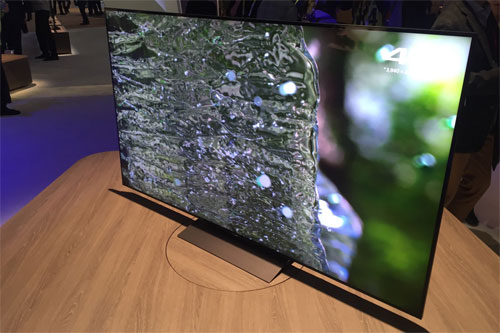 First and foremost is the design. If you'd previously wished that Sony would remove the side speakers (which extend the width of the panel considerably, and may be superfluous for viewers who already own a separate dedicated sound system) on the company's high-end TVs, your prayers have been answered. The flagship Sony XD94 and step-down XD93 series now sport slim bezel which will undoubtedly widen their appeal to potential buyers with cramped space.
Not that you don't need room to house the top-tier Bravia XD94, because it only comes in one gigantic screen size of 75 inches. The Sony KD-75XD9405 features FALD, 4K X1 video processing engine, TRILUMINOS Display wide colour gamut, Motionflow XR 1200Hz, as well as Android TV platform. Based on the stupendous performance of last year's KD-75X9405C, we have really high expectations for this one.
The sub-flagship Bravia XD93 range will come in two screen sizes: the 55-inch Sony KD-55XD9305 and the 65-inch KD-65XD9305. New to these models is a Slim Backlight Drive technology which according to the Japanese manufacturer is "a new grid-array backlighting system that was previously only achievable with full-array LED backlight systems". We'll ask Sony when we meet them whether this is edge-lit or full-array LED backlighting (we suspect it's the former given the wording), but either way Sony's pseudo-local dimming algorithm even from edge LEDs is on balance the best in the business in any case.
Fans of curved screens can look forward to the Sony SD85 series comprising the 55in KD-55SD8505 and 65in KD-65SD8505, while the midrange Bravia XD85 series is made up of the 55″ KD-55XD8599, 65″ KD-65XD8599, 75″ KD-75XD8505 and 85″ KD-85XD8505, replacing the outgoing X85C.
Considering that all other major TV brands are trumpeting their "Ultra HD Premium" certification at CES 2016, it's surprising to see Sony not jumping on the bandwagon. We can think of no reason why the flagship KD75XD9405 wouldn't qualify, since its predecessor the X94C already boasts the strongest credentials to be retrospectively certified.
Sony's new range of Bravia TVs will arrive in UK shops in March, though prices remain unconfirmed.