Samsung has this week announced a deal with internet giant Yahoo, which will see the latter's Broadcast Interactivity platform integrated with the Korean manufacturer's Smart TVs.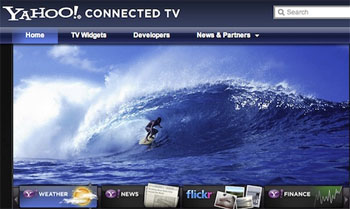 Yahoo to deploy interactive TV platform on Samsung Smart TVs
What this means for Samsung users is that they'll be getting a lot more interactive content to play with, such as on-screen prompts in real-time recommending suggested content that can be accessed via connected smartphones and tablet devices. In addition, content producers will be able to add additional information about their programmes, and extra features such as games or trivia, while the service could give advertisers a new opportunity to entice viewers as well by making their ads more interactive and 'fun'.
"Samsung Smart TV viewers can now access content and related offers quickly and easily, via a click of the button on their remote, or by tapping their smartphone or tablet," said Samsung in a press release.
According to Yahoo, the National Geographic Channel and Showtime Networks have already said that they'll take advantage of the new service to deliver more interactive content to Samsung Smart HDTV owners.
One of the more interesting aspects of the service will be the enhanced advertisements offered using Broadcast Interactivity. Through the platform, advertisers will be able to create new forms of advertising, embedding "calls to action" within their commercials such as coupons, downloads and product reviews, which can all be accessed at the click of a button. So the next time you see an advert for Mr Muscle's toilet cleaner and want to see if it's really all it's cracked up to be, you can do so straight away.
Broadcast Interactivity works via Yahoo's automatic content recognition technology, also known as Soundprint, which will be integrated with the Syncplus feature of Samsung Smart televisions. This allows Yahoo to know what you're watching, be it live or recorded shows, through a process known as "audio fingerprinting".
Yahoo said that its content partners and advertisers will be able to reach out to many more viewers thanks to the deal.
The new service will be integrated into Samsung's 2012 range of Smart TVs later this year via a firmware update, beginning in the USA. There's no news on when the feature will reach the UK, but when it does we'll be sure to let you know.