YouTube will be taking centre stage at next week's CES show in Las Vegas to demonstrate 4K UHD (ultra high-definition) video streaming using a new codec developed exclusively by its parent company Google. Known as VP9, Google's royalty-free codec is billed as an alternative to the latest H.265 codec, which is currently the most prevalent of 4K standards.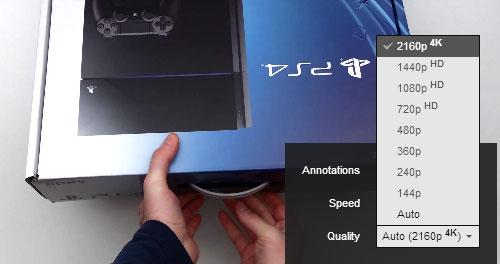 Google's VP9 codec is the successor to its previous VP8 standard, which the company launched back in 2010. At the time, Google hoped that the codec would become the number one choice for plugin-free video streaming and real-time communications – however, despite Google adopting the standard for its Hangouts video conferencing, it failed to catch on elsewhere due to a lack of hardware support, and opposition from companies looking to profit from commercial video formats.
This time round things could well be different though, as Google has already got a number of display and chip makers on board, pledging support for the VP9 standard. These include TV manufacturers LG, Samsung, Sharp and Toshiba, plus ARM, Intel and Marvell on the chip side. In total, Google claims to have 19 hardware partners pledging support.
According to tech site GigaOM, a YouTube spokesperson said that one of the biggest benefits of VP9 is the reduced amount of data being transferred in video streams. That will be extremely handy for those wanting to stream 4K content, but even for existing HD video, data demands should be cut in half, which should result in a huge reduction in buffering.
Interestingly this isn't the first time YouTube has delved into 4K. The site actually began offering support for 4K content way back in 2010, though it was only a few weeks ago that the video-sharing platform added a "2160p 4K" option to its video quality settings for super high-resolution videos.
As for VP9 itself, that's likely to roll out slowly too. While YouTube will demonstrate the codec at LG's, Sony's and Panasonic's booths at CES 2014 next week, it says that the first Ultra HD TVs supporting the format likely won't be available until 2015 at the earliest.