LG Display shows off higher contrast transparent OLED screens
By Mike Wheatley
- 8 September 2021
LG Display has teamed up with smart glass technology firm Gauzy to create a new kind of transparent OLED display with incredibly high contrast ratios that make it more suitable for brightly lit environments.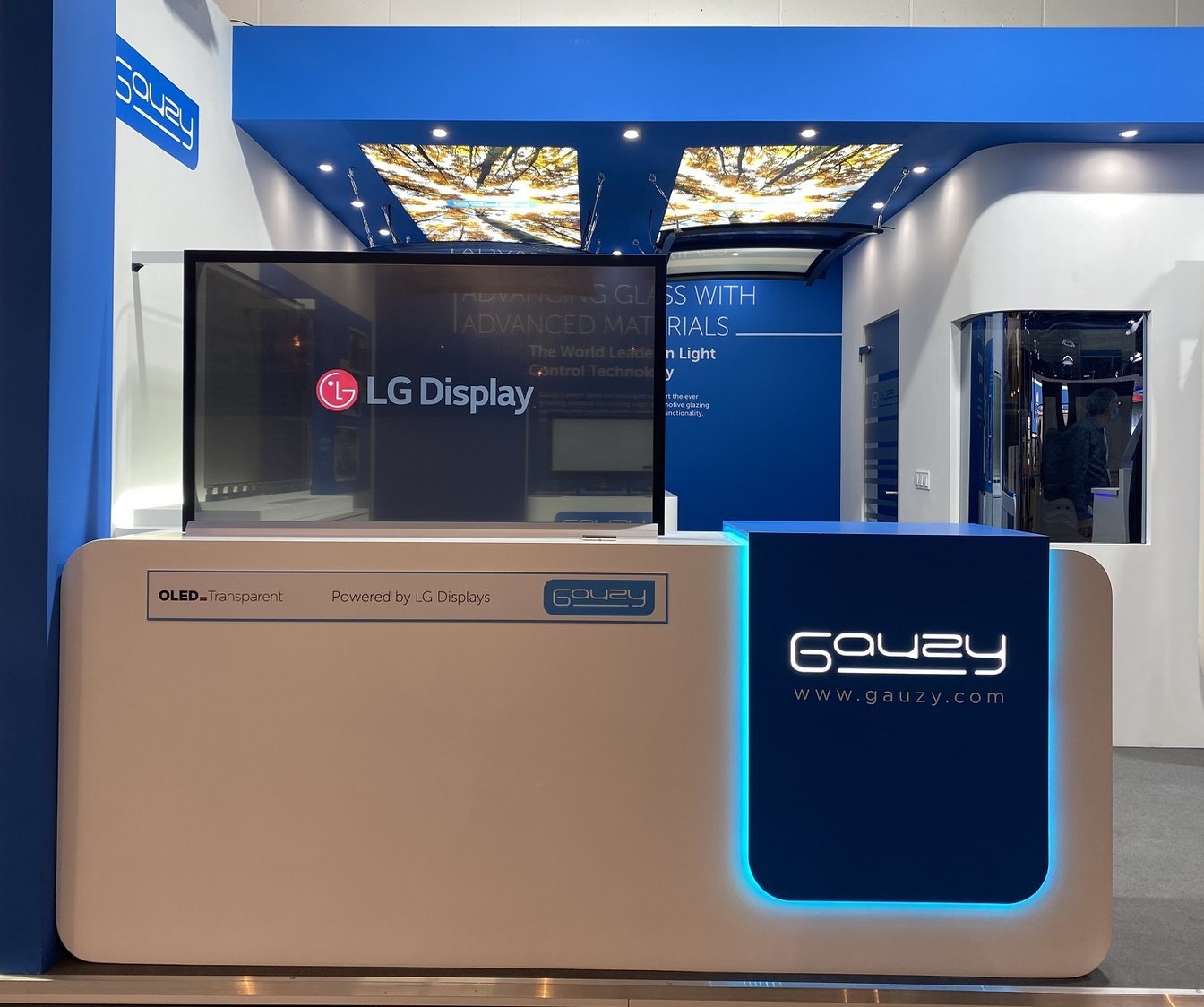 The new transparent OLED display was demonstrated for the first time at this week's International Motor Show in Munich, Germany, and is laminated with Gauzy's Suspended Particle Device tech to make it more adaptable for shifting light conditions, LG explained.
When the SPD is switched on, the screen can deliver clear visual content while also allowing the viewer to clearly see what is behind the display. LG Display said it sees the technology as a possible replacement for greenhouse glazing in situations where both information and a view of the outside is desired.
The SPD technology created by Gauzy works by dimming the transparent OLED panel to any desired opacity based on the amount of sunlight it detects. The idea is that it can provide shade for passengers in, say, a train, while still displaying relevant information about train timetables (or advertisements) and a view of the city outside. SPD is able to block 99% of the light that hits the display, and ensures high contrast both during the day and also at night.
LG Display sees great potential in the idea of transparent OLED displays. The technology was originally seen as a bit of a gimmick, and although a few companies have launched transparent OLED TV sets, it's the commercial prospects of the technology that excite the most. The company has already installed transparent OLED displays in subway train windows in Beijing and Shenzhen, China, for example. More recently, it has installed its displays inside a popular Korean clothing store where it displays advertisements of various products.
Although the technology clearly has potential, there has been some criticism that the displays lack visibility in bright environments, hence the reason for LG Display's collaboration with Gauzy to try and fix that.
"The ability to make any window active, multifunctional, and the ability to provide both visual and thermal comfort alongside communication is one of Gauzy's core goals," said Gauzy Chief Executive Eyal Peso.
Also at IMS this week, LG Display showed off a second transparent OLED display equipped with Gauzy's Insulated Glass Unit technology, which is a special tempered glass that prevents it being damaged by impacts or vibrations.
LG Display has previously also proposed transparent OLED sliding doors and menus for restaurants, among its other ideas.
"LG Display is pleased to showcase Transparent OLED displays designed for trains in the European market for the first time ever," said Cho Min-Woo, head of the Transparent OLED business at LG Display. "LG Display will bring new possibilities with its Transparent OLED to the signage and mobility markets while delivering innovative and trendy new ways for all kinds of companies to display information through eye-catching spatial designs and interior effects."