LG's OLED panels achieve "Eco Product" certification from SGS
By Mike Wheatley
- 13 November 2020
LG Display's OLED display panel technology been awarded an "eco-product" certification from the Switzerland-based inspection, verification and testing authority SGS, adding to its growing list of achievements.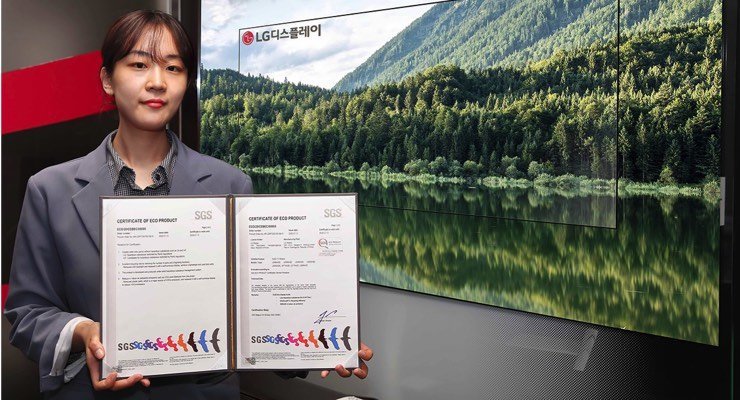 SGS said it evaluated the overall environmental aspects of OLED TV panels, and concluded that their eco-friendliness was rated as "excellent" in three categories, including Indoor Air Pollutants, Hazardous Substances and Recycling.
The organization found that the manufacturing process for OLED TV panels reduces emissions of total volatile organic compounds, or Total VOCs, by more than 50% in comparison to LCD panels.
Total VOCs are a big health concern, as scientists believe they are linked to conditions including atopic dermatitis and sick house syndrome, LG said. The compounds are generally released from plastics during the manufacturing process. But while LCD needs to use various plastic-based sheets and parts for their backlights, this is unnecessary with OLED panels, as they use more simple structures that glow spontaneously without a backlight, LG Display said.
SGS also noted that OLED TV panels do not use any parts that contain harmful substances such as cadmium or indium phosphide, unlike LCD panels. Cadmium is classified as a carcinogen by the International Cancer Research Institute under the World Health Organization, and indium phosphide is classed as a "cancer-estimating substance".
LG's OLED panels also displayed excellent resource efficiency and recycling rates as they use less parts overall than LCD panels, SGS said.
"As indoor TV viewing time increases due to COVID-19, interest in comfortable and eco-friendly TVs is increasing," said Oh Chang-ho, vice president of LG Display's TV business division. "The OLED, which takes into account health and environment as well as excellent picture quality, is the best TV in the COVID-19 era."
Earlier this year, LG Display's OLED display panels landed an Accurate Picture Quality certification from Intertek for their ability to precisely realize the picture quality intended by original content producers. Prior to that, in 2019, the OLED displays achieved an "Eye Comfort Display" certification from TÜV Rheinland for their low blue light emissions and flicker-free status, which confirms that they're easier on the eye than other kinds of display panels.
LG Display said it's looking into various way and methods of making its products even more eco-friendly. To do so, it has created a self-evaluation index that will help it to evaluate and improve its use of recycled materials, power consumption and harmful substances during each stage of product development.