Oppo announces its first 4K HDR Smart TVs in China
By Mike Wheatley
- 21 October 2020
Chinese consumer electronics firm Oppo, best known for selling affordable but high-spec Android smartphones, has just launched its first 4K HDR Smart TVs.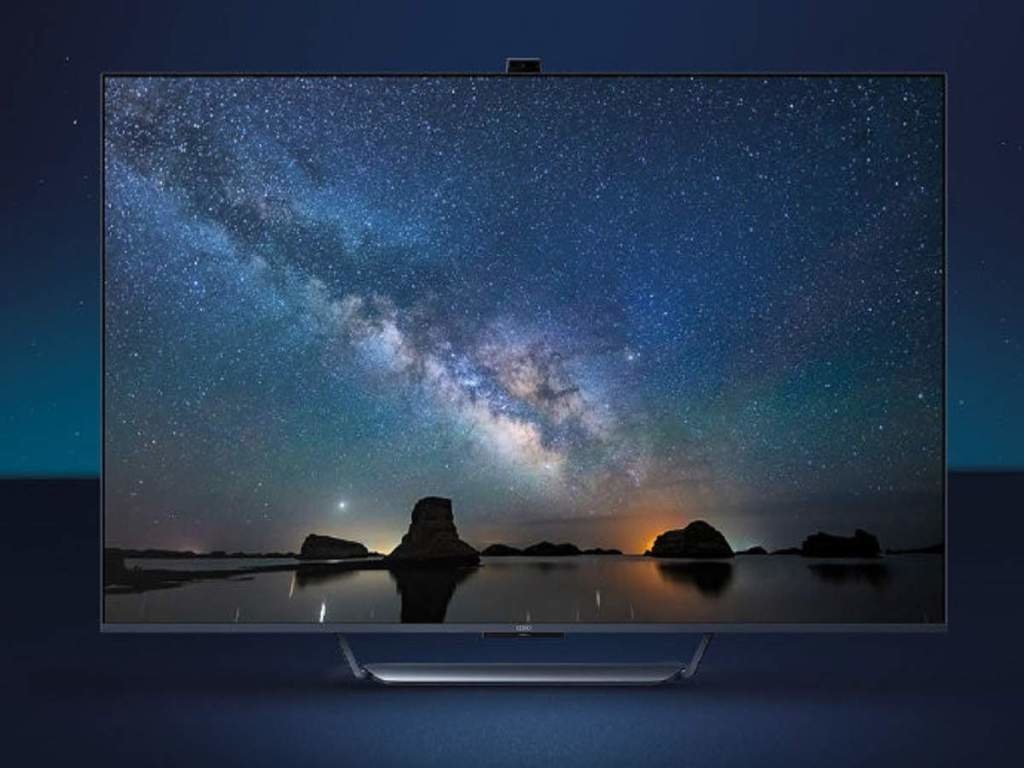 Oppo's first televisions are its flagship Oppo Smart TV S1 (pictured), which is available in 65-inches only, and the Oppo Smart TV R1, which comes in a choice of 55 and 65-inch sizes.
Oppo's strategy appears to be about packing its Smart TVs with as many features as possible instead of the super rich images that the likes of Samsung and LG are all about, but a first look suggests both will be strong contenders in the mid-range market the company is aiming for.
For one thing, the TVs have a unique design that makes the image appear to be floating in the air just in front of the TV, a kind of 3D-like visual experience made possible by a suspension design that sees the screen extended slightly forward from the chassis by 1.86mm.
The Oppo Smart TV S1 comes with a 4K QLED display that packs 210 dimming zones and offers a 120% ultra-wide NTSC colour gamut with a peak brightness of 1,500 nits. It also supports a 120Hz refresh rate to make the most of new gaming consoles like the PlayStation 5 and Xbox Series X, as well as the primary HDR formats Dolby Vision and HDR10+, which use dynamic metadata. The HDR10 and HLG HDR formats are also supported, and the screen is Low Blue Light certified by TUV Rheinland, which means it won't hard your eyes if you spend hours on end gazing at it.
The S1 also offers a 178° viewing angle and the screen has a low reflection coating to reduce glare. It's also equipped with a light sensor to detect the ambient light level in the room so as to adjust the screen brightness to the optimal level. There's also 8.5GB of RAM and 128GB of internal storage available, Oppo said.
As for the Oppo Smart R1 TV, this is a basic LCD display that also supports HDR minus Dolby Vision, and covers up to 93% of the DCI-P3 wide colour gamut. It offers a maximum of 250 nits peak brightness for the 55-inch model, and up to 300 nits on the 65-inch version.
The S1 is powered by a quad-core MediaTek MT9950 System-on-a-chip that's paired with Mali-G52 MC2 GPU, while the R1 features a MediaTek MT9652 SoC paired with Mali-G52 MC1 GPU, so it has a bit less processing power. Still, the combination of a traditional processor and a GPU ensures that both TVs are capable of decoding 8K video sources, even though they only have 4K screens. The content would obviously have to be downscaled, but there may be some gain simply because you're feeding the TV with higher quality source material.
With regards to sound, the Oppo S1 has an 18 speaker array in a 5.1.2 channel configuration and supports Dolby Atomos, while the R1 supports Dolby Audio.
Both TVs are equipped with HDMI 2.1 ports at the back that enable features such as Variable Refresh Rate, Auto Low Latency Mode and enhanced Audio Return Channel. There's also a pop up 1080 pixel smart camera on the S1 for video calls, while the R1 supports the addition of an external camera.
The company said the Oppo Smart TV S1 and Oppo Smart TV R1 run its ColorOS operating system, which is a customized version of Android TV, and feature the Breena voice assistant for help with search and navigation.
Oppo is following the path of several prominent Chinese smartphone makers in venturing into TVs. Last year, Huawei announced its new Honor TV brand and followed up with the launch of its Vision TVs in September 2019, followed by its first OLED TV this year. Xiaomi went one step further with the launch of its luxury Mi TV LUX OLED Transparent Edition in August.
Oppo's TVs, like those of its rivals, are for now targeted at the company's domestic audience in China. Still, given the company's success in exporting its smartphones abroad, we wouldn't be surprised to see its TVs expand into additional territories once they've established themselves at home.
Oppo said the Oppo Smart TV S1 is on sale now at the seemingly very low price of just 8,000 RMB (£925). The 55-inch R1 is priced at 3,300 RMB (£400), while the 65-inch R1 retails at 4,300 RMB (£500).