It's been a while since we were able to check out one of LG's higher-end HDTVs, so we were naturally eager to review the LM960V series which is the Korean manufacturer's flagship LED LCD TV range for 2012, comprising the 47-inch LG 47LM960V and the 55-inch 55LM960V (we tested the former). Features include a 1920×1080 Full HD LCD panel (of course), the company's much-touted Cinema 3D (i.e. passive 3D) technology, Smart TV capabilities, and LG's Wii-like "Magic remote", which should act as a fine substitute for a mouse when navigating web pages on the television.

By far the biggest benefit of passive 3D technology is the simplicity and cheapness of the polarized 3D glasses. In fact, just in case the message wasn't clear enough, LG Electronics provides no less than seven pairs in the box. Four of these are standard 3D glasses, one is a "clip-on" pair designed to fit over regular glasses, and the remaining two are "Dual Play" glasses, which allow two players in the same room to play competitive video games – both see a different image, without resorting to traditional "split screen" effects. Point made, LG, point made.
Like many other ultra-slim LED LCD TVs, the 47LM960V isn't cheap, but let's see if it can deliver value via its picture quality and feature set.
Note: before the review process, we updated the system software from version 03.02.08 (as received) to version 03.04.05.
Note: The specific model we reviewed was the LG 47LM960V, which is the UK 3-pin-plug version. While we did not test the larger 55″ LG 55LM960V, there shouldn't be any major difference in picture performance given similar specifications within the LM960V range.
Design
Some have suggested that LG takes more than a little inspiration from their cross-town rival Samsung in terms of HDTV design, but we can't see much real evidence of that on the 47LM960V. The design is LG's own, although with bezels becoming nearly non-existent, one of the last areas left where manufacturers can distinguish themselves is the stand which the flat panel sits on. The 47″ LCD screen is surrounded by a curved-edged, silver trim, and a roughly 1cm high black strip below the panel bears the company logo. The stand is of the silver chrome variety. We're definitely fans of this design.
Connections
4 HDMI inputs
1 Component input
1 SCART input
1 Composite input
1 PC "VGA" input
Aerial input (DVB-T2 / "Freeview HD")
Satellite input (DVB-S2 – NOT FreeSat branded)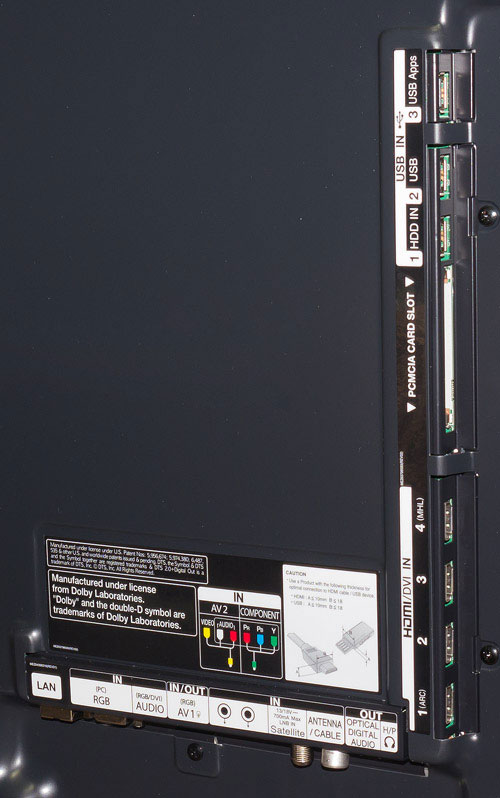 Rear connections on LG 47LM960V
Operation
The top-level picture adjustment on this display is the [Picture Mode]. LG has done really well to provide two ISF "Expert" modes (which can be fashioned into ISF Day and ISF Night presets by an ISF calibrator) for many, many years now – in fact, they led the way in providing these controls even on cheaper models. Both these modes unlock the TV's full range of picture setup controls.
There's also a "Game" mode for cutting down input lag with video gaming. The rest of the modes found on the LM960V, from our point of view as users who want to see films and television shows the way the directors made them, are basically superfluous.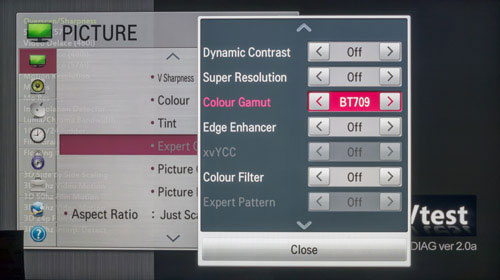 [Picture] menus
On top of the basic controls you'd expect (such as Brightness, Contrast, Backlight and so on), the significant advanced picture options include a selection of [Colour Gamut], which offers SD SMPTE (for standard-definition content from the Americas) and EBU (for standard-def content from the rest of the world), as well as BT709 (for HDTV worldwide) and LG's own non-standard Wide setting which we don't recommend due to the fact that it's, well, non-standard. There's also a "Standard" setting which attempts to select the most appropriate mode automatically, which we recommend using unless you know for sure that what you're watching is a special case. As always, the visual differences are very small, so don't panic.
There's a control for [Gamma], which allows the user to pick a different gamma setting to better suit the lighting in their individual viewing environment (gamma curves which emphasise shadow details are a good idea in very bright rooms, for example, due to the way the human eye works). There's also a full Greyscale configuration menu called [White Balance], which offers traditional 2-point and also 20-point(!) adjustment over this important picture parameter, and a full three-axis [Colour Management] menu. Since we have the means, we'll be adjusting these finely using calibration hardware and software, but before we do that, let's see how the LG 47LM960V performs out of the box in the ISF Expert1 mode – since this is the best quality preset available to users who won't be paying for the full calibration treatment.