2D Calibration
Note: Our LG 47LM960V review sample was calibrated using Calman Professional, the industry-leading video calibration software.
Greyscale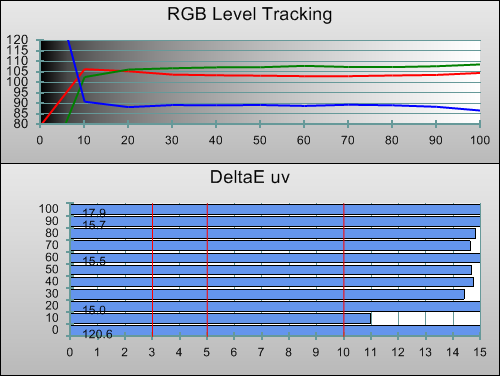 Pre-calibration RGB tracking and delta errors (dEs)
If you select either of the ISF Expert modes on your new, uncalibrated 47LM960V and think, "that picture looks too warm", then you would be right. Greyscale is blue-deficient at all stimulus levels which lends the picture a slightly "baked" appearance. However, the greyscale tracking is linear, without any huge dips or boosts at any measured level, making the inaccuracy easier to tune out mentally. Picture quality in this state was fairly good, although anything with a large amount of white – for example, the BBC News channel's headline graphics – revealed the beige hue.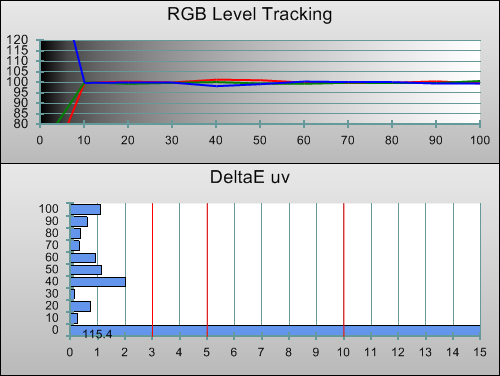 Post-calibration RGB tracking and dEs in [ISF Expert1] mode
Of course, we have one of the finest calibration devices around and CalMan calibration software to assist with the setup process, so we naturally delved into the 47LM960V's menus and adjusted each parameter so we could see what this HDTV looked like when pushed to its absolute performance limit.
First of all, we used the 2-point correction method, which netted us flat greyscale tracking for the most part. However, similarly to side-lit LED LCD TVs we've reviewed, the lower end of the greyscale was tinted blue, which we understand is related to the use of LEDs as a light source. As such, instead of adjusting the low end controls around 20% stimulus and the high end around 80%, we instead adjusted around 30% and 80%, in order to get as much of the Greyscale range as flat as possible. This gave us the most linear/flat greyscale tracking, with severe errors around 5-25% stimulus. We then jumped into the 20-point mode (which, on the LG LM960V, "tops up" the adjustments made in 2-point mode rather than being a completely separate set of adjustments) and corrected the remaining severe errors. The result: very, very linear greyscale tracking.
This review actually took longer than usual for one reason: when we calibrate a display, we want to make sure it's producing the absolute best picture that it can before publishing. The menus on the LG 47LM960V are not conducive to this. First of all, using the Greyscale adjustment screens is excruciatingly slow. With nearly every adjustment level, making a change will first flash the screen blue and then slowly move by one increment, with each click of the remote control. It takes nearly one second to move the R, G and B controls by just one click. And no, you can't hold down the remote button to speed things up, the adjustments have to be made one click at a time. It'd be useful to be able to key in numbers here as a workaround, but that's not an option.
Second, pulling the Greyscale menu up changes the brightness of the LED light sources. Why LG have done this, we have no idea. That means that the measured gamma value, and also the greyscale tracking, are not the same when you're measuring the pattern with the menu up, and will display differently when you have the menu closed during real world viewing. So, for an accurate result, you need to bring up the menu, make an adjustment with the slow controls, exit the menu, verify the adjustment, and then rinse and repeat.
Now also remember that the adjustments on their own are slow, and that there are three controls (R, G, B) for all 20 steps, resulting in no less than 60 controls to play with. With that in mind, readers can probably take our word when we say that calibrating the 47LM960V took some time!
Gamma
| | |
| --- | --- |
| | |
| Gamma curve in [ISF Expert1] mode | Corresponding gamma tracking |
We attempted to manipulate the 20-point controls to flatten out gamma tracking and get it in line with our 2.4 target, but this didn't work, so we were left with around 2.3, which is still good. The 20 point greyscale menu has a control called [Luminance] which is adjustable at 100% stimulus, and we adjusted this to see if we could bring about any change in gamma. The control appears to do absolutely nothing.
Did we say "2.4 target"? Yes. ITU have officially specified that 2.4 is the gamma setting to be used during the mastering of studio content – putting an end to years of "is it, isn't it?" confusion. Previously we've aimed for 2.2, which is more suited to general purpose viewing in moderately lit rooms. We imagine that some "wiggle room" will continue to exist in practice though, because lower gamma settings like 2.2 will often be the best choice when the room lighting can't be completely controlled. In other words, although we're now targeting 2.4 as per official mastering standards, if you feel that it's not right for your viewing environment, use what works best for you.
Colour
In the out-of-the-box ISF Expert1 mode, the LG 47LM960V did a good job with colour, although the entire image had a yellow-green tint to it because of the aforementioned Greyscale inaccuracy. Magenta was also pushed slightly towards red, and all of the colours were slightly too dull (not bright enough).
The LG LM960V features a full three-axis colour management system, so correcting these errors was easy. We were left with highly accurate gamut performance, although like many LED LCD televisions, the 47LM960V can't produce the exact high levels of saturation specified for green and red (this will be very difficult to actually see, though).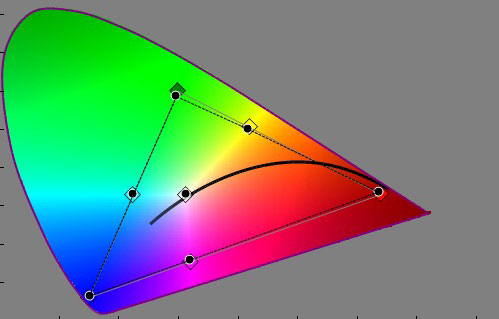 Post-calibration CIE chart with reference to HD Rec.709
Colour luminance levels were visibly perfect, which is great news, because this is the single most important aspect of colour performance.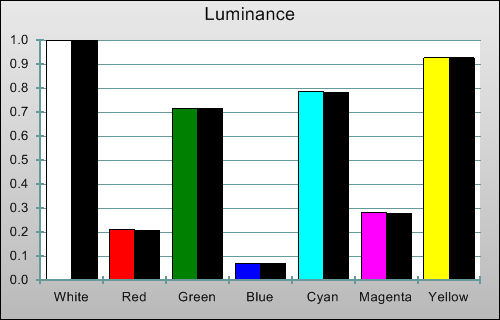 Post-calibration colour luminance (coloured bars = targets; black bars = measured values)
New for all HDTVTest reviews going forward are 5-point colour tracking measurements, courtesy of the hot-off-the-press, pre-release version of Calman version 5. These new (for us) measurements track colour accuracy not just at one level, but at five: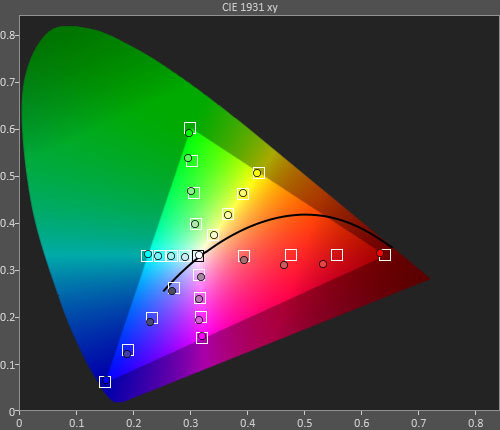 Post-calibration colour saturation tracking
The LG 47LM960 did an overall good job with colour tracking, although its weakness lies with reds. At some levels, it has the tendency to skew "red wine" coloured red towards a pinkier hue. We didn't find this to be a huge deal, and it's likely to go completely unnoticed to all but the most critical of eyes (we're talking directors of photography and film colourists) who are used to watching completely perfect displays. The 47LM960V did a largely fine job with all the other colours.
3D Calibration
Although it can't compete with a (properly engineered) active-shutter 3D TV in terms of resolution – and we do think that that's a big deal in favour of the "Full HD 3D" system – LG's passive 3D system wins in just about every other area. Due to the comparative elegance of the system compared to active, there's very little in the way of calibration challenges. We engaged the 3D mode on the LM960V, placed one of the many pairs of supplied glasses in front of our calibration meter, and saw how well its greyscale accuracy tracked in 3D.
Before we did that, though, we took some readings through the Klein K-10 meter with the glasses in front of the lens, and were delighted to see that the LG 47LM960V easily hit our light output target of 120 cd/m2 with the glasses in place (it could actually go up to 136 cd/m2, if necessary). Brightness is definitely a strength of passive 3D.
3D Mode Greyscale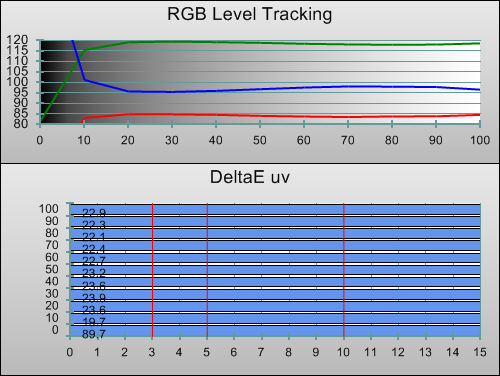 3D Pre-calibration RGB tracking and delta errors (dEs)
In the 2D display mode, Greyscale tracking was too green in the out-of-the-box state. In 3D, the effect was the same, but exacerbated. Once again, this gave images a slightly beige hue.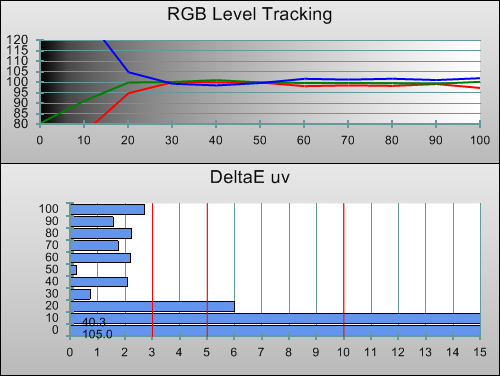 3D Post-calibration RGB tracking and dEs in [ISF Expert1] mode
We corrected this with the 2-point control and got reasonably flat greyscale tracking, but we were unable to get a ruler-flat result in 3D for a number of reasons.
First of all, the menu is excruciatingly slow to use, which means that we have very limited time for trying out different calibration strategies. Secondly, we noticed that if we pushed the controls too far, we started to run out of bits: the 47LM960V's images would clip in one of the R, G or B channels, turning parts of the on-screen-display into a bright cyan colour. As a result, we had to back out of 20-point mode.
One last user interface foible. If you do use the 20-point controls and turn the image into a multicoloured mess, you'll want to hit reset and start again… only there is no reset button. You have to go through all 60 points and reset them to 0 manually. Oh, by the way – did we mention that it takes about one second to move each of the 60 controls by one notch? We did. (Actually, we found it quicker just to hit the main "Reset" button in the menu and dial in our basic settings and 2-point settings again).
So, the above chart is the best compromise we could achieve on the LG 47LM960V – which is still a massive improvement on the out-of-the-box performance, at least.
3D Mode Colour
Colour performance in the third dimension was much the same as in 2D, both before and after calibration. As we often see, the polarized glasses robbed the 3DTV of a small amount of saturation – we simply couldn't fully saturate all colours with the 3D eyewear in place. Fortunately, hue and luminance errors weren't critical, so the image still appeared fairly natural.
Interestingly, there's an option called [3D Colour Correction] in LG LM960V's 3D menu, which we assumed would automatically attempt to correct the tint imposed by the 3D glasses. However, our eyes, and our calibration meter, let us see that this feature actually does – absolutely nothing at all!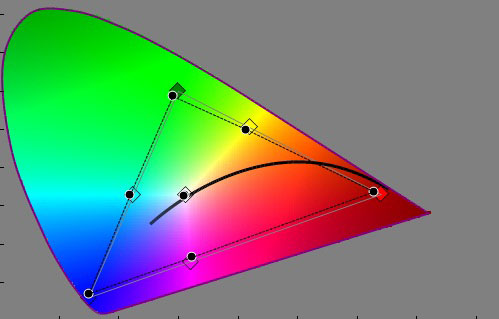 3D Post-calibration CIE chart with reference to HD Rec.709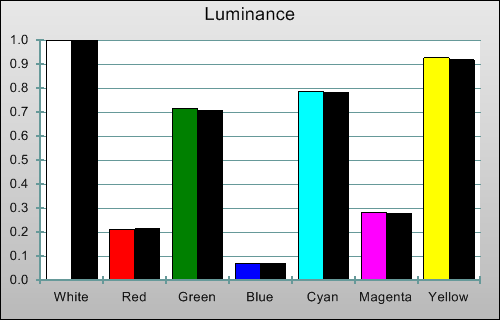 3D Post-calibration colour luminance (coloured bars = targets; black bars = measured values)
Benchmark Test Results
| | |
| --- | --- |
| Dead pixels | One defective pixel in top-right |
| Screen uniformity | Good with content, obvious dirty screen effect with grey scrolling test patterns |
| Overscanning on HDMI | 0% with [Aspect Ratio] set to "Just Scan" |
| Blacker than black | Passed |
| Calibrated black level (black screen) | 0.174 cd/m2 (dimming off), 0.029 cd/m2 (dimming High) |
| Calibrated black level (ANSI checkerboard) | 0.174 cd/m2 (dimming off), 0.158 cd/m2 (dimming High) |
| Black level retention | Stable with local dimming disabled |
| Primary chromaticity | Very Good |
| Scaling | Excellent |
| Video mode deinterlacing | Very effective jaggies reduction |
| Film mode deinterlacing | Failed 2-2 PAL test, passed 3-2 NTSC |
| Viewing angle | Good for an LCD TV; colours remain largely saturated but blacks brighten |
| Motion resolution | 1080 with [TruMotion] on, 300 otherwise |
| Digital noise reduction | Essentially undefeatable noise reduction triggered by certain types of motion, can cause smearing |
| Sharpness | Very minor "etched" pixels – very hard to spot |
| Luma/Chroma bandwidth (2D Blu-ray) | Full Luma, Chroma horizontally blurred (subtle) |
| 1080p/24 capability | Judder after scene cuts in 24p output mode ("Real Cinema"), small rhythmical judder otherwise |
| Input lag | 67ms compared to lag-free CRT (if input label set to "PC"), 100ms otherwise |
| Full 4:4:4 reproduction (PC) | Yes, if input label set to "PC" |
Power Consumption
| | |
| --- | --- |
| Default [Standard] mode (2D) | 114 watts |
| Default [Standard] mode (3D) | 132 watts |
| Calibrated [ISF Expert1] mode (2D) | 77 watts |
| Calibrated [ISF Expert1] mode (3D) | 145 watts |
| Standby | 1 watt |