Panasonic plasmas are widely considered by video enthusiasts to be the best flat-screen TVs available to buy on the market currently in terms of picture quality, but the Japanese brand's LCD-based offerings have been playing second fiddle to models from Samsung and Sony for as long as we can remember. This poses a significant problem for the company: although its Viera plasma televisions command a loyal following among those who value image quality particularly in darkened home environments, the average consumer is more likely to splash out on an LED TV which is typically slimmer, brighter, greener and more versatile. Over recent years, plasma's market share has slowly but surely been eaten up by LCD displays – a seemingly irreversible trend that is not lost on Panasonic.
It's hardly surprising then to find the Osaka-headquartered TV manufacturer expanding its LED LCD lineup with each passing year. At its annual European convention held in France last month, Panasonic unveiled a record number of LED television models for 2013, spearheaded by the flagship WT65 series which comprises the 47-inch TX-L47WT65B and the 55-inch TX-L55WT65B.
The 42-inch Panasonic TX-L42E6B we're reviewing today sits a good few rungs below the top-of-the-line WT65: in descending order, there exist the DT65, the FT60 and the ET60 before we reach the E6 series which is the highest-end non-3D LED LCD range. From another point of view, it's also the lowest-end 2013 Panasonic LED HDTV equipped with the company's new "My Home Screen" Smart TV interface.
Interestingly, besides being available as the 32″ TX-L32E6B, the Panasonic E6 series also comes in 39″ and 50″ flavours (known as TX-L39E6B and TX-L50E6B respectively), two screen sizes which have never graced the firm's LED LCD line-up until now. As far as we're aware, 39-inch LCD panels are made only by AUO (AU Optronics) and CMI (Chimei Innolux), indicating that Panasonic is getting its LCD panel supply from one or both of these Taiwanese manufacturers. Will this bring about an improvement in picture performance? There's only one way to find out!
Updated 14 November 2013: Due to a drop in price to around £550 which makes it even better value for money, and after surveying competing models, we've upgraded the Panasonic TX-L42E6's final rating from "Recommended" to "Highly Recommended".
Design
Panasonic has certainly upped its game in the aesthetics department – even this midrange model features several classy stylistic cues that would do any flagship TV proud. First of all, the company has trimmed any excess fat from the matte silver bezel surrounding the LCD screen – it now measures less than a quarter of an inch in thickness along the top and sides. This widens slightly to half an inch along the bottom border, which is in turn adorned by a thin strip of transparent glass-like perspex bearing an elegant white Panasonic logo in the middle, as well as a small compartment on the left housing the power LED indicator, ambient light sensor and infrared signal receiver. The resultant floating/ "suspended in air" effect reminds us of similar design elements implemented on Sony's high-end Bravia W, X and Z series a few years ago.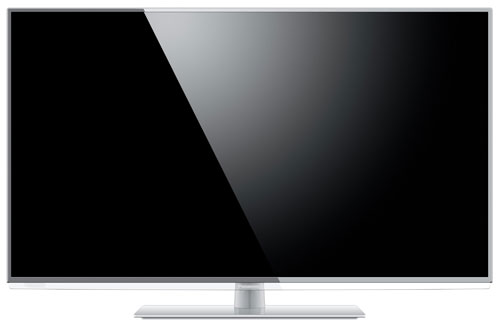 Being an edge LED LCD television, the TX-L42E6 is suitably slim in profile, though still slightly short of the size-zero slenderness seen on Samsung LED TVs. The upside is that the whole unit – ably supported on a non-swivelling pedestal stand whose rectangular base sports a finish that complements the bezel – feels sturdy and well-built.
Connections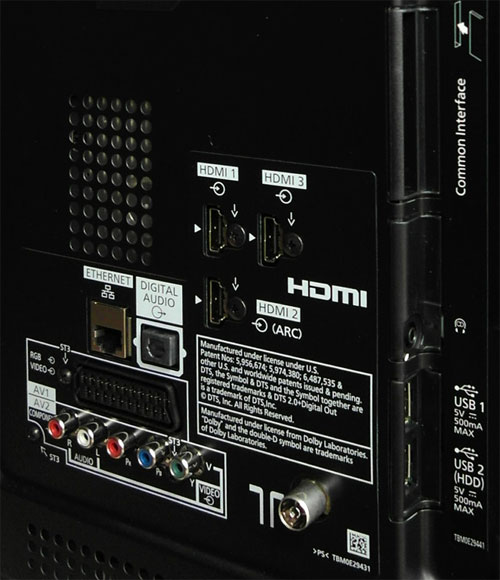 3 x HDMI, 2 x USB, CI slot, Component, SCART, Freeview HD tuner socket, LAN & audio outs
Operation
Upon powering on the TX-L42E6B for the very first time, you'll be guided through steps to set up "My Home Screen", Panasonic's new graphical user interface (GUI) that attempts to bridge the gap between traditional television and advanced "Smart" functionalities. By default, it consists of a larger window on the left side of the screen displaying the video feed, which is bordered by three Smart TV app widgets at the bottom, and an information panel on the right. For users who just want no-frills TV viewing, Panasonic has also sensibly offered a "Full Screen TV" option that does away with My Home Screen every time the television is switched on (although in this mode a Smart taskbar will still sit atop the screen for 3 seconds before disappearing).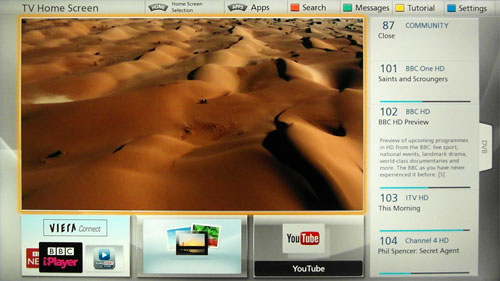 The actual picture menu itself presents a number of welcome enhancements. First is the long-overdue inclusion of a dedicated [Backlight] control that lets us adjust the overall luminance of the edge-mounted LED bulbs, which should prove extremely useful in maximising the dynamic range of the Panasonic Viera E6.
[Picture] menu
Also new to UK models is the addition of numeric indicators to basic controls like [Contrast], [Brightness] and [Colour] – previously we've had to resort to descriptions like "2 clicks left from default" when publishing our calibrated settings! Furthermore, settings can now be saved independently per input across all picture viewing modes (another Panasonic first). This lends itself to the ability to map the adjusted values to the same or [Custom] picture preset on any other input via the [Copy Adjustment] function.
| | |
| --- | --- |
| | |
| [Advanced Settings] submenu | [Option Settings] submenu |
Five picture presets are available on the Panasonic TX-L42E6: "Dynamic", "Normal", "Cinema", "True Cinema" and "Custom" which was not found on the manufacturer's midrange Vieras last year. The last two will be the focus of our attention, since they house advanced calibration options such as 2- and 10-point [White Balance] controls, five [Gamma] presets ranging from "1.8" to "2.6" plus 10-point calibration, as well as 3-axis colour management system (CMS) for the red, green and blue primary colours.
Remote Control
The infrared remote supplied with the TXL42E6B is a standard Panasonic affair with well-sized rubberised keys, clear legible labelling, and decent tactile feedback. Ever so keen to promote its new "My Home Screen" interface, the company has placed a prominent [HOME] button at the top of the navigation ring. Another [APPS] button to its left provides access to the Smart TV applications page directly.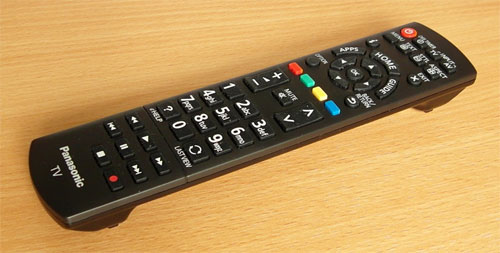 The matte front surface means that fingerprint and dust won't show up easily. The clicker is not backlit.
EPG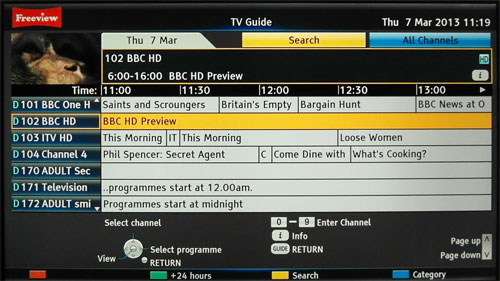 The electronic programme guide (EPG) on Panasonic Viera HDTVs over the past few years has been a pleasure to use owing to clean design, pin-sharp text, good use of complementary colours and responsive navigation. The one found on the E6 series is no different, with the added bonus that there's now a small window at the top left showing the live preview video from the selected channel.
Viera Connect Smart TV Platform
Panasonic has totally revamped the layout of its Viera Connect internet-connected portal, with a 7×3 grid of rectangular app icons occupying the bottom half of the screen. Immediately above that is a row of seven, "protruding" icons that among other things grant access to the main menu, EPG and web browser. Navigational responsiveness and app launching were both quicker than last year's iteration, but there remained some minor lagginess (think Android pre-Ice Cream Sandwich) which could be explained by the absence of "Hexa-Processing Engine" reserved for higher-end models.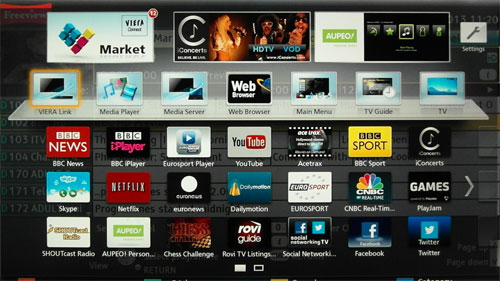 Content-wise, most of the popular Smart television apps (such as BBC iPlayer, YouTube, Twitter, Facebook, Skype and Netflix) are catered for, though LoveFilm is a notable omission. The Panasonic TX-L42E6B boasts integrated WiFi connectivity which certainly helps proceedings as far as convenience is concerned.
Calibration
Note: Our review sample was calibrated using CalMAN 5, the industry-leading video calibration software.
Greyscale
Out of the box, we changed the [Viewing Mode] on the Panasonic Viera TXL42E6B from its shipped default setting of "Normal" to "True Cinema", as from past experience this should yield a greyscale closest to the D65 industry standard prior to any advanced calibration.
Pre-calibration RGB tracking and delta errors (dEs)
With all settings untouched in this picture preset, the on-screen image exhibited a red tint due to insufficient blue component. Thankfully Panasonic has included not only 2-point but also 10-point [White Balance] controls on the E6 LED TV, allowing us to tackle this issue head-on.
We first used the basic RGB cut and gain controls to bring greyscale into the ballpark of D6500, then – because we wanted to fulfill our insatiable hunger for perfection – went into the [More Detailed Adjustment] submenu (which contains the 10-point white balance controls) to individually finetune each 10% stimulus interval.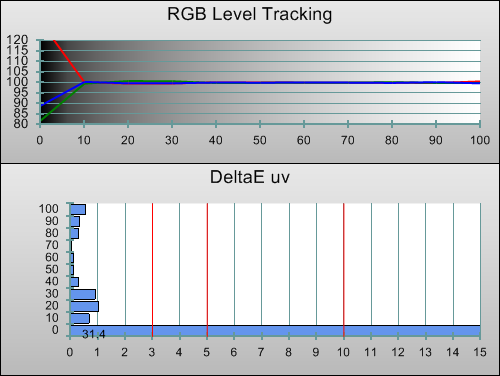 Post-calibration RGB tracking and dEs in [True Cinema] mode
The result was nothing short of stellar: delta errors (dEs) were reduced to less than 1 for the most part, ensuring that the majority of the image remains tint-free. We say "majority", because once we put up a greyscale ramp pattern, we could still pick up very mild (and we do mean very mild) discolouration at 5% stimulus intervals (for example 15%, 25%, 35%, etc.) particularly at the lower end, indicating that Panasonic's software isn't interpolating the adjustments between each 10% stimulus interval. Nevertheless, this is an improvement over merely using 2-point white balance controls, and certainly ranks among the best results we've ever obtained on a flat-panel television.
Gamma
Pre-calibration gamma tracked closer to 2.2 than our 2.4 target which has been stipulated by the ITU as the EOTF (electro-optical transfer function) reference for flat-screen HDTVs used in dark-room studio mastering. Since 10-point [Gamma] controls are available on the TX-L42E6, we wasted no time in getting gamma to track as flat as possible to 2.4.
| | |
| --- | --- |
| | |
| Pre-calibration gamma tracking | Post-calibration gamma tracking |
The post-calibration chart on the right is as good a result as you'll ever see on any display, period. A tip for calibrators: the 10-point white balance and gamma controls on our review unit were quite fine – we had to make relatively large chunks of adjustments (e.g. +5 or -5) before any visible/ measurable difference took place on screen.
Colour
On our TX-L42E6B review sample, the colour gamut in [True Cinema] mode was slightly compressed, in that red and green primaries were undersaturated compared to Rec. 709 HDTV specifications irrespective of whether [Vivid Colour] was enabled. By contrast, the [Custom] viewing mode presented a fuller gamut, but after spending some time with it (we were deciding between [Custom] and [True Cinema] for our final calibration), we discovered that once [Colour Temperature] was changed from the default setting of "Normal" to the more accurate "Warm2", colours at sub-100% saturation intervals became severely oversaturated and inaccurate. In the end, we opted to calibrate in [True Cinema] mode, and arrived at the following results: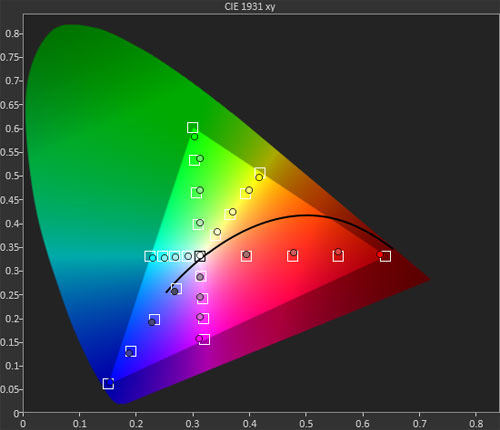 Post-calibration CIE chart with saturation tracking
Even though red and green (and as a consequence, all three secondary colours of cyan, magenta and yellow too) were undersaturated at 100% saturation points, the Panasonic TXL42E6 did very well at 25%, 50% and 75% intervals, ensuring that most midtone colours will appear on-hue and adequately saturated.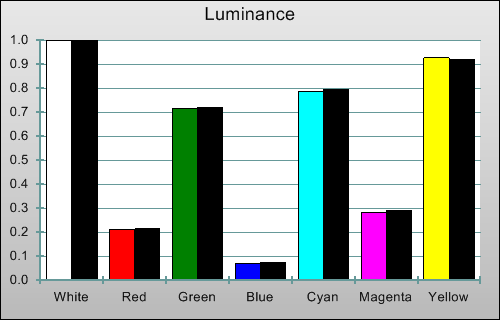 Post-calibration colour luminance (coloured bars = targets; black bars = measured values)
Colour decoding was pretty much spot-on, which it should be since we generally give priority to colour luminance over hue and saturation in our calibration runs, mainly to prevent the dreaded red push from rearing its ugly head.
Benchmark Test Results
| | |
| --- | --- |
| Dead pixels | None |
| Screen uniformity | Mild backlight bleed and "dirty screen" effect |
| Overscanning on HDMI | 0% with [16:9 Overscan] set to "Off" |
| Blacker than black | Passed |
| Calibrated black level (black screen) | Edge LEDs dim to 0.008 cd/m2 |
| Calibrated black level (ANSI checkerboard) | 0.0268 cd/m2 |
| Black level retention | Auto-dimming with full black screen |
| Primary chromaticity | Red and green slightly undersaturated |
| Scaling | Excellent |
| Video mode deinterlacing | Effective jaggies reduction |
| Film mode deinterlacing | Passed 3:2 over 480i & 1080i; and 2:2 over 576i |
| Viewing angle | Blacks and colours wash out beyond 30° |
| Motion resolution | 250-300 |
| Digital noise reduction | Defeatable |
| Sharpness | Defeatable edge enhancement |
| Luma/Chroma bandwidth (2D Blu-ray) | Full luma and full chroma with [1080p Pixel Direct] engaged |
| 1080p/24 capability | No judder |
| Input lag | 34ms compared to CRT TV |
| Full 4:4:4 reproduction (PC) | Yes, with [1080p Pixel Direct] engaged |
Power Consumption
| | |
| --- | --- |
| Default [Normal] mode | 44 watts |
| Calibrated [True Cinema] mode | 32 watts |
| Standby | <1 watt |