Black Level
The MVA LCD panel deployed on the Panasonic TX-L42E6B has really done wonders for its black-level performance. After calibration, we recorded the TV's unassisted black level (i.e. using an ANSI checkerboard pattern) at 0.0268 cd/m2, a supremely impressive figure which is beyond the reach of IPS-type panels that the company has been using on its LED LCD displays over the past few years.
It is important to point out that all of Panasonic's 2013 3D-capable LED televisions – that's basically every series higher than the Viera E6 – will be using LG Display's IPS LCD panel with FPR (film-type patterned retarder) passive 3D technology. Whilst capable of delivering cleaner motion and wider viewing angles, IPS LCDs are typically handicapped by weaker black level, and so we find the TX-L42E6 in an advantageous if bizarre position where it should comfortably outperform more expensive models higher up the Viera LED TV hierarchy as far as blacks go.
Like most LED TVs these days, the TXL42E6B partakes in some auto-dimming across all its picture presets when fed with full-screen video black signal. Instead of switching the LEDs off completely, Panasonic's engineers have chosen to dim the backlight down to near-black (measured luminance level was 0.008 cd/m2), presumably to minimise any jarring effect that viewers may experience. Asking the TV to display even the smallest amount of non-black content (for example a pause icon) will defeat the auto-dimming, at which point blacks will return to its native level of 0.0268 cd/m2.
Screen & Backlight Uniformity
Given the way LEDs are affixed around the periphery of the LCD panel on an edge-lit LED television, it's unrealistic to expect perfect screen/ backlight consistency from such displays (especially larger-sized ones). The Panasonic Viera E6 cannot escape this inevitable side effect that stems from TV makers' quest to make slimmer and slimmer TVs, but we'll say that our 42-inch review sample fared better in this regard than many other edge LED models that have passed through our test room. Only in a very dark viewing environment AND on a full-field black screen did we see some backlight bleeding at the bottom corners, and this was attenuated somewhat by the auto-dimming that kicked in. If we peered hard enough, some "dirty screen effect" (DSE) was also visible against panning shots of evenly toned background, but it never really bothered us in real-world viewing.
Motion
Motion clarity remains the TX-L42E6B's biggest weakness, despite being equipped with "100Hz Back light Blinking" which is Panasonic's backlight scanning technology that attempts to reduce the sample-and-hold effect largely responsible for the motion blur we perceive on LCDs.
The underlying LCD panel is still 50Hz, which is borne out by a motion resolution of between 250 and 300 as determined via the scrolling test chart in the FPD Benchmark disc. Unfortunately the Panasonic E6 doesn't feature any onboard motion-compensated frame interpolation (MCFI) system to help the TV out in this area. On a positive note, there's little in the way of black trailing commonly seen on VA-type panels.
Standard Definition
There's almost no chink in the SD processing armour on the TX-L42E6 Viera television. The quality of upscaling was first-rate – all the details in the SMPTE RP-133 test card were captured in full and displayed crisply with only minimal ringing. Video-mode deinterlacing was also excellent: we saw no jaggies at all in HQV Benchmark's rotating line test pattern, and only very few jagged edges on the last of the bouncing bars.
As long as [Film Cadence Mode] was engaged (it's greyed out for non-film or HD content), the LED TV correctly identified and processed 2:2 cadence over 576i, and 3:2 over 480i. Add in deep blacks as well as accurate greyscale, and the Panasonic TX-L42E6B is an excellent standard-def performer.
High Definition
Putting the TXL42E6B through a variety of high-def material starting with Blu-rays, the first thing that grabbed us was how good the black level was on the HDTV – we've never quite seen the top and bottom black bars in 2.35:1 movies virtually dissolve into nothingness on previous Viera LED LCD TVs as they did on the E6. It's really a shame that this sort of hypnotic blacks will be missing from more expensive models higher up Panasonic's 2013 LED LCD lineup, all because of an executive decision to use passive 3D across its entire LCD-based 3DTV range.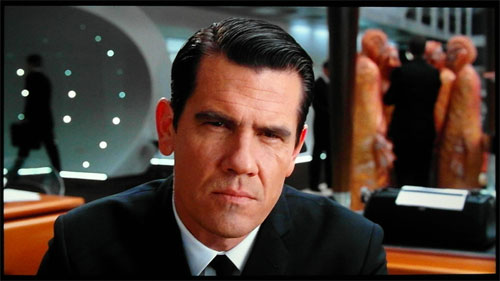 Given its pedigree in Blu-ray authoring and post-production through its Panasonic Hollywood Laboratory (PHL) facility, the Japanese company obviously understands the importance of letting pristine HD content speak for itself without imposing any superfluous picture processing (Sony is another brand who does this very well). With the correct settings applied on the 42E6, there's absolutely no underhanded film grain smoothing nor edge enhancement at play, thus allowing the exquisite detail of each pixel in 1920×1080 images to shine through on screen.
Every single Panasonic Viera flat-panel HDTV we've reviewed since 2008 has handled 1080p/24 signal impeccably without any hint of telecine judder, and the TX-L42E6B continues this fine tradition.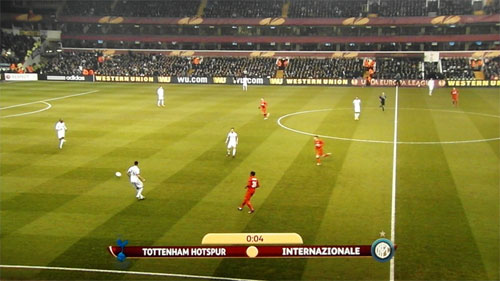 We took the opportunity this week to watch some live European football action on ITV HD, which confirmed the TXL42E6's low motion resolution. Fast pans across the field would blur the words on the pitch-side advertising boards as well as individual definition within the crowd, which is to be expected from an LCD panel lacking MCFI enhancement. Whether or not this will pose a problem for you depends on your own sensitivity and tolerance to motion blurring, but be forewarned if you're coming from a plasma or CRT background.
The UEFA Champions League last 16 second-leg match between Manchester United and Real Madrid made apparent another minor shortcoming on the E6 LED TV. By and large colours appeared natural, but the red jerseys worn by Man Utd players did look a touch muted because of the slightly shrunken gamut. Most viewers probably won't notice this outside of a side-by-side comparison with a reference display though.
Sound Quality
The Panasonic TXL42E6B's acoustic performance was par for the course for a flat-screen television. Speech clarity was decent, and volume could be cranked up reasonably high without distortion, but if you're looking for a full-bodied audio experience, an external soundbar or home theatre system certainly wouldn't go amiss.
Conclusion
In case we haven't made it clear enough in the preceding review text, the Panasonic TX-L42E6B is hands down the best LCD-based display we've seen from the company thus far. The combination of deep blacks furnished by the newly sourced VA panel and Panasonic's video processing know-how marks a watershed moment for the Japanese manufacturer, putting it firmly on the radar as a serious challenger to Samsung and Sony in the LED TV arena.
While the low motion resolution, relatively limited viewing angles, and of course lack of 3D capabilities may put off some buyers, the precision offered by the television's calibration controls, not to mention its standard-definition handling, is simply top-notch, making for accurate and compelling pictures in both SD and HD. If you're looking to buy a 42in LED LCD HDTV which delivers content the way they should be presented without any unnecessary behind-the-scene meddling, we recommend you give serious consideration to the TX-L42E6 – the first non-plasma Viera that is not weighed down by poor blacks.