2D Calibration
Note: Our Panasonic TX-L42ET50B review sample was calibrated using Calman Professional, the industry-leading video calibration software.
To assess the picture quality on offer to users who won't be having their ET50s individually calibrated, we set the picture up as best we could with our eyes alone. That involved selecting "True Cinema", turning down [Sharpness] to avoid edge sharpening artefacts, turning off [16:9 Overscan] to see the entire picture without the edges "zoomed off", and finally, adjusting the LED intensity to match our room brightness with [Contrast].
Then, we measured how neutral the TX-L42ET50B's grey shades were – important, because if these are tinted in any way, then all the other colours on the screen will be tinted, too.
Greyscale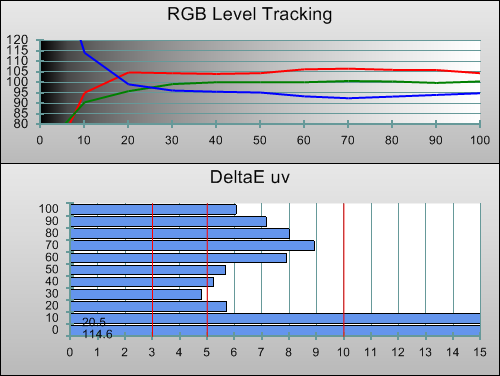 Pre-calibration RGB tracking and delta errors (dEs)
We found that the True Cinema mode's pictures were slightly red-tinted overall, but also suffered from the common LED LCD inaccuracy of blue-tinted shadow areas.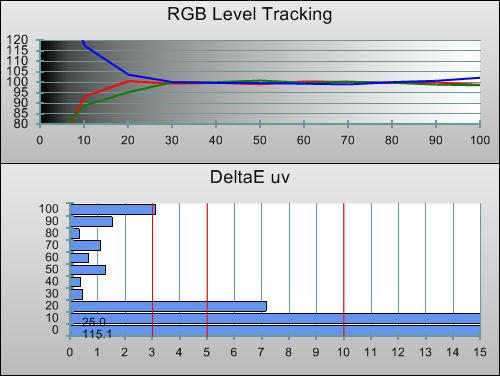 Post-calibration RGB tracking and dEs in [True Cinema] mode
We used the [White Balance] controls, together with our Klein K-10 meter, to adjust the Panasonic TX-L42ET50 for optimum picture quality. We attempted to decrease the amount of blue in the lower end of the Greyscale to fight the blueness imposed by the LEDs, but that left us with too little blue (and too much red/green) in the brighter areas. In the end, we had to admit defeat and just accept some remaining blue-tinted shadows as one of the several picture quality concessions of LED LCD.
Gamma
| | |
| --- | --- |
| | |
| Gamma curve in [True Cinema] mode | Corresponding gamma tracking |
Gamma tracking is a strength of Panasonic LCD HDTVs compared to their consumer Plasma counterparts, at least when Dynamic Backlight systems are disabled. The TX-L42ET50B managed nearly flat gamma tracking, meaning that no intensity levels (stages of brightness) were overly dull or overly bright. The exception, of course, is the shadows. You'll see a slight bend downwards on the Gamma Y chart, indicating that dark areas of the picture are not as dark as would be ideal. This is down to the contrast performance limitations of IPS LCD panels, something we'll explore when we watch actual content on the ET50, rather than just test signals.
Colour
Pre-calibrated colour was decent, but not exceptional. The biggest error was that Blue was desaturated and overly bright, with deep blue oceans appearing slightly less vibrant than would be ideal. We thought that this would be a limitation of the LCD panel itself, but as it turned out, we could get nearly all of the required vividness back by adjusting the controls in [Colour Management]:
Post-calibration CIE chart with reference to HD Rec.709
The end result is very good indeed, with a mildly blue-tinted magenta and cyan – and a nearly unnoticeable lack of saturation in blue – being the only points of contention. Panasonic doesn't provide control over Cyan, Yellow or Magenta on the TX-L42ET50, so these had to stay as is.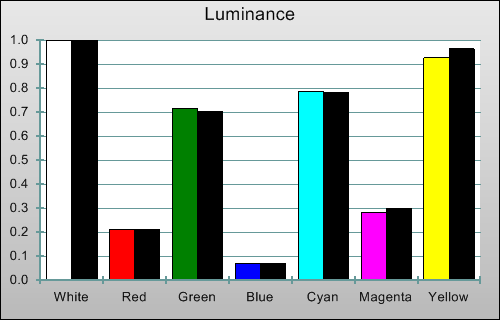 Post-calibration colour luminance (coloured bars = targets; black bars = measured values)
Likewise, although Luminance controls for Red, Green and Blue are provided, there's nothing for the secondary colours, and unlike on the ST50 plasma, our trick of turning down the main [Colour] control and then re-adjusting Red, Green and Blue didn't work on the ET50 LED TV. The resulting accuracy is still excellent, though, and we'd be lying if we said we could actually tell that Magenta and Yellow were slightly too bright.
3D Calibration
With the supplied active-shutter 3D glasses in front of our Klein K-10 meter, we ran Greyscale measurements with the Panasonic TX-L42ET50B's 3D mode engaged, to get data on how neutral the extra-dimensional image appeared through the glasses in the accurate "True Cinema" mode. We find that accurate imaging is just as important in 3D as it is in 2D, especially on the Panasonic ET50, which can produce an exceptionally high quality 3D image that more or less matches the quality of 2D (more on that later).
First though, we put the 3D eyewear on to verify basic settings. As it happens, the default [Brightness] setting on the TX-L42ET50 is slightly too high in 3D, causing a little "below black" information to be revealed, which could translate into slightly less rich blacks in real world viewing – although the inaccuracy is so small, it's likely to go unnoticed. With the glasses on, we reduced this by 3 clicks so that the video processor chip's black level setting was at the correct point.
Greyscale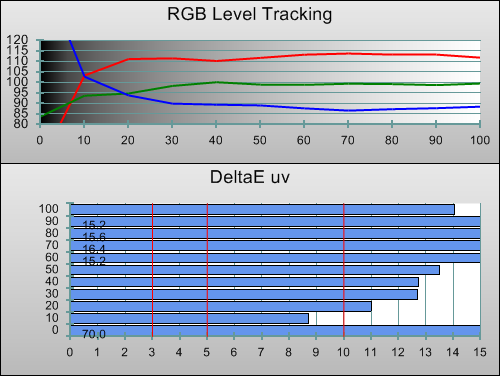 3D Pre-calibration RGB tracking and delta errors (dEs)
As with its 2D performance, the ET50's grey shades had slightly too much red in them. That's actually reassuring, because with many 3D Plasmas – Panasonic's included – the pre-calibrated 3D greyscale tracking can be much more wacky than the example presented with this LED LCD. By 3D TV standards, this is pretty good going, and the red tint will probably go unnoticed by many.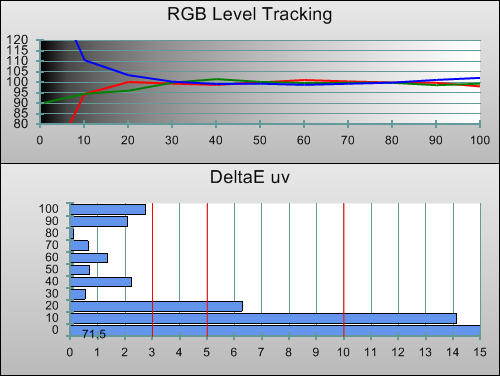 3D Post-calibration RGB tracking and dEs in [True Cinema] mode
Calibration was easy, with brilliantly neutral Greyscale shades taking almost no time to dial in. Of course, the same problem exists as in 2D, with it not being possible to fully defeat the purple-tinted blacks we often see with LED-based LCDs.
Colour
Before calibration, colour in 3D suffered from some inaccuracies. Green was slightly off hue, and blue was surprisingly undersaturated.
We managed to massage things back to near-2D levels of accuracy using the [Colour Management] menus, but as we often find, we couldn't fully saturate blue in 3D mode. We found that correcting some of the luminance inaccuracies was necessary before hue and saturation would fall into place. In any case, we were content that colour reproduction was of a good, but imperfect standard after calibration – much as it was in 2D. We'll be sharing our calibrated settings on our forum, due to the fact that 3D calibration is such a rare practice.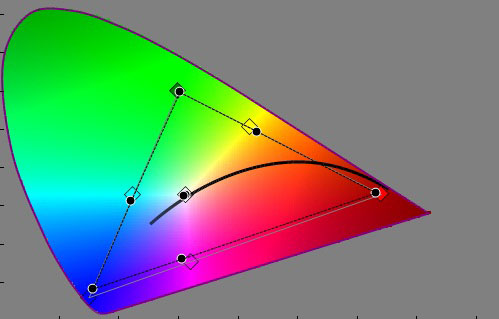 3D Post-calibration CIE chart with reference to HD Rec.709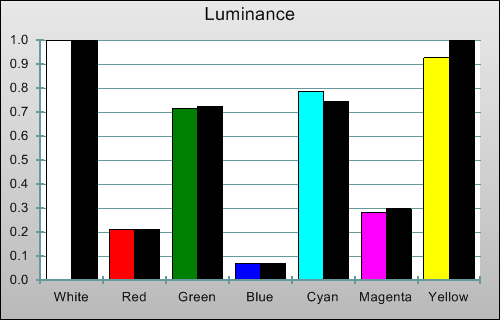 3D Post-calibration colour luminance (coloured bars = targets; black bars = measured values)
Benchmark Test Results
| | |
| --- | --- |
| Dead pixels | Some stuck subpixels visible on black screen |
| Screen uniformity | Some uneven light, but excellent for a side-lit LED LCD |
| Overscanning on HDMI | 0% with [16:9 Overscan] set to "Off" |
| Blacker than black | Passed |
| Calibrated black level (black screen) | 0.16 cd/m2 (in the fixed backlight "True Cinema" mode) |
| Calibrated black level (ANSI checkerboard) | 0.16 cd/m2 |
| Black level retention | Stable in [True Cinema], dynamic backlighting used otherwise |
| Primary chromaticity | Good (pre-calibration), Very Good (post-calibration) |
| Scaling | Excellent |
| Video mode deinterlacing | Very effective jaggies reduction |
| Film mode deinterlacing | Passed 2-2 PAL and 3-2 NTSC tests |
| Viewing angle | Very Good for an LCD TV; colours remain largely saturated but blacks brighten |
| Motion resolution | 1080 (with [Intelligent Frame Creation)]; 300 (without, and in Game mode) |
| Digital noise reduction | [P-NR] is optional |
| Sharpness | No unwanted sharpening noticed with real content, but luma zone plate reveals mild artefacts |
| Luma/Chroma bandwidth (2D Blu-ray) | Full Luma, Full Chroma |
| 1080p/24 capability | No judder in 2D or 3D |
| Input lag | 24ms compared to lag-free CRT |
| Full 4:4:4 reproduction (PC) | No, 4:4:4 input subsampled |
Power Consumption
| | |
| --- | --- |
| Default [Normal] mode (2D) | 62 watts |
| Default [Normal] mode (3D) | 84 watts |
| Calibrated [True Cinema] mode (2D) | 63 watts |
| Calibrated [True Cinema] mode (3D) | 78 watts |
| Standby | 1 watt |
Measurements taken with full 50% grey screen, to approximate most picture content.