2D Calibration
Note: Our Panasonic TX-P42ST50B review sample was calibrated using Calman Professional, the industry-leading video calibration software.

Time to calibrate the TX-P42ST50 for the best possible picture quality! We "ran in" the HDTV for a good amount of time in the [True Cinema] mode. We then shut off [P-NR], [16:9 Overscan], [Intelligent Frame Creation] (or ["24p Smooth Film" as it is known when 24p Blu-ray material is input), and reduced [Sharpness] to its minimum setting to avoid unwanted edge sharpening. Then, we ran measurements to see how "True" "True Cinema" actually is.
Greyscale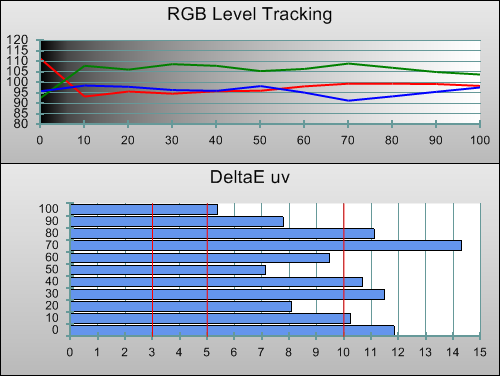 Pre-calibration RGB tracking and delta errors (dEs)
Out-of-the-box picture performance was good, with a visible, but thankfully consistent green tint to the picture (a consistent tint is easier to mentally "tune out" than one which affects different brightness levels in more erratic ways). Not surprisingly, this gave a slight olive tint to the skin tones of British newscasters who are, in fact, paler and more sun-deprived. We only picked up on this because we're used to watching calibrated displays all day long, though – the vast majority of viewers will have no complaints.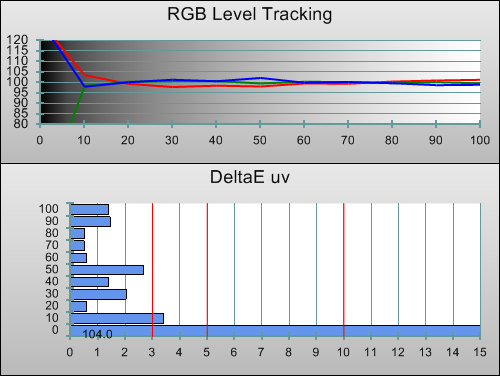 Post-calibration RGB tracking and dEs in [True Cinema] mode
We used the [White Balance] controls in the [Advanced Settings] menu to neutralise Greyscale tracking. The menu behaves in the same way as the 2011 Panasonic plasma TVs. We'd appreciate a way to jump between the different options without advancing back a stage (that is, we'd like to go from "R-Gain" to "B-Gain" just by pressing the down arrow key, instead of having to go back a stage first), but that's a minor complaint, since the menus are easy and quick to use. This brought about a subtle, but worthwhile improvement in picture realism and accuracy.
Gamma
| | |
| --- | --- |
| | |
| Gamma curve in [True Cinema] mode | Corresponding gamma tracking |
With last year's ST30 series, one of our criticisms related to Gamma. Gamma is the distribution of light output by the screen from the darkest blacks to the brightest whites. On the previous ST30 model, although the deepest black the plasma could produce was impressive, it had the tendency to exaggerate darker parts of the picture, making them appear brighter than would be ideal. This meant that, unless a calibrator spent some time digging, image didn't have the level of punchiness and richness that the panel was actually capable of: a software limitation of a more capable piece of hardware.
This wasn't a problem with the Panasonic ST50, because a [Gamma] menu has been added as part of the calibration options. Although the end result is not entirely accurate (as indicated by the slightly uneven line on the Gamma Y chart, above, and by the fact that the measurements are different depending on the test patterns used), it's still very nice to look at. We selected the "2.4" [Gamma] option, which, as the orange line in the chart indicates, actually comes closer to matching a gamma setting of 2.2.
The above measurements were taken with the standard-sized window patterns from the AVSHD calibration disc. The dip upwards represents a slight darkening in brighter shades. Measuring gamma with the APL patterns resulted in flatter tracking. In other words, the real-world performance is variable and never completely accurate.
Colour
Pre-calibration colour accuracy in the "True Cinema" mode was very good. Green appeared mildly oversaturated, red was a tiny bit too orange, and some colours – cyan, magenta and yellow – appeared slightly too bright.
Panasonic reserves precise control over the aforementioned secondary colours for the VT series (and perhaps this year's GT – we'll have to wait and see), but we came up with a partial workaround to sidestep the limitation. We started calibrating colour by adjusting the main [Colour] control – which controls Luminance, or the brightness of the colours together – to prioritise the accuracy of the secondary colours (we centered on magenta, and ended up reducing it by 2 notches). That made some of the primary colours too dark, but, these are the colours that Panasonic provided individual Luminance controls for, so we simply turned them back up. This seemed to work perfectly, and didn't seem to have any ill effects on test patterns or real-world content.
The end result is near perfect, with no visible inaccuracies measured: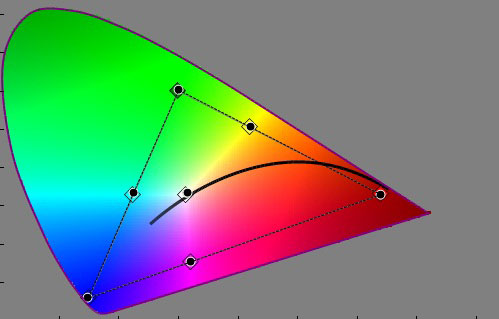 Post-calibration CIE chart with reference to HD Rec.709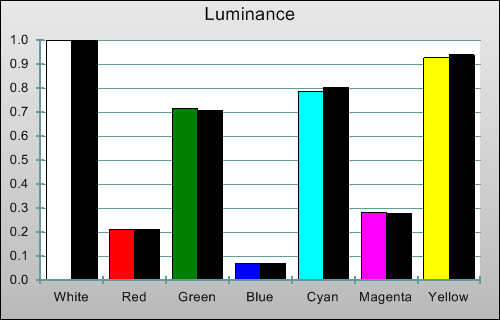 Post-calibration colour luminance (coloured bars = targets; black bars = measured values)
With actual programme content, colours looked accurate and realistic. After calibration, grass looked more like real grass; it veered slightly towards neon green before. We were very happy with the colour reproduction on the TX-P42ST50B.
Notice to calibrators: although the settings in the "True Cinema" mode are shared across all inputs, the one strange exception is the [Colour Management] menu. Be sure to apply these settings manually to each input.
3D Calibration (added 25 March 2012)
Once we received the new 3D glasses (which are of the new standard, and are interoperable with new 3D displays from Samsung and Sony), we began analysing the 3D display mode of the TX-P42ST30. Calibration is just as important to 2D display as it is in 3D – in fact, moreso, because the 3D TVs tend to do less well out-of-the-box in this area.
We began by checking the basic settings. The first change for 2012 we noticed is that the [Brightness] control, in its default position, now reveals full dynamic range in the 3D mode: darker shades are no longer blocked from the viewer's eyes. The 2011 and 2010 models showed all the shades, but they became invisible once the glasses were on, because the glasses reportedly blocked one of the screen's subfields from entering the viewer's eyes (to combat crosstalk artefacts from the previous image). Perhaps with the revamp in motion processing (Focused Field Drive), this is no longer necessary? We can only speculate.
Another change is that raising [Contrast] also works in the same way as in 2D. More light output from the screen is especially welcome in 3D mode, due to the loss of light imposed by the glasses.
3D Mode Greyscale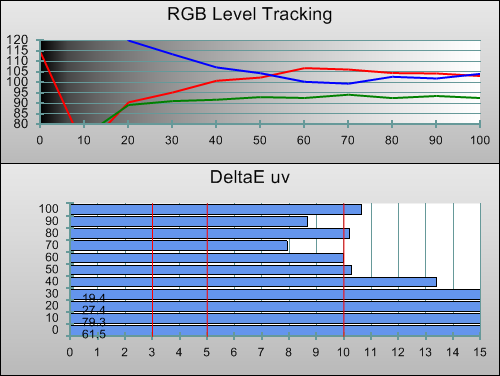 3D Pre-calibration RGB tracking and delta errors (dEs)
Pre-calibrated Greyscale was a step backwards compared to last year's Panasonic ST30, which was highly accurate in this area. Our ST30 review sample featured visibly blue-tinted shadow areas. Previous 2011 Panasonic Plasma displays showed this behaviour too, but it was confined only to darker shades. This was present both with and without the glasses on, indicating that a different pair of 3D eyewear (yes, different batches of glasses can have slightly different tints) wouldn't really help. This is an area in which LCD-based 3D displays have been performing better.
Last year's TX-P42GT30 was THX Certified in both 2D and 3D modes, and had a similar blue cast in dark areas. Perhaps this year's THX Certified GT50 and VT50 models will have a less tinted out of the box image in 3D.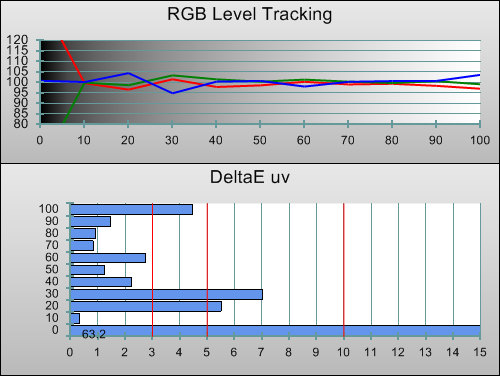 3D Post-calibration RGB tracking and dEs in [True Cinema] mode
Fortunately, full calibration controls are still present in the 3D "True Cinema" mode, and are also saved independently, meaning that a full 3D calibration can be performed.
We did battle with the [White Balance] controls (the adjustments needed are more severe than the slight tune-up needed for the 2D mode) and eventually emerged victorious, with a few small errors remaining. Our initial calibration attempt produced red-tinted shadows, meaning that we had to go back and tune up the 10% stimulus area to avoid distracting viewing. This slightly damaged accuracy at 30%, but the error was only around 5%, and this slight trade-off represented the lesser of two evils.
This was a very similar result to how last year's TX-P42GT30 calibrated in 3D, and is much better than the first-generation 3D Plasmas, which were left with massive inaccuracies even after calibration.
Especially now thanks to the fact that [Contrast] can be raised to greatly increase light output from the panel, we don't feel that there is any need to produce a less accurate 3D picture in order to simulate a brighter image. The Panasonic TX-P42ST30 can produce a bright enough image without having to resort to inaccurate Greyscale.
3D Mode Colour
3D colour was good before calibration, and near-perfect afterwards. In fact, many of the corrections we made were the same as in the 2D mode, which is always reassuring. As usual, we couldn't fully saturate blue with the glasses in front of the meter, but this was subtle. We used the same trick as in 2D to gain maximum accuracy over the secondary colours: we lowered the main [Colour] control to get the most accurate magenta, then calibrated from there.
3D Post-calibration CIE chart with reference to HD Rec.709
3D Post-calibration colour luminance (coloured bars = targets; black bars = measured values)
Benchmark Test Results
| | |
| --- | --- |
| Dead pixels | None |
| Screen uniformity | Usually excellent, full white screen reveals very mild yellow-green tint in middle, with certain picture contents |
| Overscanning on HDMI | 0% with [16:9 Overscan] set to "Off" |
| Blacker than black | Passed |
| Calibrated black level (black screen) | 0.009 cd/m2 |
| Calibrated black level (ANSI checkerboard) | 0.012 cd/m2 |
| Black level retention | Stable |
| Primary chromaticity | Excellent |
| Scaling | Excellent |
| Video mode deinterlacing | Very effective jaggies reduction |
| Film mode deinterlacing | Passed 2-2 PAL and 3-2 NTSC tests |
| Viewing angle | Excellent, screen filter blocks ceiling lighting, so vertical viewing angle lessened |
| Motion resolution | Excellent (1080) |
| Digital noise reduction | Present, optional |
| Sharpness | No edge enhancement noticed during viewing, mild artefacts with Luma zone plate |
| Luma/Chroma bandwidth (2D Blu-ray) | Full Luma, Full horizontal chroma, barely noticeable vertical limitation |
| Image retention | Very little, clears quickly |
| Posterization | Very small "hardened" edges during fast motion |
| Phosphor trails | Mild, some red trailing noted |
| 1080p/24 capability | No judder in 2D, 3D tests coming soon |
| Input lag | Excellent: 16ms compared to lag-free CRT |
| Full 4:4:4 reproduction (PC) | No, 4:4:4 input subsampled |
Power Consumption
| | |
| --- | --- |
| Default [Normal] mode (2D) | 148 watts |
| Default [Normal] mode (3D) | 165 watts |
| Calibrated [True Cinema] mode (2D) | 168 watts |
| Calibrated [True Cinema] mode (3D) | 224 watts |
| Standby | 1 watt |
Measurements taken with full 50% grey screen.