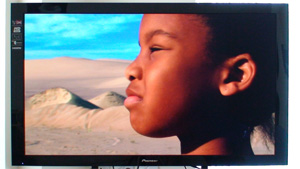 I've completed the review on Pioneer PDP508XD, the current flagship model of the G8 Kuro series of plasma TVs. The set was generously supplied by TLC Broadcast, an authorised Pioneer specialist dealer. If you're thinking about giving this review a skip because you've read the one on PDP4280XD, don't: there are a couple of subtle but significant differences in terms of picture quality.
We also have a new contributor on board here at HDTVTest – David Mackenzie (more well-known as Lyris on the forums). He remains the chief hardware reviewer for DVDTimes, but will contribute some reviews to HDTVTest from time to time. Since first corresponding with him over the clouding issue on Sony W2000, I've discovered that David and I both share a deep commitment to in-depth and accurate reviews beyond what normal home theatre magazines usually offer (which is pretty obvious from his writings at DVDTimes). We both also harbour the same disdain for a certain HDTV review website that has plagiarised his PS3 review (among others), although he's fanatic about Ren & Stimpy cartoons and I can't claim to have seen many episodes. :)
He's currently reviewing the Panasonic TX32LXD700 for HDTVTest, and I look forward to what he has to say about this television. Welcome aboard David!