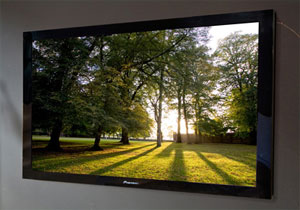 Update: If you're looking for a review of the Pioneer PDP428XD (or any of the eighth generation plasma), please have a look at my Pioneer PDP4280XD review.
With Panasonic and Samsung having released their range of plasma TVs in March and April 2007 respectively, yesterday Pioneer officially unveiled their 8th-generation (8G) plasmas whose prototype received rave reviews in CES Las Vegas at the beginning of the year. Based on historical data on model specifications and retail pricing, and leaked prices from Japan, Europe and US, here are my predictions on the model number, what to expect and recommended retail price (RRP) in the UK:
| | | |
| --- | --- | --- |
| Predicted Model | What To Expect | RRP* |
| Pioneer PDP428XD | 1024 x 768, better connectivity & picture options | £1599 |
| Pioneer PDP4280XD | 1024 x 768, digital + analogue tuner | £1399 |
| Pioneer PDP4280XA | 1024 x 768, analogue tuner only | £1299 |
| Pioneer PDP508XD | 1365 x 768, better connectivity & picture options | £2099 |
| Pioneer PDP5080XD | 1365 x 768, digital + analogue tuner | £1899 |
| Pioneer PDP5080XA | 1365 x 768, analogue tuner only | £1799 |
* Partly derived from US Dollar and Japanese Yen at current exchange rate, whacking on 17.5% VAT to arrive at Britain's rip-off prices.
These XGA panels will available from June (hopefully), with the full HD 1080p versions (tentatively PDPLX508D and PDPLX608D) following suit in September 2007. Given the performance of the Pioneer PDP4270XD we tested earlier this year, I expect the new generation to deliver similarly excellent video processing (especially in terms of video and film mode deinterlacing) and colour reproduction.
But the buzz surrounding the PDP428XD and its siblings is the black level, so much so that Pioneer named this launch "Project Kuro" (Japanese for black). You may remember we weren't too impressed by the Pioneer 4270XD's blacks, but the black level on the PDP428XD is said to be 80% deeper, contributing to a (quoted) contrast ratio of 16,000:1. Of course, we'll believe it when we see it…
These new plasmas are almost certainly going to be more expensive than the Panasonic and Samsung equivalents. Pioneer seems to be heading the way of Fujitsu: seeking to appeal to a niche segment of discerning home theatre enthusiasts who are willing to pay premium prices for better picture quality (although the benefits may be too subtle for the average person to notice). In a sense Pioneer's hands are forced because they simply cannot compete on price terms with the likes of Panasonic and Samsung who are capable of aggressive pricing through efficient bulk production and feature cutting.
But hey, I'm an AV nut who fully appreciates all the subtleties of picture quality, so I dearly wish that Pioneer remains in this market… for I dream of the day when a flat panel HDTV can come close to satisfying all my requirements for black level, shadow detail, contrast ratio, colour reproduction, motion handling and video processing.