The AV press loves a good market battle, and ever since the ridiculous HD optical disc format war (which should never even have been allowed to reach consumers) was settled, things have been mostly peaceful in this industry. In terms of flat-panel display technology, cheap and plentiful LCD TVs have taken the majority of sales, but for video enthusiasts who crave picture quality above all else, plasma is still in the number one spot.
In fact, much more interesting than LCD vs Plasma (which is approaching an apples/oranges comparison, from our point of view) is the small matter of Panasonic vs Samsung. It might seem provocative to pit these two gigantic companies against each other, but the fact is that, in the years after Pioneer's departure from the plasma television market, Panasonic have enjoyed a top spot that's gone largely uncontested. With a suddenly revitalised interest in the phosphor-based display technology, Samsung has recently joined the Japanese manufacturer in producing outstanding plasma HDTVs which are many times improved on previous efforts.
In for review now is the PS64E8000, which represents Samsung's top-end plasma TV for 2012: it's the most fully-loaded, largest-screen PDP the company is offering today. That means that it's equipped with all the features you'd expect: a 1920×1080 panel, twin HD tuners capable of receiving input from terrestrial, cable and satellite feeds, built-in wireless functionality, access to the company's Smart TV platform, the company's own video processing chip, and of course, 3D support. There are also some extra Samsung-specific features: a built-in microphone and webcam-like camera, which allow you to make Skype video and audio calls without any extra hardware, as well as use voice and gesture commands to control basic TV functions.
The going online rate for the Samsung PS64E8000 is about £2,500. That compares to Panasonic's flagship TX-P65VT50 at around £3,300, and interestingly, Panasonic's 65″ ST50, which comes in at a cheaper £2000 (this is the first year Panasonic have offered a non-top-end 65″ plasma in Europe, and we can't help but wonder if it was introduced to these shores specifically to compete with its Korean rival's big and affordable screens). Let's see if Samsung's best can compete and come out of our rigorous review process clean!
Note: The specific model we tested was the Samsung PS64E8000GUXXU, which is the 3-pin-plug United Kingdom version.
Design
The Samsung PS64E8000 looks the same as last year's D8000 series, only with a dark grey bezel rather than a lighter silver one (which gives it more of a "home theatre" feel). It's very thin, thin enough to mount close to a wall if you plan on going down that route.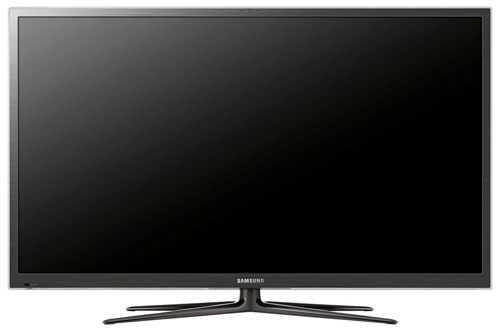 If not, Samsung's "chicken foot" stand is included, which is a four-legged, shiny silver X-shaped unit. (Promo materials show a black-tinted stand, but the one we received with our review unit was the same silver as last year).
Connections
3 HDMI inputs
1 Component input
1 SCART input
1 Composite input
Shared antenna/cable input (DVB-T2/DVB-C)
Satellite input (DVB-S2)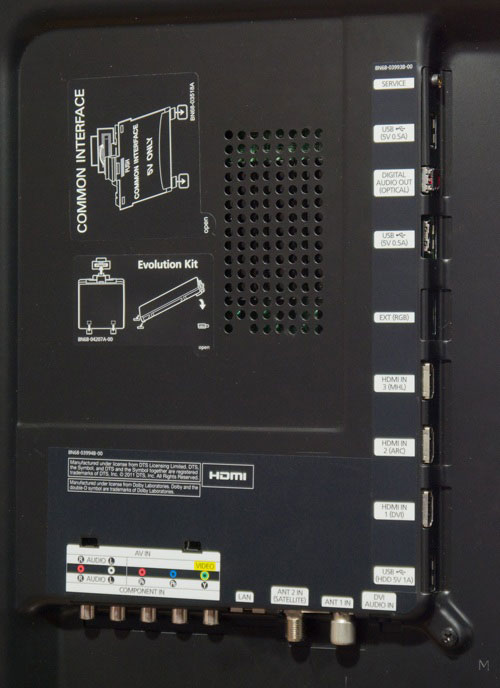 Rear connections on Samsung E8000 plasma series
Operation
Samsung's PS64E8000 is loaded with picture controls – certainly as many as the best HDTVs out there, although the level of control naturally isn't the same as on some dedicated video processors. All the basic adjustments you'd expect are here, including Samsung's [Cell Light], which is a panel light output control (something Panasonic would do well to add to their European plasmas, some of which are too dim for bright environments in their best picture modes).
Being the top-end model, the 64E8000 features calibration controls in the form of 2-point Greyscale adjustment, 10-point Greyscale adjustment (which can also be used as a 10-point gamma control), and an overall gamma curve selection (useful for tailoring the light output of the screen to differently lit viewing environments), as well as a three-axis colour management system (CMS).
Unfortunately, the European PS64E8000 appears to be missing the CAL-DAY and CAL-NIGHT picture modes that the American/Canadian equivalent model has as unlockable options in the service menu. We tried everything we could to enable these, but the option remained greyed out. This means that enthusiast users in Europe who have their Samsung E8000 calibrated will not have access to separate Day and Night tailored modes, and will have to choose one over the other.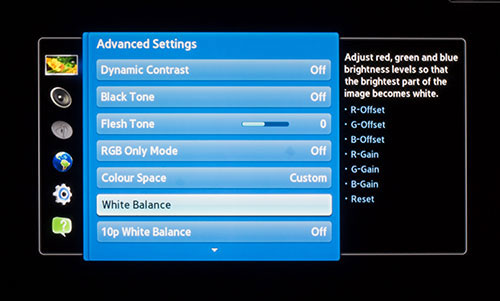 [Picture] menu
Another limitation of the non-American models is the [Digital Noise Filter] setting. Although the European version has an "Off" switch in the menu, it doesn't turn the filter off like the same-named option on the US version does. To avoid the NR filtering, you'll need to set up the "Game Mode" (which is designed to be light on processing to speed up gaming response) for accurate video. That means forfeiting access to the 10-point white balance calibration menu if you're video purists like us, who want to see full motion detail without any blurring or "stretching" of film grain and other fine textures from detailed Blu-ray movies.