2D Calibration
Note: Our Samsung PS64E8000 review sample was calibrated using Calman Professional, the industry-leading video calibration software.
Greyscale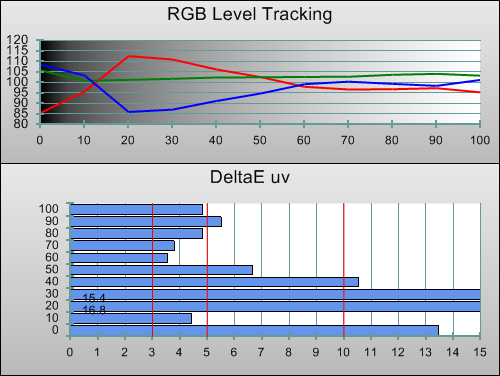 Pre-calibration RGB tracking and delta errors (dEs)
The pre-calibrated "Movie" picture mode, as usual, is the most accurate out-of-the-box preset mode on the PS64E8000. The accuracy is some way behind Panasonic's THX certified plasma TVs, the GT50 and VT50 series, which, in our review samples, both featured only a very minor blue tint, producing very natural-looking images. The 64E8000's weren't terrible by any means, but do feature a red tint in shadowed areas which tints the picture somewhat.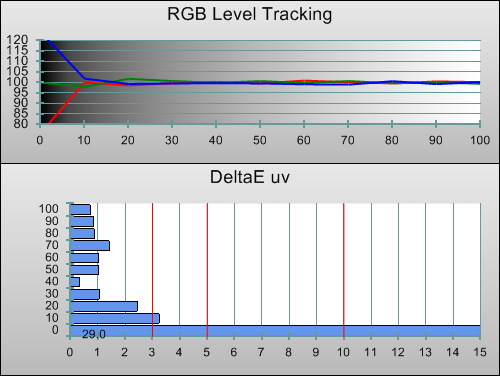 Post-calibration RGB tracking and dEs in [Movie] mode
A 10-point greyscale calibration mode is present on the Samsung PS64E8000, meaning that a calibrator can achieve a near-perfect result using a meter and software. As we found with the step-down E6500 series, the 10-point controls on the E8000 can sometimes introduce coloured contours into the images – the above charts reflect our second calibration attempt. Care has to be taken with the 10-point control on Samsung televisions.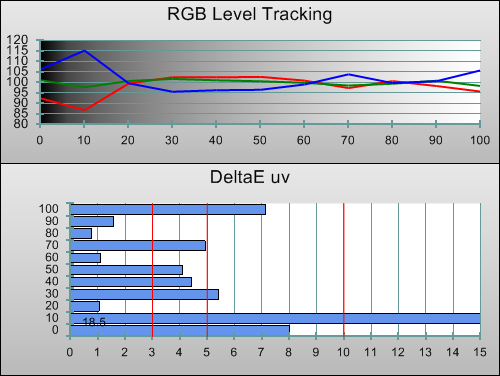 Post-calibration RGB tracking and dEs in Game Mode
We also calibrated the Game Mode, which we used for watching finely-detailed movies which featured a bit of grain (again, Game Mode is the only way of escaping the noise filtering on non-US models). Yes, we preferred the less accurate greyscale tracking to the undefeatable noise filtering, with some films (in others, the filtering was less noticeable). Here, the 10-point calibration feature would have been beneficial, because the PS64E8000 does need a little bit of extra processing help for completely linear greyscale tracking. Come on, Samsung… please let us turn it off.
Gamma
| | |
| --- | --- |
| | |
| Pre-calibration gamma tracking (2.2) | Post-calibration gamma tracking (2.4) |
In the basic Movie mode, gamma measured as 2.2, which is an appropriate setting for rooms with standard lighting. 2.4 has been adopted as the standard for post-production, owed to this being more suitable for darker cinema-themed environments. Adjusting the Samsung PS64E8000 for a gamma of 2.4 was easily achievable by lowering the [Gamma] control.
Before calibration, our trained eyes spotted some visible gamma linearity problems. For example, the reflections from studio lights on newsreaders' faces appeared discoloured, appearing as a strange "pool" of unnaturally beige-tinted light. Not surprisingly, calibration cured this problem.
Colour
In the uncalibrated "Movie" mode, colours were largely on-hue and correctly saturated, although red (and by extension, magenta) were visibly too bright. There is almost nothing to discuss about colour on the PS64E8000 after calibration, though, because it's nearly perfect in the hands of a skilled calibrator who can use the Samsung CMS.
Post-calibration CIE chart with reference to HD Rec.709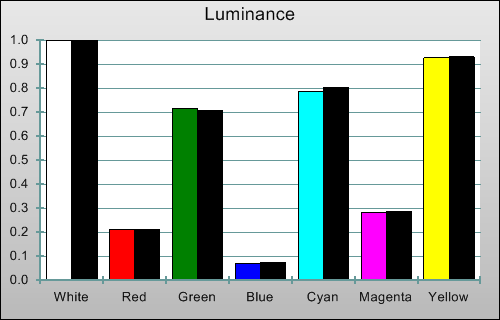 Post-calibration colour luminance (coloured bars = targets; black bars = measured values)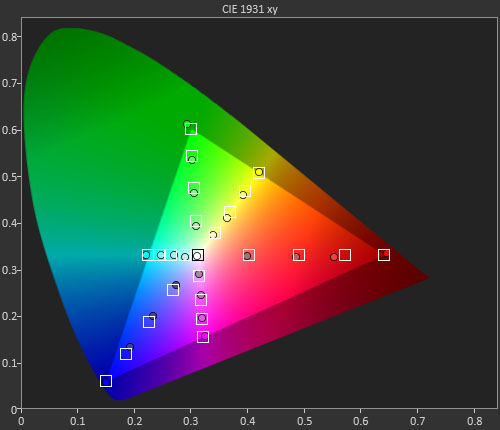 Post-calibration colour saturation tracking
Colour linearity does not have any visible errors, although we should point out that this degrades a little in the aforementioned Game Mode, with green tilting just a little bit out of spec. The errors are rarely visible with content though, even in a side-by-side comparison.
3D Calibration
Greyscale
The quality of the greyscale linearity is still a sore point for Samsung 3D plasmas. If you look at the pre-calibrated measurements, you can see a green tint in most shadow areas (except for the darker shades) and a less troubling blue tint to highlights: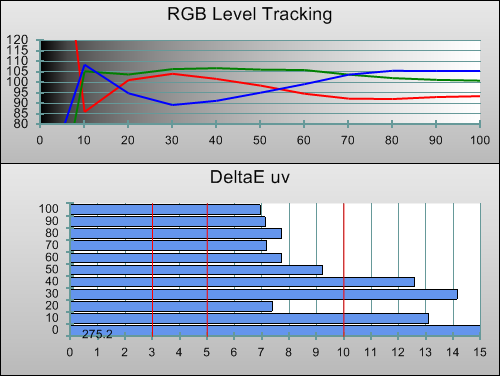 3D Pre-calibration RGB tracking and delta errors (dEs)
The 10-point white balance control is not available in the third dimension, which is a shame, because the PS64E8000 could really use it. Whether or not it would make a big improvement in practice is debatable though, because with 3D on plasma televisions, we've seen greyscale tracking vary wildly depending on the average picture level of the content (in other words, even if we could line it up perfectly with test patterns, it wouldn't necessarily stay that way during content). Calibration in 3D didn't make much of an improvement on our review sample, but we tried anyway: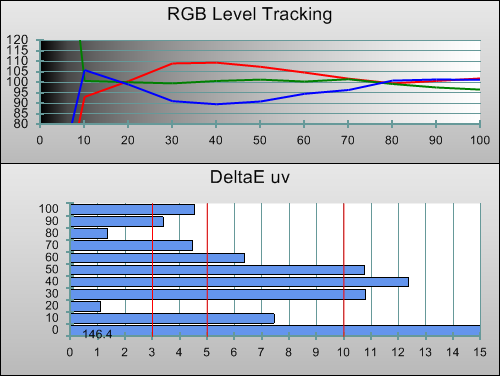 3D Post-calibration RGB tracking and dEs in [Movie] mode
Colour
Samsung have added a custom [Colour Space] memory specific to the 3-D mode, allowing for near-perfect accuracy (relative to the HDTV Rec.709 spec) for tri-dimensional content.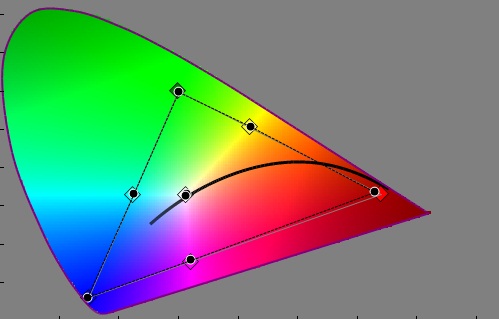 3D Post-calibration CIE chart with reference to HD Rec.709
3D Post-calibration colour luminance (coloured bars = targets; black bars = measured values)
Benchmark Test Results
| | |
| --- | --- |
| Dead pixels | None |
| Screen uniformity | Excellent |
| Calibrated black level (black screen) | 0.017 cd/m2, screen shuts off with fully black screen |
| Calibrated black level (ANSI checkerboard) | 0.020 cd/m2 |
| Black level retention | Minor floating blacks, well disguised |
| Primary chromaticity | Excellent |
| Scaling | Excellent |
| Video mode deinterlacing | Very effective jaggies reduction |
| Film mode deinterlacing | Failed 2-2 PAL film mode test, passed all NTSC |
| Viewing angle | Excellent, but screen filter lessens vertical viewing angle |
| Motion resolution | 900 |
| Digital noise reduction | Undefeatable NR causes loss of fine details and film grain, "Game Mode" is free of problem |
| Sharpness | Defeatable edge enhancement |
| Luma/Chroma bandwidth (2D Blu-ray) | Full Luma, barely noticeable chroma limitation |
| Image retention | Effectively none! |
| Posterization | Mild, more visible with non-60hz output modes |
| Phosphor trails | Very mild |
| 1080p/24 capability | No judder |
| Input lag | 31ms compared to lag-free CRT |
| Full 4:4:4 reproduction (PC) | Yes, with "PC" input label |
Power Consumption
| | |
| --- | --- |
| Default [Standard] mode (2D) | 382 watts |
| Default [Standard] mode (3D) | 408 watts |
| Calibrated [Movie] mode (2D) | 419 watts |
| Calibrated [Movie] mode (3D) | 384 watts |
| Standby | 1 watt |