Screen Uniformity/ Black Level
Unfortunately, our Samsung UE46ES6800 review sample exhibited an excessive amount of clouding and backlight bleed even after we switched from the garish [Standard] factory preset to the easier-on-the-eye [Movie] mode. To reduce the uniformity issues to a tolerable level, we had to undertake a strategic decision to decrease peak luminance from our usual target of 120 cd/m2 to 100 cd/m2, which lowers the black level correspondingly, therefore making the backlight unevenness less obvious. Even then, some patchiness were still visible in a dimly-lit room.

With top-end luminance pegged at 100cd/m2, we measured ANSI black level to be 0.0546 cd/m2, which is in the ballpark of those recorded on the step-up ES7000 and ES8000 models we've reviewed. While adequate, blacks were not consistent throughout the screen, due to the aforementioned clouding, as well as a pillaring effect (right and left edges lighter than the centre) commonly seen on large-sized LCD-based HDTVs.
Picture Quality
Armed with reference-level greyscale and colours, high-definition pictures on the UE46ES6800 was good for the most part, but for a couple of issues. First, Samsung's undefeatable noise reduction that has pervaded its 2011 and 2012 models remained at play here, causing fine detail to get smudged away. Fortunately the effect was quite mild in real-world viewing, so most viewers will probably be unaware of it.
Of more concern were the pools of lighter areas which invaded predominantly dark scenes (for instance the beginning of Chapter 10 in How To Train Your Dragon where Hiccup was rolling his pencil on the table), especially when watched during the night. Backlight uniformity issues can vary from one set to another, so what we noticed on our review unit may not necessarily apply to the TV you're going to buy. That said, if you intend to spend a lot of time watching movies in a dimly lit viewing environment at night, it's probably a wise idea to source your 46ES6800 from a retailer with a fairly generous return/exchange policy.
High-def channels through the on-board Freesat and Freeview HD tuners looked softer than we've come to expect from HDTV displays. To restore some crispness, you can up [Sharpness] to "20", or better yet, sidestep the tuners by sending the broadcast signal from an external set-top box (e.g. Sky+HD or Freeview+HD) to the television via HDMI connection.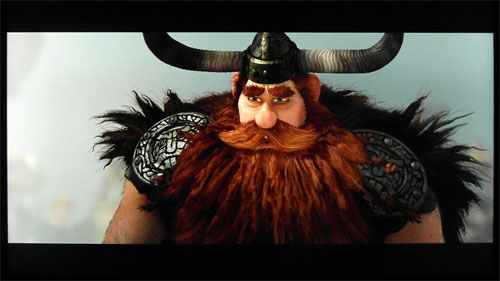 In 3-D mode, the first thing that struck us when watching extra-dimensional content on the Samsung UE46ES6800 was the amount of detail coming through – this is truly a full HD 3D experience that cannot be replicated on passive 3D TVs (which essentially halve the vertical resolution in the third dimension), nor even the 2012 range of Panasonic plasmas whose 3D resolution is lessened at any brightness combination between alternate 100% black and 100% white single-pixel lines.
We witnessed a few instances of motion artefacts in 3D mode, mainly in complex fast-action scenes. For example, when Toothless did a hard bank at 00:43:50 in the 3D Blu-ray disc of HTTYD, several spots of extraneous tearing appeared in the clouds around its wings. These artefacts were visible even when we flattened the 3D image to 2D using the TV, suggesting that the problem stemmed from the set's tri-dimensional processing.
The Samsung ES6800 also exhibited some judder when fed with 1080p/24 video signal in 3D mode. This was generally not easily noticeable unless the camera panned at a slow-medium speed, for example when Hiccup surveyed the valley in which Toothless was trapped (timecode 00:20:24). Engaging [Motion Plus] at a setting of "Standard" or higher would eradicate the judder, but introduce a video-like effect that subverts the cinematic quality of 24p films, so on balance we'd rather leave this off.
Despite these shortcomings, we had a blast watching 3-D content on the 46ES6800, not only because of the undiminished resolution as described a few paragraphs above, but also thanks to largely accurate greyscale and colours, as well as its ability to put out three-dimensional images that are brighter than plasma-based 3DTVs'. Minor crosstalk could be seen from time to time, but not excessively so, certainly not to the extent of detracting from our enjoyment.
Conclusion
The Samsung UE46ES6800 is a decent enough alternative for those who can't stretch their budget to the ES7000 or ES8000 series, even though its HD picture quality – particularly from the inbuilt Freeview and Freesat tuners – is a touch off compared to its higher-end siblings. What prompted us to qualify our recommendation was the backlight uniformity issues found on our review sample: if you're able to obtain a clouding-free set, or are going to use the TV mainly in a brighter room during the day, then the ES6800 is worth your consideration.