After having sampled Samsung's flagship (well, as far as full HD 1080p models go anyway) F8000 series of LED LCD TVs, we're naturally keen to find out whether its highly accomplished image quality has filtered down to step-down ranges. In for review today is the Samsung UE46F7000, a 46-inch version of the Korean manufacturer's Series 7 LED TV which, as the number indicates, sits one rung below the top-end Series 8.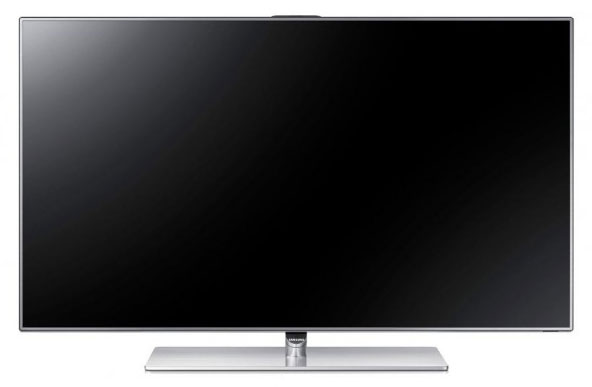 According to the specifications sheet, the F7000 features "Micro Dimming Pro" instead of the "Micro Dimming Ultimate" technology (which attempts to deliver pseudo-local dimming at a video processing level from an edge-lit LED LCD panel) found on the higher-up F8000. The 46F7000's motion-compensated frame interpolation (MCFI) system is also rated lower, coming in at 800Hz CMR or Clear Motion Rate (the F8000's is 1000Hz). Another notable omission from Series 7 is the dual 10W woofer that significantly enhanced low-end audio performance on the UE55F8000 we tested last month.
However, here at HDTVTest we prefer to let our calibration charts and benchmark tests do the talking despite what the spec sheets say. If the UE46F7000's picture performance can match that of the pricier F8000, then it may represent better value for money than the latter for viewers who value image quality above all else.
Note: The specific unit we reviewed was the Samsung UE46F7000STXXU which is the United Kingdom 3-pin-plug model. Although we haven't carried out our tests on the smaller, 40-inch Samsung UE40F7000 nor the bigger 55-inch UE55F7000, there shouldn't be any drastic difference in picture quality (except perhaps 3D immersiveness due to different screen sizes) given similar specifications within the F7000 series.
Design
The first thing we noticed upon unboxing the Samsung UE46F7000 is that the truly unique arc stand bundled with the F8000 is gone, replaced instead by a more conventional table-top stand with a rectangular base. Nevertheless, there are still a number of swanky stylistic cues to satisfy owners that this is indeed a premium display.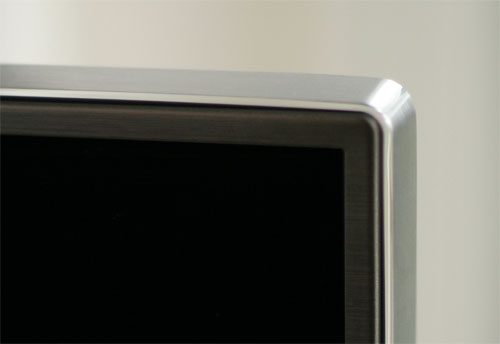 For starters, the bezel looks impossibly slim from the front, successfully creating the illusion that the screen's larger than it actually is. Inspected from the top and sides, the bezel extends around 2mm deep, and sports a brushed metallic finish which complements that of the TV stand's rectangular base. Just like the Series 8 LED, a press-to-pop-up camera is embedded along the top of the television.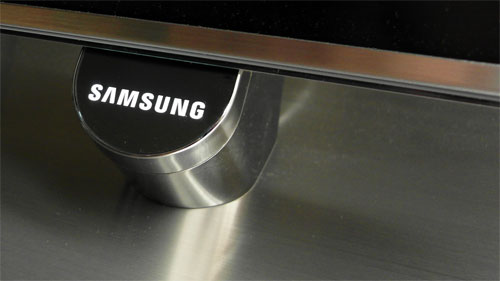 In another refreshing design endeavour, a Samsung logo – which can be tastefully lit (or not) – adorns the slanted top of the supplied pedestal stand. Assembly is easy, though swivelling is not possible. Overall build quality feels sufficiently solid befitting a mid-high-end flat-panel HDTV, with no untoward creaks nor cheap plastics.
Connections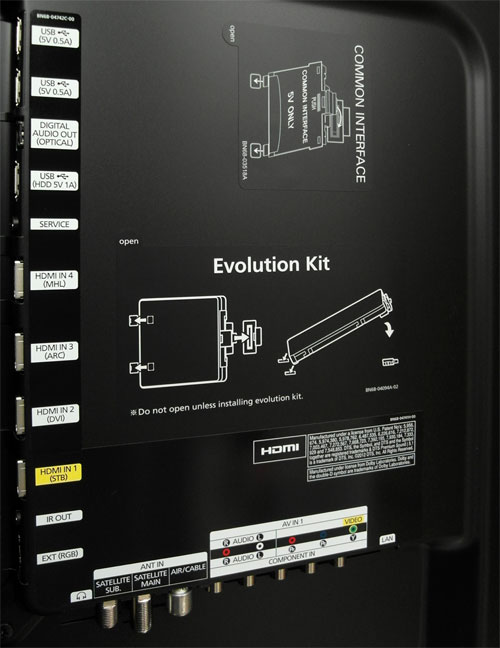 Rear: 4x HDMI, 3x USB, component, RGB Scart, aerial & Freesat HD, LAN & audio outs
Operations
Blasting through the user menu, EPG and the company's new Smart Hub interface was an absolute cinch: we thoroughly appreciate UE46F7000's lightning-fast responsiveness (presumably endowed by the onboard quad-core processor) which is a big help if you need to access numerous picture-affecting controls for calibration purposes like we do!
The on-screen menus and Smart TV platform on the 46in F7000 is the same as the ones available on the F8000. Since we've provided an indepth explanation of various picture options in our 55F8000 review,  we won't repeat it here – please refer to the relevant section if you haven't read it, or need a refresher.
Remote Control
Just like the F8000, the Samsung 46F7000 comes with two remote controls. The first is a really luxurious-looking clicker with a central touchpad, subtly raised embedded buttons, and an inbuilt microphone to facilitate voice control for when you're sitting too far away from the television.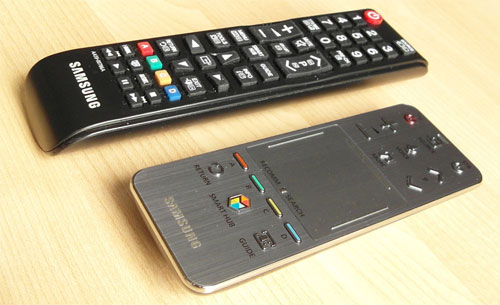 While this smartphone-like remote is opulent and actually intuitively usable once you pair it to the TV, we found ourselves preferring to use the more traditional, budget-style variant for day-to-day use and of course calibrating the UE46F7000.
Calibration
As with almost every Samsung flat-screen TV,  [Movie Mode] is the picture preset which yielded an image closest to the Rec. 709 specifications used within the video and broadcast industry for HDTV.
Greyscale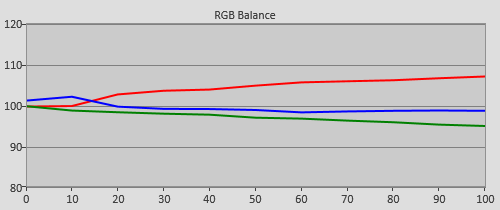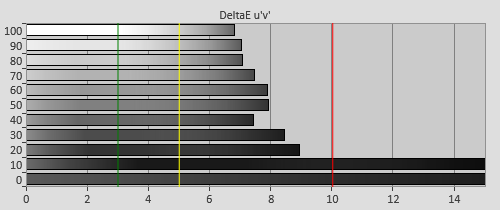 Pre-calibration RGB tracking and delta errors (dEs)
With [Colour Tone] left at its default value of "Warm 2" in [Movie Mode], there's an excess of red component in the greys, which got progressively worse towards top-end luminance. Fortunately, Samsung provided not only 2-point [White Balance] controls, but also a [10p White Balance] submenu which allowed us to work our magic on the screen to produce as neutral a greyscale as possible.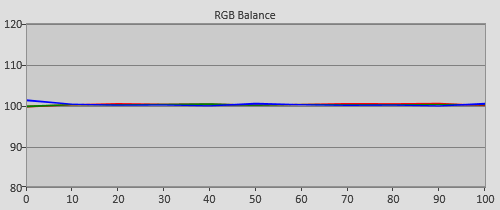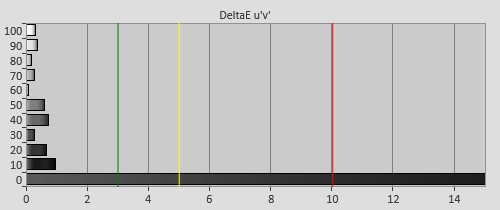 Post-calibration RGB tracking and dEs in [Movie] mode
We first used the 2-point [White Balance] controls to bring greyscale broadly in line with D65, then adjusted the RGB sliders in the [10p White Balance] submenu to finetune each 10% stimulus interval. The result is absolutely wonderful, with delta errors (dEs) of under 2 across the entire visible luminance range.
Gamma
Out of the box, overall gamma in [Movie Mode] tracked closer to 2.2 – this seems to be the target every TV manufacturer is aiming for – than 2.4 which has been decreed by ITU as the reference electro-optical transfer function (EOTF) for flat-panel HDTVs used for studio mastering in a dark room.
| | |
| --- | --- |
| | |
| Pre-calibration gamma tracking (2.2) | Post-calibration gamma tracking (2.4) |
After lowering the [Gamma] value (which affects the picture globally) to "-1", and then repurposing the [10p White Balance] controls as our very own 10-point gamma editor, we eventually got gamma tracking linearly at 2.4. Cross-checking with a greyscale ramp pattern, we saw no evidence of excessive posterization despite these tinkerings – just a neutrally tinted, smooth transition from black to white which is crucial to delivering a realistic yet punchy picture.
Colour
With the advent of colour saturation tracking in CalMAN 5, we've tweaked our workflow slightly when it comes to colour calibration. We still give colour luminance/intensity/brightness our top priority, since colour decoding errors (particularly red push) are typically the most noticeable to viewers even without the help of a side-by-side comparison. But instead of focusing solely on 100% saturation points like we were originally constrained to, we now pay more attention to what happens inbetween (namely 25%, 50% and 75% saturation points) with the goal of levelling out the inaccuracies between the different points to achieve the best visual result, as these are more representative of the saturations commonly seen in real-world content.
On our Samsung UE46F7000 review unit, [Colour Space] "Auto" yielded reasonably accurate chromaticities at 100% saturation, but sub-100% saturation tracking points ran relatively hot (i.e. they appeared more saturated than they should be) across all six primary and secondary colours. To rectify this, we dialled down the global [Colour] control, aiming to place the 75%, 50% and 25% saturation points as close as possible to their reference coordinates.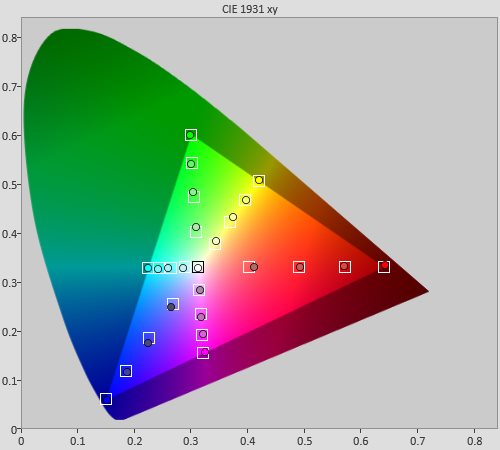 Post-calibration colour saturation tracking
Because the F7000 features such an excellent RGB-based colour management system accessible through [Colour Space] "Custom", it would be criminal for us not to use it. Although the lack of negative headroom prevented us from adjusting the primary hues as much as we'd like, we achieved essentially flawless colour luminance, and what we would classify as excellent saturation tracking.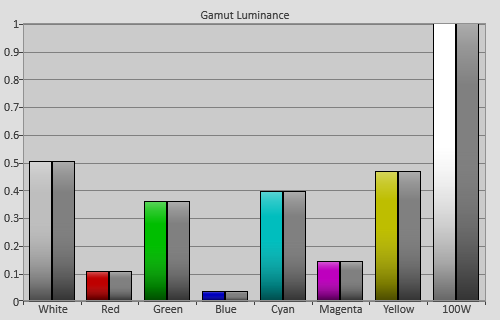 Post-calibration colour luminance (coloured bars=targets; black bars=measured values)
Benchmark Test Results
| | |
| --- | --- |
| Dead pixels | None |
| Screen uniformity | Mild backlight bleed; a few vertical bands at the centre |
| Overscanning on HDMI | 0% with [Picture Size] set to "Screen Fit" |
| Blacker than black | Passed |
| Calibrated black level (black screen) | 0 cd/m2 (LEDs shut off) |
| Calibrated black level (ANSI checkerboard) | 0.048 cd/m2 |
| Black level retention | Auto-dimming with full black screen |
| Primary chromaticity | Excellent |
| Scaling | Excellent |
| Video mode deinterlacing | Very effective jaggies reduction |
| Film mode deinterlacing | Passed 3:2 cadence over 480i & 1080i; and 2:2 over 576i |
| Viewing angle | Decent for VA LCD: washout occurs beyond 45° off-axis |
| Motion resolution | 1080 with [Motion Plus] engaged; 300 otherwise |
| Digital noise reduction | Excellent, optional |
| Sharpness | Defeatable edge enhancement |
| Luma/Chroma bandwidth (2D Blu-ray) | Full luma; chroma horizontally blurred in non-Game Mode |
| 1080p/24 capability | No judder in 2D; mild judder in 3D |
| Input lag (high-speed camera) | 46ms compared to lag-free CRT |
| Leo Bodnar input lag tester | 44ms |
| Full 4:4:4 reproduction (PC) | Yes, with 60hz signal and "PC" input label |
Power Consumption
| | |
| --- | --- |
| Default [Standard] mode | 79 watts |
| Calibrated [Movie] mode | 61 watts |
| Standby | <1 watt |