Black Level
After adjusting the [Backlight] and [Contrast] controls to peg top-end luminance to our usual target of 120 cd/m2, as well as switching off any unnecessary contrast stretching gimmickry, we measured the UE46F7000's black level to be 0.048 cd/m2 on an ANSI checkerboard chart, which is almost identical to the value we obtained on the step-up UE55F8000. This suggests that both the Samsung Series 7 and Series 8 LED ranges use the same VA-type LCD panel (presumably produced inhouse) that delivers commendable contrast performance.
When asked to display a full black screen, the edge LEDs would shut off completely, resulting in a total absence of light output from the television. This can be defeated with even the slightest amount of lit pixels – our favourite way is to pause our Blu-ray player so that a pause icon appears on screen. With auto-dimming circumvented in this manner, the Samsung 46F7000 returned the same black level of 0.048 cd/m2 on a full-field video black pattern.
To put this number into perspective, it's very good for an LED TV – enough to provide satisfyingly deep blacks – though we've seen other VA-based LED LCD TVs (for example the recently tested Panasonic 42E6 and Samsung's own 32EH5000) do slightly better. Of course, further up the black-level ladder sit the 2012/2013 plasma televisions from Panasonic and Samsung, whose native blacks are visibly superior in a dimly lit viewing environment.
Screen/ Backlight Uniformity
It's unreasonable to expect an entirely uniform screen from an edge LED television, especially when you take into account the underlying design where a limited number of LEDs arranged along the borders are asked to illuminate the whole LCD panel. Also, VA panels have a tendency to exhibit patches of backlight inconsistency (known as clouding or "mura" defect), so the risk of getting a blemished screen is not inconsiderable.
Fortunately there wasn't much to complain about on our Samsung UE46F7000 sample in this regard. Only in a completely blacked-out room did we detect wisps of backlight bleed from the top left and right corners during predominantly dark scenes. Our eyes also picked up several darker vertical bands around the centre of the screen when fed with 20% and 30% full-field grey patterns. These were largely unnoticeable in real-life material except when there are slow-medium speed panning shots against tonally even backgrounds, or in 3D where the panel is pumping out a large amount of light.
Standard Definition
Samsung hasn't made any major gaffes in terms of standard-def handling for a good few years now: the Korean company's prowess in this area was certainly evident on the F7000. SD material was upscaled with full detail capture, smooth crispness, and no harsh ringing; while jaggies were suppressed effectively to the point of invisibility in video-based content.
Where the UE46F7000 tripped up slightly was in the domain of film deinterlacing, specifically 2:2 cadence processing. While the LED LCD TV successfully passed the relevant 2:2 test in the HQV Benchmark PAL DVD, it did lose the lock once in a while in tricky real-world PAL footages, such as the first few minutes of the final chapter in the UK DVD of Bridget Jones: The Edge Of Reason (yes we have the movie, but only for the purpose of carrying out this test!). The 46F7000 did not completely remove the moire from the electronic billboard as the taxi drove through Piccadilly Circus, and also betrayed some line twitter on the swinging doors after Bridget ran through.
In all fairness, the UE46F7000's 2:2 handling was miles ahead of TVs which are incapable of detecting 2:2 cadence – the whole Bridget Jones sequence can descend into a mess on such sets, with widespread jagged edges and line twitter on the railings, vehicles, etc.
High Definition
We've said it before and we'll say it again: it's actually quite difficult for well-mastered HD content to NOT look good on a modern-day HDTV (as long as there's no superfluous edge enhancement or noise reduction), if only because of the sheer detail and vibrant palette on show. Where the Samsung UE-46F7000 excelled was its convincing black-level response, together with its malleability to calibration that allowed us to extract neutral greys, accurate colours, and punchy yet natural-looking images from the television.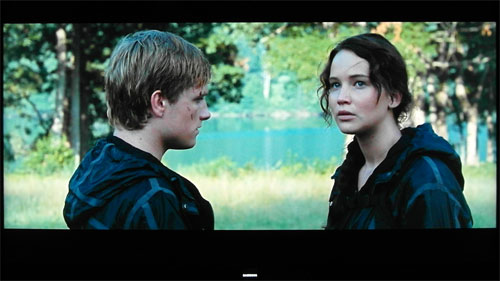 Armed with a stack of our favourite Blu-ray discs, we checked out selected picture-affecting controls on this year's Samsung Series 7 LED TV. [Motion Plus] dictates the amount of motion-compensated frame interpolation (MCFI) added to the images put out by the display. With [Motion Plus] disabled, the UE46F7000 delivered 1080p/24 movies without judder; but bizarrely with [Motion Plus] set to "Clear", a mild telecine judder was introduced. Bumping [Motion Plus] up to "Standard" or higher would cause cinematic films to appear video-like, which is not something we're fans of.
The Korean brand also offers the choice for us to adjust the deblur and dejudder components independently of each other via the "Custom" [Motion Plus] submenu. Since the inherently low frame rate of 24p movies seldom requires help in the motion department, we chose to try out this custom mode on fast-action sports content like football.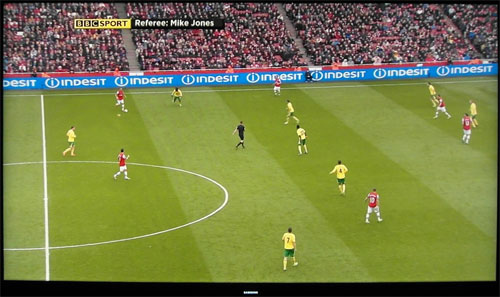 Engaging any of the [Motion Plus] options, including "Custom", would visibly enhance the on-screen motion clarity, but introduce some interpolation artefacts (for example the ball would tear up or be surrounded by a shimmering halo as it flew past the crowd). On balance, we didn't mind putting up with such sporadic artefacts in exchange for higher motion resolution.
We also experimented with the [Cinema Black] option which is meant to dim down the letterbox bars in cinemascope films. Setting it to "Medium" or "High" unfortunately caused the whole screen, not just the letterboxed portion, to intermittently brighten or darken from one scene to another, which proved to be very distracting – certainly not a worthwhile trade-off for a marginal improvement in perceived contrast in our book.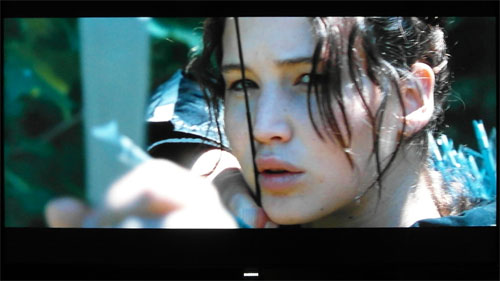 [Cinema Black] "Low" was free of such brightness fluctuations, but then there was no perceptible difference in the luminance of the top-and-bottom letterbox bars, so we decided to leave the setting off.
3D
With more and more TV brands (we're thinking about Panasonic and Sony here) embracing passive 3D, Samsung is increasingly isolated as the sole 3DTV manufacturer fully committed to active-shutter glasses (ASG) 3D display technology. While both technologies have their pros and cons, given the choice we would take active 3D any day simply because of the 3D full HD resolution on offer – unfortunately passive 3D's lower resolution and dark horizontal scan lines stick out like a sore thumb to our discerning eyes.
That said, passive 3D has become increasingly popular among the public due to its flicker-free tri-dimensional image, not to mention the multitude of advantages afforded by polarized 3D glasses (cheaper, lighter, plus does not require battery, recharging nor synchronisation). Samsung has clearly taken note of these, and worked hard to overcome the shortcomings typically associated with ASG technology.
The UE46F7000 ships with two pairs of active-shutter 3D glasses, which are flat-packed and require assembly. Once the arms are attached and the coin cell battery inserted, the end product is a stylish, lightweight eyewear. Our main complaint is that they do not sit very snugly (especially over regular spectacles) owing to a combination of thin arms, recessed nose pads and light form factor, therefore requiring frequent readjustments over a long session of extra-dimensional viewing.
The 3-D pictures put out by the Samsung F7000 were sufficiently bright and exhibited remarkably little flicker, which is in stark contrast to Panasonic's 2012 3D plasmas whose glasses imposed so much darkening and shuttering effect that it renders daytime three-dimensional viewing impractical. Crosstalk was low by LED LCD standards: even the testing lantern release scene in Tangled 3D Blu-ray revealed only minor amount of double-image ghosting beside some of the floating lit lanterns. And to top it off, we're seeing full HD resolution in each eye, with no softness nor jaggedness in sight to detract from the 3D depth and detail.
We would've proclaimed this to be the best 3-dimensional viewing experience you can get at home… were it not for the UE46F7000's inability to reproduce 1080p/24 natively without judder in 3D mode, a seemingly common plight on Samsung 3DTVs. On the 55F8000 we reviewed last month, the company forced some gentle motion interpolation in 3D even with [Motion Plus] disabled (only [Game Mode] defeats it) in an effort to eradicate the judder, but this brought about unwanted "soap opera effect" which – though subtle – was visible to our trained eyes.
Things were somewhat different on our 46-inch F7000 unit: no motion interpolation took place with [Motion Plus] set to "Off". This resulted in very mild stutter on slow-medium panning shots (for instance when the camera zoomed through the front door round to the Sam Flynn's bedroom in the opening chapter of TRON: Legacy 3D Blu-ray), which to us was preferable to always-on motion enhancement that subverts the filmic look of 24fps movies.
Console Gaming
Despite the presence of a quad-core chip, it seems that the layer upon layer of video processing and Smart TV functionalities implemented on the UE-46F7000 have taken their toll on the television's gaming responsiveness. Input lag in any of the stock picture presets came in at more than 100ms; engaging [Game Mode] merely shaved this down to 80ms which still poses a serious handicap to any gamer worth his/her salt.
Thankfully, as is possible with most Samsung flat-screen HDTVs, there's a secret way to bypass even more onboard processing by labelling the HDMI input as [PC] or [DVI PC]. Using this method, we recorded an input lag figure in the region of 45ms, which is more within the realm of acceptability, although not as responsive as some ultra-fast plasma TVs that can go down to as low as 16ms. Of course, one good thing about playing games on an LED LCD like the UE46F7000 is that there's no worry about image retention at all!
Sound Quality
The acoustic performance of the 46in Samsung F7000 belied its slim chassis: dialogue was clear; volume could be cranked up quite high before distorting; and there's even a bit of oomph in the bass department (although not as punchy as the F8000 which is blessed with two additional 10W woofers). As always, for a more immersive home theatre experience, we recommend driving the audio through an external soundbar or surround sound system.
Conclusion
The Samsung UE46F7000's picture is every bit as composed as that we'd seen (and praised) on the flagship F8000 series. HD content looked rich yet natural thanks to the comprehensive array of calibration controls provided which allowed us to nail greyscale and colours down to a tee; standard-definition processing was top-notch but for a slight hiccup in maintaining lock on 2:2 cadence; and 3D presentation was plenty bright, gloriously full-res, and wonderfully free of flicker.
Input lag in excess of 40ms may deter hardcore gamers demanding lightning-fast response from their HDTVs, and just like the F8000, the Samsung F7000 does not support 24fps playback natively in 3D mode (i.e. there'll be a bit of judder visible which can be smoothened by engaging [Motion Plus], but at the expense of introducing soap opera effect). But for users who do not wish to stretch their budget to the F8000 (or do not have the space to accommodate the arc stand), the UE46F7000 is a perfectly viable alternative.
Note: If you're interested in buying this TV, please support us by considering making your purchase from our advertising partner Hills Sound & Vision – call 01273 411698 for competitive prices and first-rate service.