In case you're wondering where I've disappeared to (given the lack of updates over the last couple of weeks), I've just come back from attending the IFA – one of the largest consumer electronics trade show in the world – held this year in Berlin, Germany where I checked out the latest and upcoming HDTVs on offer from various manufacturers. Naively I brought my calibration equipment and DVE HD/ HQV discs along to the show, but unfortunately I had no chance to use them (my intention was to at least test some scaling/ deinterlacing). No remote was available with most of the television sets on display; and if it was, the user menus were in German and beyond the comprehension of my embarrassing 4-word vocabulary of 'ya', 'nein', 'danke' and 'bitte'.
So, the only television on which I could perform my wizardry was a 14″ CRT from Nokia (yeah Nokia) in a London Heathrow stopover hotel on my way home. But as the television had developed severe screenburn from the static hotel menu, I saw no point in wasting my time. :) For the record though, this CRT's black level is worse than the Pioneer PDP508XD loaned to us by TLC Broadcast.
Enough lame jokes, let's get on with what I saw at IFA Berlin 2007. Please bear in mind that I witnessed these televisions in their uncalibrated form without any control over ambient light, so my comments on picture quality may not be representative of the maximum potential of these panels in your typical home environment. I'll give a rundown on what each manufacturer is up to, split over a few news posts for easier digestion.
Sharp Electronics
Sharp Electronics seized the moment to unveil – in every literal sense – their super-thin LCD TV prototype that's dubbed as "The Future Of LCD TV". Boasting a contrast ratio of 100,000:1 and a thickness of only 29mm across the deepest part, these babies were simply the most stunning out of all the displays I'd seen at IFA Berlin 2007. It was a timely injection of excitement into a trade show surprisingly devoid of the eagerly anticipated OLED TVs.
One prototype was exhibited on a rotating stand, which presented me with the perfect opportunity to assess off-axis viewing from where I was sitting at the press conference. I hope the following video that I took can demonstrate to you how thin the profile and how amazing the viewing angle of the television was (it's Toshiyuki Tajima, CEO of Sharp Electronics Europe, speaking in the background):
If there's one HDTV that I'd like to smuggle home from Berlin, this would be it… I'm very intrigued by how Sharp managed to achieve such a high contrast ratio without employing LED technology (that's what I gathered from a few Sharp personnel). Unfortunately at this moment availability and pricing details remain unknown.
Getting down to earth with television models that are more imminent, here are some pictures of the new Sharp LC42XL2E and LC42X20E which are positioned as full HD LCD TVs that are slimmer and more environmentally friendly than their competitors. Both will feature 24p support, although the former will offer the added advantages of 100Hz motion and 10-bit signal processing.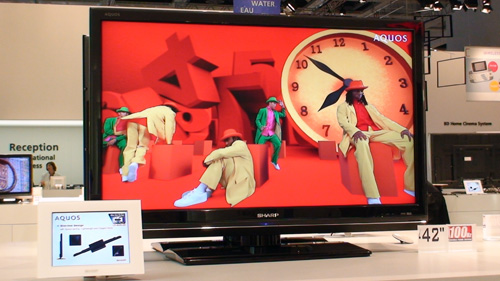 Sharp LC42XL2E: 3 x HDMI 1.3, 24p, 100Hz, 10-bit processing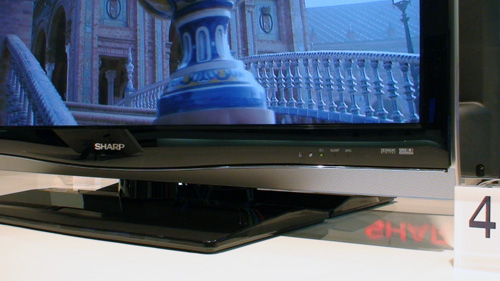 Sharp LC42X20E: signature "yawning" bottom bezel with silver speaker strip
Over the next few days I'll post my impressions, photos and videos of other HDTVs such as Sony's W3000/ X3000/ X3500 series, Toshiba's Z series, Samsung's local dimming LED, Pioneer's 1080p Kuro, Philips Aurea and many more, so stay tuned.