It seems 32-inch models have become a popular choice among consumers looking to replace their existing bedroom TVs, so it's no wonder that major brands are flocking to cash in. Users who invest in a second television aren't going to bother with advanced calibration, so the set needs to perform reasonably well out of the box with minor tweaking. Let's see if the Toshiba 32RL953 – a 32″ LED LCD with smart TV functionalities – fulfills this brief.
Note: The specific model we reviewed was the 32RL953B, which is the 3-pin-plug British version. While we did not test its larger sibling, the 40-inch Toshiba 40RL953B, there shouldn't be any significant difference in performance given similar specifications within the RL953 series.
Design
Design-wise the 32RL953 sports all the latest trends, including a thin bezel, minimalistic appearance and slim profile. But like Panasonic, Toshiba hasn't completely done away with traditional design principles: the power LED indicator hasn't moved since 2008, and the sliver strip at the bottom has reappeared.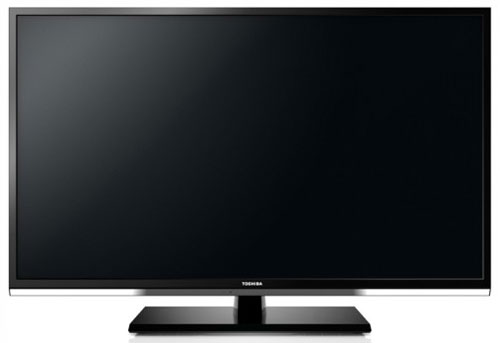 Due to the cost and size of the television, the Japanese manufacturer has opted for a completely plastic enclosure. Build quality has dropped significantly compared to previous offerings from the company – without the brand logo, the Toshiba 32RL953B can easily be mistaken for a supermarket TV.
Assembly of the stand is pretty straightforward thanks to the two-step method; and the on-screen welcome guide is very efficient and simple to follow.
Connections
3X HDMI
1X Component
1X Composite
1X RGB SCART
1X Headphone
1X USB 2.0
1X Optical Out
1X Ethernet
1X VGA Input
1X DVB Common Interface
GUI (Graphical User Interface)
Toshiba's GUI received a major makeover (not that it needed one, but the inclusion of Smart television capabilities seemed to have forced the company's hand). But sadly akin to most smart TVs, the frame rate is quite low (around 10-15 fps). Given the cost of SoC (system on chip) these days, one would expect smoother interaction that is similar to those found on modern phones.
Thankfully despite the choppy animations, we found the on-screen menu to be very easy to use: all icons are clearly labelled and organised; and accessing various functions such as Program Guide and USB Media Playback is effortless to say the least.
Remote Control

Upon unpacking the RL953, we thought Toshiba had sent us the wrong remote. The CT-90404 is vastly superior to the basic and cheap remotes the brand used to supply. Its outer frame is composed of hard plastic shell; the buttons are easy to operate; and the layout is effective (though could use some further refinements). It's one of the few times we see the remote outclass the TV.
Smart TV Features
The 32RL953 is equipped with Toshiba Places, the company's internet-connected platform which unfortunately still lags behind competing offerings from other manufacturers in terms of content – there's no Lovefilm nor Netflix app, for instance. Integrated WiFi is also lacking, so you'd have to either hook up an Ethernet cable to the television, or purchase a compatible wireless dongle separately.
Calibration
Toshiba has been known to provide a vast array of calibration options on its HDTVs, so owners can maximise the performance of their new purchase. Unfortunately, the 32RL953B only features 1-point white balance controls (similar to PC monitors), and a three-axis colour management system (3D CMS) that is broken.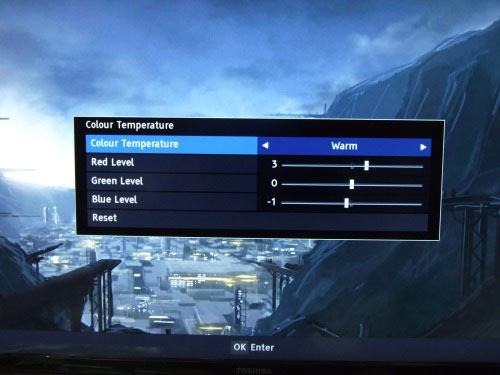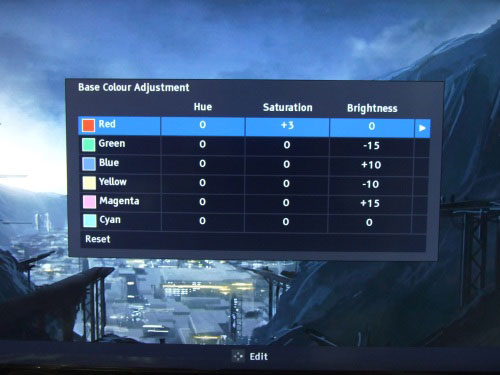 Greyscale
Greyscale calibration makes sure that all greys between black and white are free from colour tinting, which can be attained by adjusting RGB values to 6500K CCT (Correlated Colour Temperature). However, it's usually not possible for a consumer-grade flat-screen TV to deliver 100% accuracy, so the goal is to contain errors under a certain level.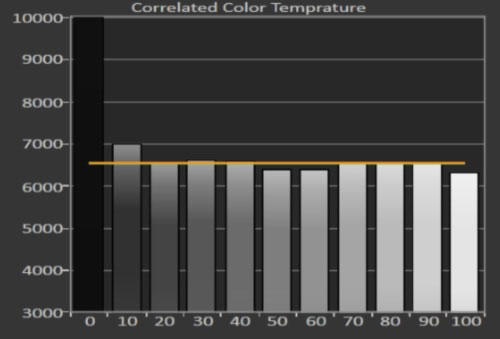 Post-calibration CCT in [Hollywood 1] mode

Post-calibration RGB tracking in [Hollywood 1] mode
Colour
The theory behind 3D CMS is simple – it is designed to allow the user to finetune saturation, hue and luminance of the primary and secondary colours without compromising linearity. Altering one should not alter the other two. On the Toshiba 32RL953 however, adjusting saturation directly affects luma, and to make matters worse, its CMS only affects the very edge of the gamut that's fully saturated, resulting in non-linear colours, visible banding and noise.
| | |
| --- | --- |
| | |
| Prior to configuring cyan | After configuring cyan |
Some compromise is needed to achieve optimal results – it took us nearly 4 hours to obtain the correct mix. Normally we wouldn't have spent such time on an entry-level set, but we had to correct the not insignificant errors in red and green. That said, our efforts failed to reduce the highly elevated compression noise.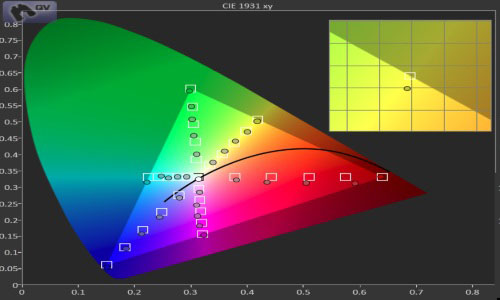 CIE chart and saturation point tracking with reference to HD Rec.709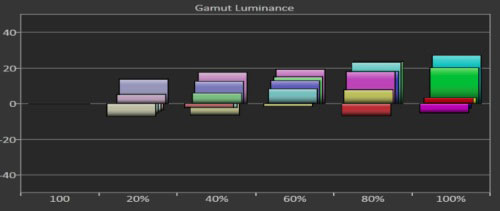 Colour luminance levels in [Hollywood 1] mode