Benchmark Test Results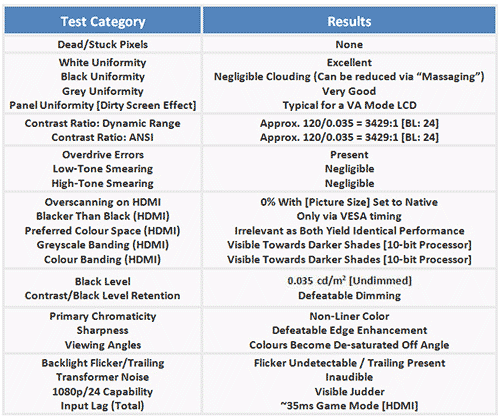 Power Consumption
| | |
| --- | --- |
| Default [Standard] mode | 35 watts |
| Calibrated [Hollywood 1] mode | 35 watts |
| Standby | <1 watt |
Uniformity
The 32RL953B test unit provided by Toshiba was free from most uniformity issues. Pure white tests did not exhibit the common green or red tinting. The LCD panel at half brightness did not reveal any form of abnormalities severe enough to hinder performance, and black uniformity was close to perfection once we managed to massage out the negligible patches and minor corner bleeds.
Contrast Ratio
The Toshiba RL953 in [Hollywood 1] mode with white level (contrast) set to 120 cd/m2 yielded dynamic range and ANSI contrast ratio of 3429:1, which isn't a new record for SPVA LCDs, but considering that LED backlighting often leads to increase in black level, we're glad that it isn't any higher.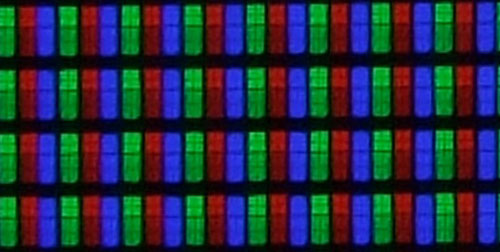 LCD panel is Samsung S-PVA LTA320HN03 (LOT 1214)
In the default [Standard] mode, contrast ratio is limited to 3143:1 which is caused by incorrectly set white level, whereas in [Hollywood 1] mode it's set to 85 (instead of 100). It is amazing how many TV manufacturers still fail to set the white level correctly in order to maximise the panel's capability.
Motion Performance
PixPerAn is one of the tools we use to evaluate motion artefacts and surprisingly, the motion rendered by the Toshiba 32RL953's SPVA is similar to an IPS panel. Maybe all the R&D Samsung invested in improving pixel response for 3D trickled down to the lower end. But like most LED-LCD TVs, the 32RL953B also suffers from ghosting effect (original image accompanied by 3 distinctive ghost images) during fast motion caused by out-of-sync backlight scanning. In order to reduce the effect, the contrast must be set to maximum, which is not recommended for the home environment. The ghosting effect can only be observed on content that are free from blur or with negligible blur (e.g. video games and sports). For someone who is only interested in movies, soaps and news, it's not a problem.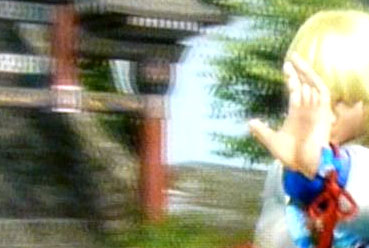 Overscanning: It can be adjusted under the quick menu, and is also available via the aspect ratio button located at the top of the remote.
Blacker than Black (HDMI): Yes, but only via VESA timing.
Viewing Angle: VA panels have very limited viewing angles. The LCD panel must be viewed dead-on from the recommended viewing distance in order to perceive accurate colour, gamma and contrast. The S-PVA panel inside the RL953 is no different. Viewing it off-angle results in elevated gamma, desaturated colours and lighter blacks, as well as exposes artefacts within shadow details.
| | |
| --- | --- |
| | |
| Blacks & colours desaturate off-axis | On-axis viewing |
Picture Quality
To evaluate the image quality rendered by the HDTV, a small number of carefully chosen images are used to detect visible artefacts/ errors. Image Aeon is used to detect errors in skin tone, luminance and depth; while Acela Express is used to detect greyscale and gamma errors in addition to black crush.
| | |
| --- | --- |
| | |
| Charlize Theron in Aeon after basic adjustments | After greyscale calibration |
As expected, basic adjustments (contrast, brightness, sharpness, etc.) just managed to yield above average results. The average user may not notice the pale skin tone or the effect elevated green luminance has on the whole scene, but a trained eye can easily spot such errors. Lowering the brightness of green added a sense of depth, and increasing the saturation of red improved flesh tone. Calibrating greyscale also added further detail to the skin tones, such that the multitude of warm shades that cover the neck and chest became visible.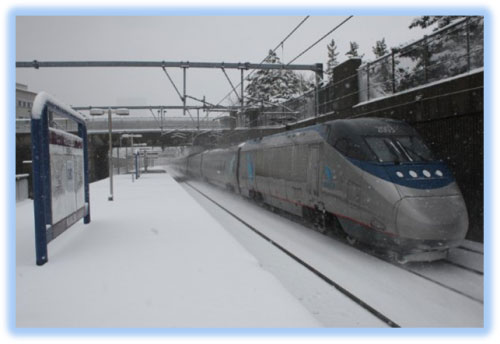 We failed to spot any visible artefacts, which was a relief since we couldn't achieve a flat greyscale. However, off-angle viewing did show elevated reds in certain shades.
Despite passing the above tests, the Toshiba 32RL953B produced a rather mixed bag of results when we put it through real-world testing. Let's start with the bad: noisy image and 24p judder. Noisy image is something viewers don't associate with high definition, but unfortunately it is still a problem. The only uncompressed (video-based) content people have access to in their homes are CGI (i.e. computer games); everything else is compressed to a certain degree and that's where the problem lies. It is up to the TV's video processor to render the image without adding additional noise or elevating noise that's already present in the source. The use of 10-bit processor (which the 32RL953 has) can prevent noise from being added during processing, since there's plenty of space to round off 8-bit errors (but it only works when configured correctly).
Sadly that is not the case with RL953. Since the colours are far from linear, banding is introduced and compression noise is elevated, resulting in a noisy image. It's not a problem when viewing most Blu-Ray movies, but the same cannot be said for Freeview, Freeview HD and online contents (basically highly compressed material).
| | |
| --- | --- |
| | |
| Reference IPS monitor | Banding & noise on Toshiba RL953 |
The second issue is judder with 24p content. The 32RL953B does accept 1080p24 signal, but it's internally converted to 60p via 2:3 frame-rate conversion, resulting in visible telecine judder. In 2012, there's no excuse – all TVs should be fully 24p compliant. It seems that Toshiba is still using their old image processing core.
Now for the good: black level and pixel response. Deep black level is the most sought-after element of picture quality since the introduction of flat-screen HDTVs, so much so that it impacts heavily on the outcome of the our reviews. Watching content that use darkness to convey and trigger emotional response fared well on the Toshiba 32RL953. However, some scenes did appear too dark at times (leading to obscured shadow detail which is common among SPVA panels).
Viewing highly compressed videos however was rather distracting – it's difficult to ignore the noise. Also, like the Samsung C580 LCD television we reviewed back in 2010, the RL953 also exhibited a "water and oil"-like effect on shades below 10% stimulus due to off-angle gamma shift.
Pixel response has improved tremendously compared to previous 32-inch S-PVA panels, which makes it ideal for gamers and sports fans. Back in 2010 and 2011, 32" SPVA LCD TVs were notorious for black ghosting/streaks which annoyed most gamers, so it's good to see the issue addressed such that motion characteristics are on par with IPS panels. Unfortunately there's no way to eradicate the trailing caused by out-of-sync backlight (apart from setting the backlight to maximum, which is not recommended). But considering its plasma-like blacks and IPS-esque motion, it's hard to fault the Toshiba 32RL953B's panel.
Gaming
The 32RL953 is not the ultimate gaming HDTV but at 35ms, it's acceptable. Detailed motion resolution is not something LCD televisions are known for, and the "out-of-sync" backlight issue exacerbate the existing excessive hold-time problem. That said, for casual gamer who plays 30fps games, it's not a major issue.
Sound Quality
As with all slim LED TV models, the audio quality suffers greatly. It's best to opt for external speakers or a home cinema system to outsource the sound.
Conclusion
Pros
Excellent black level
Excellent uniformity and response time for an SPVA panel
Acceptable input lag
Inaudible transformer noise
Picture settings can be customised per input
Good design
Responsive remote
Cons
Noisy image on highly compressed videos
No true 24p support
Non-linear colours which cannot be rectified due to broken CMS
Only 1-point white balance controls
Visible ghost images due to off-sync backlight
Substandard build quality
Doesn't display blacker-than-black without manually forcing VESA signals
Summary
At first the 32RL953B seemed worthy of our "Recommended" award, but upon close inspection, there were several issues. Despite featuring an excellent panel, the HDTV was let down by Toshiba's own processing, or rather how it was programmed. Blu-ray playback was hampered by 24p judder; Freeview noise was elevated owing to non-linear colours; and input lag was acceptable rather than stellar. Out of the box, red was heavily desaturated, while green luminance was literally off the charts.
| | |
| --- | --- |
| | |
| Desaturated red pre-calibration | Post-calibration |
Look past these drawbacks though, and the Toshiba 32RL953 LED TV is capable of delivering class-leading (among 32″ models) black-level and contrast performance, which is arguably the most important element of picture quality.