Conclusion
The Toshiba 32SL753B is a capable LED-sidelit LCD television, which features some small flaws which especially discerning buyers should be aware of. Its excellent contrast performance is what does it the most favours, allowing it to produce a rich image, which surprisingly holds up quite well when the HDTV is watched from an off-axis position (unlike Samsung's LED sidelit TV efforts). Its energy efficiency is also outstanding.
The Toshiba 32SL753 can be had online for around the £500 mark, making it slightly expensive for a 32″ set. With this said, we can't think of any obviously cheaper comparable displays, given that users will currently pay over the odds for style with slim LED-based LCD TVs. There's better value for money to be had elsewhere in the overall HDTV world, but if you're set on owning a slim LCD display, the Toshiba 32SL753B is a good choice.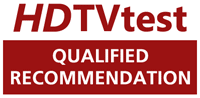 Calibrated Settings
The post-calibration picture settings for our Toshiba 32SL753 review sample has been published on our Facebook page.